Top Dentists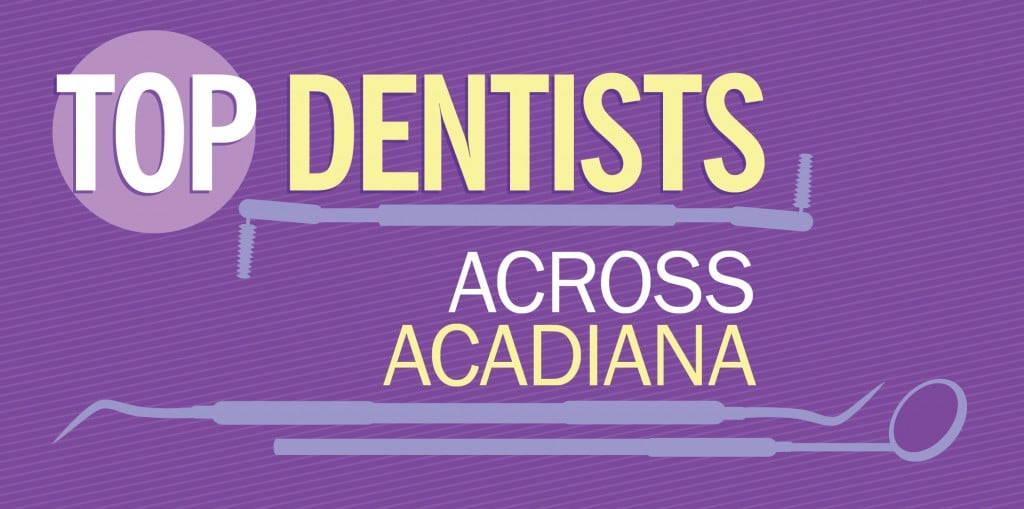 "If you had a patient in need of a dentist, which dentist would you refer them to?"
This is the question we've asked thousands of dentists to help us determine who the topDentists should be. Dentists and specialists are asked to take into consideration years of experience, continuing education, manner with patients, use of new techniques and technologies and of course physical results.
The nomination pool of dentists consists of dentists listed online with the American Dental Association, as well as all dentists listed online with their local dental societies, thus allowing virtually every dentist the opportunity to participate. Dentists are also given the opportunity to nominate other dentists whom we have missed but who they feel should be included in our list. Respondents are asked to put aside any personal bias or political motivations and to use only their knowledge of their peers' work when evaluating the other nominees.
Voters are asked to individually evaluate the practitioners on their ballots whose work they are familiar with. Once the balloting is completed, the scores are compiled and then averaged. The numerical average required for inclusion varies depending on the average for all the nominees within the specialty and the geographic area. Borderline cases are given careful consideration by the editors. Voting characteristics and comments are taken into consideration while making decisions. Past awards a dentist has received and status in various dental academies (Academy of General Dentistry, American Academy of Periodontology, etc.) can play a factor in our decision.
Once the decisions have been finalized, the included dentists are checked against state dental boards for disciplinary actions to make sure they have active licenses and are in good standing with the board. Then letters of congratulations are sent to all the listed dentists.
Of course there are many fine dentists who are not included in this representative list. It is intended as a sampling of the great body of talent in the field of dentistry in the United States. A dentist's inclusion on our list is based on the subjective judgments of his or her fellow dentists. Although it is true that the lists may at times disproportionately reward visibility or popularity, we remain confident that our polling methodology largely corrects for any biases and that these lists continue to represent the most reliable, accurate and useful list of dentists available anywhere.
Dealing With Dental Anomalies
By Elizabeth Rose
Eric Sanders, Lake Charles
Specialty: Pediatric Dentistry
LSU Health Sciences Center School of Dentistry 1993
University of Texas Health Science Center 1997
McNeese State University 2010
Native of Lake Charles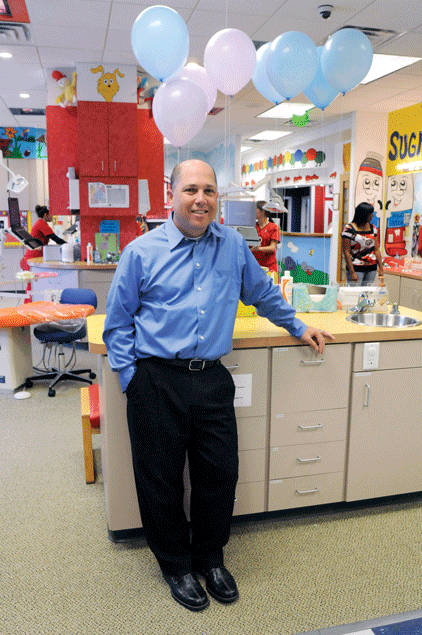 Pediatric dentist Dr. Eric Sanders sees 6,000 patients from a 60-mile radius annually – and says the only part he doesn't like is seeing his patients grow up.
"This is the coolest thing: I get to watch all my friends' kids grow up without ever having to go visit," Sanders says. "Every six months, you get to go see them. I've seen them from 1 year until they're 18."
Sanders describes his practice as "controlled chaos" but says he enjoys being busy, which is fortunate for him because he sees about 80 mini-mouths every day.
Sanders' patients come from as far as Crowley; Leesville; and Beaumont, Texas, which Sanders says is a result of the high-quality dentistry he and his 12-person staff provide for patients.
"Kids know if you're nice and don't hurt them," he says. "One of my biggest things is [to] bring parents back [to the examination] and let them see the struggles and the successes that you have. It's almost rodeo dentistry in a sense – you hold on and see what you can get done. I think parents should be a part of the procedure, and if you're comfortable with what you do for a living, then you shouldn't hide that. I force [parents] to come back because I want them back there to see what's going on. It makes you better."
Sanders was born in France while his father was stationed there with the U.S. Air Force and moved around before settling in Lake Charles from eighth grade on. After three years in the Army as an intelligence analyst, he was honorably discharged in 1985.
He majored in biology at McNeese State University and was accepted to the LSU Health Sciences Center School of Dentistry in 1989 before receiving his undergraduate degree, which he received in 2010, using his dental school credits to finish his curriculum.
Sanders says his mentor, pediatric dentist Dr. John Hendry of Lafayette, helped him find his path. He worked part-time under Hendry for two years after graduating dental school in 1993, and says it led him to return for his degree in pediatric dentistry from the University of Texas Health Science Center in Houston.
"Before I realized it, I was getting good working on kids and enjoyed it more than I did working on adults," says Sanders, who opened his practice in Lake Charles in 1997, "so it's kind of like it found me. I didn't choose pediatric dentistry – I guess it kind of fell in my lap, and I liked it."
The toughest cases Sanders treats are "dental anomalies," especially those in which children have enamel deficits in permanent molars, usually caused by genetics. Sanders says they must work to prevent tooth loss until a child is older and a general dentist can fully cover the tooth.
Sanders says his least-favorite part of pediatric dentistry is sedating patients. He performs five to eight sedations a day and visits the hospital with patients whenever his office cannot perform a procedure and it has to be done at the hospital.
His office is decorated with pictures drawn by his two daughters, Maya, 6, and Megan, 4, as well as framed pictures and numbers from the marathon and half-marathons he's completed. He ran the Marine Corps Marathon and boasts that he beat Oprah's time by 19 minutes – she ran it in 4:29:15. He also admits to being a "golf fanatic."

Giving a Smile to a Patient With Health Issues
By Zachary LaSalle
Catherine Schwab Coreil, Houma
Specialty: Orthodontics
Loyola University New Orleans 1989
LSU Health Sciences Center School of Dentistry 1993
Native of Houma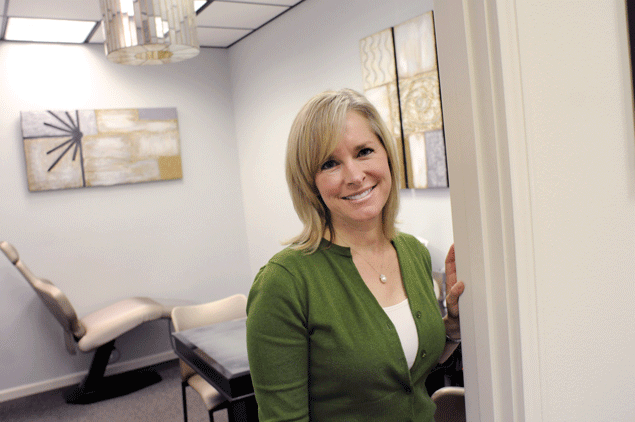 A 19-year-old man born with cerebral palsy was rejected by three orthodontists, all of whom said they could do nothing to help his protrusive bite, before landing in Dr. Catherine Schwab Coreil's chair. Although the muscles in his mouth didn't function properly and his uncontrollable tremors made the precise work difficult, when Schwab Coreil's efforts were complete, a bright new smile told the whole story.
"We gave him a beautiful smile, and he was so excited that he had his teeth fixed," Schwab Coreil says. "For me, the more challenging cases are the more fun cases. Usually, the worse it is in the beginning, the more rewarding it is at the end."
As a child, one of Schwab Coreil's closest friends was a girl in her neighborhood whose father was a dentist. Schwab Coreil's interest was piqued on weekend trips to his office, where she and her friend would play and cautiously explore the high-tech space.
"I just thought all the little tools were so very cool, and I liked playing with all the stuff and seeing the things in his office," recalls Schwab Coreil. "It just fascinated me from a young age."
Schwab Coreil and her husband, Dr. Mark Coreil, also an orthodontist, now share the responsibility of running their own practice, Le Centre Orthodontic Arts, and raising six children. Having a family was always of paramount importance to Schwab Coreil when deciding on her career path.
"I also wanted a career where I could be available for my kids because I knew I wanted to have lots of kids," she says. "I wanted to be able to have a schedule that would be accommodating to a family."
Along with the challenges of being a mother, Schwab Coreil is constantly tested and inspired in her day-to-day work life. She encounters throngs of shy patients who are embarrassed or ashamed by their mouths and receives a sense of fulfillment in watching their personalities transform with their new smiles. Schwab Coreil prides herself on creating aesthetically pleasing bites that are also properly functioning.
"I always tell everybody that straightening teeth is the easy part of my job," Schwab Coreil says. "The hard part of my job is creating a bite relationship, where the teeth are working in harmony with the jaw joint and the muscles. That's the hard part. You can teach anybody how to line up some teeth and make them look pretty; the harder part is function."
Over the past several years, Schwab Coreil has been working to develop a program to serve the orthodontic needs of the underprivileged. Programs currently exist to aid the uninsured with basic dental problems, but, according to Schwab Coreil, orthodontics are often overlooked. Although still in its infancy, her initiative aims to assist those in need through a combination of scholarships and grants.
"The most rewarding part of my job is that patients are happy with the results because they look better," Schwab Coreil says. "If you have a person that looks better, they feel better about themselves. So it puts them in a situation where they can go out into the world and be more of a positive influence than other people because they feel better about themselves."
Mission Trips to the Dominican Republic
By Kristen Fox
James Finley, Lafayette
Specialty: Periodontics
Belhaven College 1993 • University of Mississippi Medical Center's School of Dentistry 1997
LSU Health Sciences Center School of Dentistry 2000
Native of Gulfport, Miss.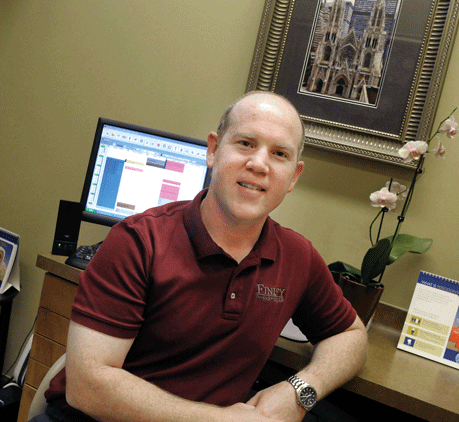 For periodontist Dr. James "Mickey" Finley, life was always about accepting the guidance given and understanding the random situations he encountered, which turned into guideposts that led him toward the life he was "meant to have."
"There have been many moments in life where you look back and you can say 'This is a moment you knew you were being pushed down a road you didn't even know existed or never considered but was exactly where you needed to be,'" Finley says. "And I can honestly say that every time this happened to me, someone with a strong faith had influenced my decision, and they might not have even known it – and I might not have either until I looked back."
The 40-year-old dentist, who is a former college baseball player, says he always knew he wanted to do something in the medical field but never considered dentistry until his adviser at Belhaven College (now Belhaven University) in Jackson, Miss., suggested it in conversation.
"My adviser said to me, 'Have you ever thought about dentistry?' and I had never had a cavity; I never even thought about it," he says. "So then I applied to dental school, took all my tests and went and really enjoyed it. It was tough, but I loved it."
After graduating from Belhaven with a bachelor's degree in pre-med, Finley attended the University of Mississippi Medical Center's School of Dentistry, receiving his doctor of dental medicine degree in 1997 before completing his residency program at the LSU Health Sciences Center School of Dentistry with a master's in oral biology in 2000. However, it was at Ole Miss where he discovered his love for periodontics, which focuses on gum infections, tooth replacement and cosmetic gum-shaping.
"My school was small, so we didn't have any residents," Finley explains. "So the general dentistry students were allowed to do a certain number or surgeries. I was able to do some periodontal surgeries."
In fact, he performed more than 40 surgeries, when other students performed three.
"From the first time I did, I fell in love," he says. "You can grow bone back. I got to save this tooth because I grew bone back? That's the neatest thing."
As for his toughest case, Finley says it is not about the severity or challenges of any one particular case; it is about changing someone's life for the better and bringing them to a "healthier quality of life."
"What gives me the most pleasure is when you see someone you have done a lot of work for, and these people are appreciative of the effort you have done for them," Finley says. "There have been a number of people that we have taken from pretty hopeless situations, and we've saved their teeth. You take someone who is dentally crippled, and you give them back their smile."
Finley's passion for helping the hopeless has driven him to complete nine mission trips to the Dominican Republic, providing free dental care for the underprivileged residents.
"From daylight to dark, they would wait outside for us to help them," Finley says. "You go down there and see all that these people don't have, and then you see them so happy for the little things we were able to do for them, and it was my reality check. You realize what's valuable in this world."
Finley has been practicing in Lafayette since 2005, when he took over his friend Dr. Winston Diel's practice after his sudden death. His first practice was in Gulfport, Miss., his hometown, and he continued to practice in both cities after Hurricane Katrina ravaged his hometown only three months after he moved to Lafayette.
When not working, Finley plays tennis and enjoys traveling with his wife.