Thomas Bertuccini, M.D., F.A.C.S.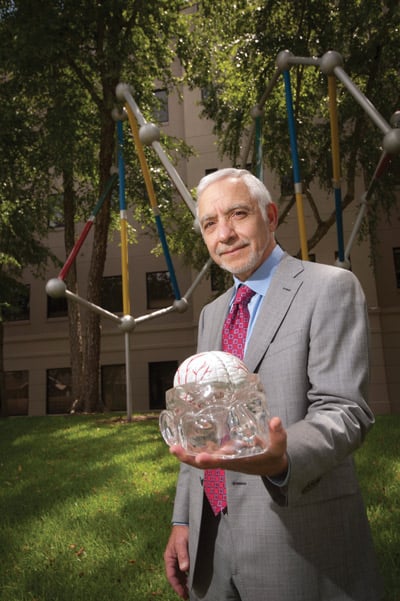 ONE OF MY MOST DIFFICULT CASES
A Mother's Last Wish
Lessons learned from my father still guide me daily," Thomas Bertuccini shares.
The lessons ingrained in him by his late father have anchored Bertuccini through the highs and lows of his career as a neurosurgeon. He says neurosurgery is one of the most demanding medical specialties, because it requires stamina, patience, good health and constant learning.
Bertuccini's insatiable interest in medicine began on a fateful visit to a research embryology lab at Yale University when he was a sophomore in high school.
"I was fascinated with the work being done there, which became the basis for the new developing field of neonatology," he says. "I decided then that I wanted to pursue a career in medicine."
His enthusiasm for medicine blossomed further as he took an interest in the nervous system, which stemmed from his experience in brain research while pursuing his master's degree and his exposure to neurology and neurosurgery while in medical school.
After completing his residency, he began private practice in neurosurgery in 1979. Later, Bertuccini joined some of his colleagues in developing a surgical specialty physician-owned hospital. The hospital has operated for nearly 10 years, and it has helped raise the standard of patient care in the Lafayette community.
An enduring fascination with biology and the nervous system in particular, the opportunity to help others and the intellectual challenge of solving clinical problems motivates him to continue practicing medicine.
"The lay public should understand that while advances in medicine have transformed the safety and efficacy of care, much remains to be learned, anticipated results of treatment can never be certain, and personal responsibility for health status is critical," Bertuccini says.
Although he has treated many difficult cases and has had the rewarding experience of seeing most patients do well, the toughest cases involve the disappointment, frustration and emotions associated with the failure of treatment for patients with devastating neurological problems such as malignant brain tumors, stroke and chronic intractable pain. This is especially true when the patients are young adults or children who would otherwise have had a long enjoyable life to look forward to.
"There will be difficult times when we will fail due to the sometimes inexact nature or limitations of our science," Bertuccini says. "The rewards of a good or great outcome though, are exhilarating, unparalleled and well-worth the effort."
One of his most memorable cases involved a young mother with a malignant brain tumor. The patient underwent three operations. Her final wish in life was to live long enough to see her daughter's third birthday, and that was accomplished.
"[As doctors] we attempt to remain dispassionate when treating patients, but when one views each person as an individual rather than just another 'case,' our sensitivities to our fellow man are irrepressible," Bertuccini says.
He plans to continue practicing medicine so long as he remains healthy and can provide excellent care for his patients.
"I hope to remain active in the business of medicine with efforts on the local, regional and national levels and would enjoy teaching medical residents who will be training in Lafayette," Bertuccini says.
When time permits, Bertuccini enjoys traveling, fishing, reading and most important, spending time with family and friends. He spends quality time with his mother, sister and youngest daughter, who have all moved to Lafayette, but at the end of the day his thoughts often turn toward his eldest daughter, now living in California, and his son who passed too soon.