They've Got Game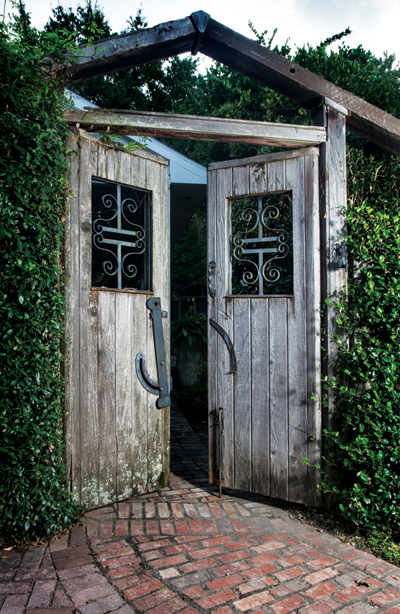 When a brisk north wind whistles through the Atchafalaya and a polar air mass settles over the swamp on cold winter mornings, bringing the kind of humidity that goes straight to the bones, south Louisiana sportsmen put on their waders and go where the wild things are. The chase is on, from dawn until dusk. Low-flying ducks and mature trophy bucks found wandering in the mist will end up on tables at elegant holiday dinners, New Year's Eve bonfire buffets and football playoff soirées throughout Acadiana.
Most winter week-ends during peak season, Mike Hebert heads with his bow and arrow to the Atchafalaya in search of deer at his Whiskey Bay property, where a great expanse of flooded timber in an old-growth forest is blanketed with a thick canopy of trees.
---

One of several porches surrounding the residence that is used for entertaining while prepping fish and game.
---
"That's usually where the big bucks hide, in the swamps," he explains. "Our best hunting is in January, when it's cold, and the deer are no longer nocturnal because they're on the run, trying to breed. We'll duck hunt in the morning, deer hunt in the afternoon and fish during the middle of the day. You can hear the speckle bellies migrating from north Louisiana, heading south. The geese fly right over us during a cold front."
Mike's wife, Ginger, is a gourmet Cajun cook and a marvelous hostess. Their sprawling L-shaped Lafayette residence is designed with several porches for cleaning and prepping fish and game. During the holidays, the tantalizing aroma of Ginger's bacon-wrapped venison tenderloins and succulent wild duck breast simmering on the grill fills the air. The fun-loving Lafayette couple is known to host some of the best football playoff parties in the land of roux, culminating with Super Bowl poolside feasts. Few can beat the Heberts' culinary offerings gleaned from the Gulf and nearby wetlands.
"Mike and I had a very similar upbringing, fishing and hunting," Ginger says. "We spent our first 10 years of marriage each weekend, fishing and scuba diving, aboard his dad's 45-foot boat, the Salty Dog," she adds. "My dad's 46-foot fishing boat was named The Koddy. Ironically, we didn't know it, but Mike's father parked his boat next to our boat in Intracoastal City, so I really had met Mike when I was a kid but didn't know it. That's why he knew I would understand and tolerate his hunting and fishing."
For Christmas, when it's their turn to combine the two families, Ginger prepares an elaborate feast for 20-30 people featuring seafood and wild game aplenty. "I have no problem seating at least 24 inside," she says of their home, which has two dens, living and dining rooms and an open U-shape kitchen with custom cabinetry. The spirited redhead is famous for her holiday rice dressing and deer roll-up appetizers (marinated tenderloins stuffed with cream cheese and jalapenos, rolled and wrapped in bacon), which she also serves during the LSU, Saints and playoff games.
---

Mike built a cypress garden shed in the backyard for Ginger's landscaping projects.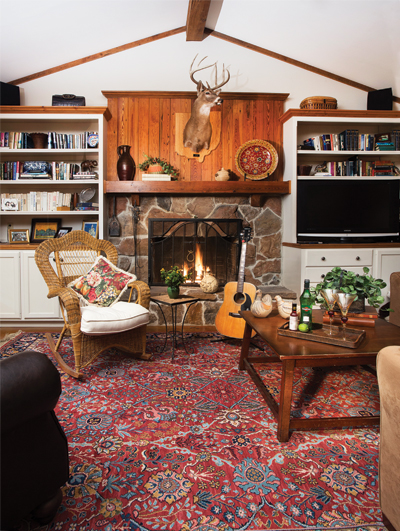 When deer hunting season arrives, a trophy buck is mounted over the fireplace in the den, where the Heberts spend cozy evenings by a crackling fire while enjoying Ginger's famous dark-roux gumbos.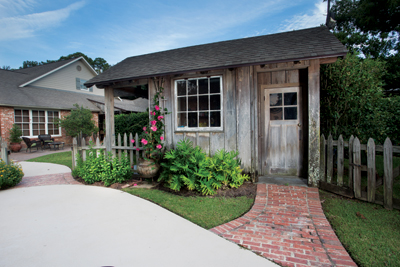 The garden shed is on the path between the two Hebert homes.
---
"Mike will hunt a feral hog for Christmas. He starts roasting it outdoors around 5 am in a Cajun microwave," Ginger says. "When we carve it up, people are standing around, catching all the really moist pieces and crackling skin, or gratons," Mike adds. "Feral hogs are a lot leaner than domestic pigs, they're not as greasy, and the flavor is much better."
Each winter, with the onset of hunting season, the Heberts' great room near the kitchen gets a tweak above the fireplace, the hearth of the home. The Aspen landscape oil painting comes down and is replaced with one of Mike's latest trophy mounts. This year, it's a beautiful eight-pointer Mike arrowed in Ohio that scored 150 inches. The remarkable whitetail trophy buck was consequently listed in Pope and Young's bow-hunting records.
The Heberts' central stone-hearth fireplace is appointed with a solid cypress beam for the mantel, lending a rustic tone. Tongue-and-groove long-leaf pine vertical planking extends above the mantel. "It's stained and is really close in color to the cypress beams in the room," Mike says. "We wanted an inviting feel to the rooms. Stained wood adds warmth, and cypress invokes the Cajun tradition of French Country homes." The proprietor of Westmark Construction Company, Mike is a general contractor handling both residential and commercial renovations and new construction throughout Louisiana.
---

The Heberts' favorite poolside "fish cleaning porch" is where they frequently gather for football games and barbecues, fish fries, seafood boils and impromptu gatherings.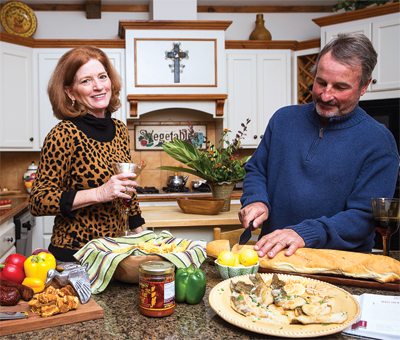 Ginger and Mike enjoy cooking together in their kitchen designed with a custom island and cypress cabinetry. Ginger grew up duck hunting in Pecan Island, while Mike's family hunted at Whiskey Bay. Their shared love of the outdoors and cooking together renders a home that is warm and inviting.
---
The great room, which the Heberts designed with the help of Mike Landry, has a casual feel with 12-foot vaulted ceilings and old-growth pecky cypress beams that were gleaned from Ginger's grandfather ("Daddy Bob's") Abbeville camp. Mike and Ginger's shared sensibilities of casual living tied to the seasons inspired the design of their four bedroom, four-and-a-half-bath French Country home built in 1996.
Mike's late father, Louisiana Hall-of-Fame builder Harry Hebert, who created some of the most well-known subdivisions in Acadiana, devised the new Kamos subdivision when Mike and Ginger acquired the property where they built their house. "He was on the planning commission," Mike explains. "He was looking for a place to build as well." Harry and his wife, Marie, eventually built a home next door. A small, winding path adjoins the two back yards.
"It worked out perfectly," Ginger remarks. "Our son, Zach, loved to swim and have his friends over while growing up. Mike's mom babysat all the Hebert grandkids, so the pool was a great place to keep us together. For several summers, if a meal couldn't be prepared on a barbecue pit poolside, it just didn't happen," she notes. "Marie has a great outdoor cooking area, and so most of our family entertaining flows over to her back porch, which is connected to our favorite outdoor spot, the 'fish cleaning porch' by the walkway. That's where we barbecue, boil seafood, and set up the Cajun microwave. It's also where we watch the games." Mike jovially rejoins, "It's a way of life. We work hard, and we play hard!"