The (Tunica) Hills are Alive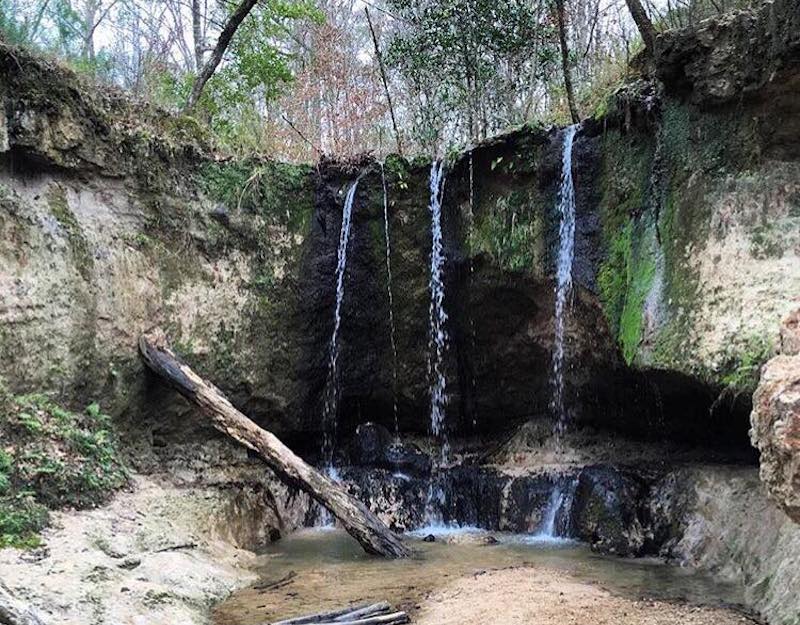 Louisiana is home to one of the most natural geological marvels around, especially unlike anything you would expect to find in our state. It's a feast for the eyes and can be discovered deep within the Tunica Hills in West Feliciana Parish and the surrounding area.
These hills are riddled with spring-fed waterfalls and has an unusual, hilly and rugged terrain, which boasts some of the world's most unique and diverse plants and wildlife. (Fun Fact: The Tunica Hills ridges were created tens of thousands of years ago by the massive dust storms that travelled from the western plains and carried dusty, fertile soil, which then formed vertical bluffs up to 90-feet high atop the existing sand-clay bottom ancient sea bed.)
You could easily be swept away by the lush green upland hardwood forest and its cliffs where botanists and zoologists have discovered species of plants and animals categorized as rarities in Louisiana. The cooler temperature within the deep gorges fosters, the uncommon flora and fauna which thrives throughout Tunica Hills.
Mother Nature's glory reigns amid the nearly 6,000 acres of mostly untouched land, which offers an astonishing refuge. As stated before, there is no other place in the state where you will find such a unique topography, which supports this rare and complex mix of plants and animals. (Fun Fact: Tunica Hills is part of the loess ridges, which extends all the way to Tennessee.) Researchers from around the world have migrated to this sanctuary, located just east of the Mississippi River, to explore this exotic landscape and all of its fascinating offerings. One could hardly argue that solitude in this area is guaranteed.
If you're wondering what the best way to experience this sanctuary is, one option is to put on your hiking boots and land on one of the many hiking trails that will bring you up close to a virtual wonderland. The Tunica Hills Wildlife Management Area, which spans across 3,300 acres and include ravines and bluff, is a great place to start your exploration. This preserved land has both a north and south tract, the latter of which is part of the scenic and historic Natchez Trace System (used for travel since colonial times) and is very popular with hikers. There's also a short and easy half-mile nature trail with a bench along the route that will allow you to sit and simply ponder life amidst this gorgeous setting. (Tip: A hiking trip in the fall offers an explosion of colors in the vast, hardwood forests.)
There are other wonderful trails – A, B, and C – and like the nature trail, their trailheads are off the Old Tunica Trace Road. Trail C (a moderate, 3.6-mile loop) is considered the most exciting and popular of all treks with steep embankments and a river; Trail A is a 4.8-mile loop that has sandy bayous and deep ravines.
Step right over the state line into Mississippi, and you will find a best-kept secret: adjacent to the Wildlife Management Area is the Clark Creek Natural Area, which has some 50 waterfalls, one as high as 30-feet. This oasis, which locals refer to as Tunica Falls, spans 700 acres and has spectacular and refreshing spring-fed waterfalls. Two of the main waterfalls can be easily accessed with wooden steps leading down to the creek on the conventional trail.
In fact, there's a primitive and conventional trail, and both can be physically challenging due to the steep sloping bluffs. The conventional 1.75 mile trail is a pea-graveled trail that offers wooden stairs, great access to the falls, and is less vigorous. This trail takes about two hours to complete; however, you will need three-to-five hours on the more primitive 2.6 mile trail. Don't forget to splash around and enjoy the cool water. (Tip: Wear comfortable shoes/hiking boots, plus bring bug spray and plenty of drinking water.)
There are other ways to enjoy the Tunica Hills. You can hop on two wheels and bike along the quiet country roads, some of which were originally prehistoric game trails formed by Native Americans. (Tip: The Baton Rouge Bike Club has organized group rides thru the Tunica Hills on weekends.) Another popular option is to saddle a horse and ride along the sunken roadbed of the historic Old Tunica Road or within the Wildlife Management Area trails. (Tip: Cross Creek Stables offers three-hour morning and afternoon rides; advance reservations are necessary.) If you're looking for more options, go ATV riding on the Wildlife Management Area trails (and during certain times of the year it's allowed on the roadway).
Don't forget unparalleled birding is offered here – after all, this is where artist-naturalist John James Audubon was inspired and painted many of his famous bird series in the early 1800s. Be on the lookout for rare birds, such as the worm-eating warbler and the Coopers hawk, and wildlife viewing of white-tailed deer, squirrel, rabbit, wild turkey, and the rare eastern chipmunks is also very popular. (Fact: Hunting and trapping is also very prevalent in Tunica Hills.) (Tip: Hunting is allowed at specified times for deer, turkey, and small game; wild hogs and coyotes can be hunted year round. All visitors must use self-clearing permits for all activities on Wildlife Management Areas which are free and available at check station kiosks.)
There are endless sites and activities in and around the Tunica Hills that are worth a look, such as Tunica's Trudeau House and Trudeau Landing, both of which are on the National Register of Historic Places. Historic Saint Francisville boasts several historic plantations and shops; plus, you are a stone's throw away from Angola, the state prison which has a fascinating prison museum.
Whatever you do, don't forget to visit the Pond General Store, which dates back to 1881. This quintessential old-time country store, with its wood-plank floors and wood burning stove, is certainly like walking back into time; be sure to check out the display cases filled with the emporium's antique goods (and pick up a Clark Creek map while you're there), and meet the charming longtime owner Liz Chaffin, who is full of history and stories from the area.
If you are not picnicking or preparing a meal in one of the many cabins, the South of the Border Restaurant and Club is nearby on the Louisiana-Mississippi border on Highway 61. South of the Border specializes in mouthwatering steaks, and serves delicious seafood, pasta, hamburgers, salads and daily specials. There are also dozens of cafes and fine dining options only 10-to-15 miles away throughout St. Francisville (those include the rustic and charming Magnolia Café and the Audubon's Café).
If you're looking for lodging, there are numerous places to stay in and around Tunica Hills from Bed and Breakfasts, historic homes, hotels and one of a kind camping sites.
If you are all about 'roughing it', the Tunica Hills WMA offers primitive tent camping opportunities in the southern tract off Parker Road. A great way to get up close with nature is by making your home base at the Tunica Hills campground, which is near both the Clark Creek Natural Area and the Tunica Hills WMA. (Fun Tip: Be sure to notice the trees and plants staff members have labeled to educate guests.) There are small A-frame cabins with heat and air and equipped with a microwave and coffeemaker; a fully-equipped 2 bedroom cabin available for rent, and a larger, fully equipped A-frame cabin.
There are tent pads throughout the forest with electricity and picnic tables, and a dining pavilion with a BBQ grill; also available are bathroom facilities and a shower with hot water. Another great option is The Pond Store Cabins, which are cozy one-room cabins that feature two queen-sized beds and a sleeping loft; there's also a kitchenette with stovetop, sink and refrigerator.
If you want a bit of luxury, you are not far from several bed-and-breakfast plantations. Desert Plantation Bed and Breakfast is on a 1000-acre plantation along the edge of the Tunica Hills, while another great choice for lodging is Greenwood Plantation, which has about 16 rooms outside the mansion in a separate building. (Fun Fact: Among the many television productions filmed at Greenwood, was the 1982 mini-series "North and South," which starred Patrick Swayze.)
For more information:
mdwfp.com/parks-destinations/state-parks/clark-creek
tunicahillscampground.com/Home_Page.php
woodville4.tripod.com/pond.htm
facebook.com/Pond-Store-115264217771
facebook.com/South-of-the-Border-305877428172