The Sacred and the Profane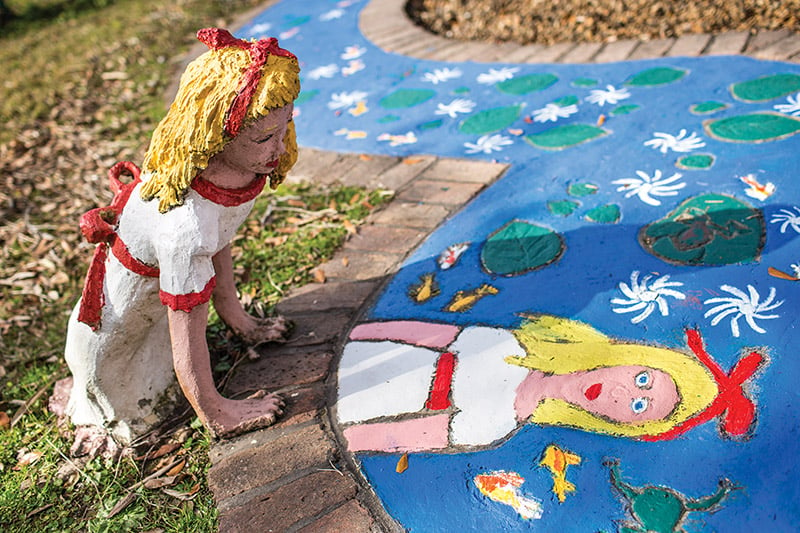 On the 15-mile drive south from Houma to Chauvin, if we weren't paying attention, we might have missed the plot of land on our right as we rode along the appropriately named Bayouside Drive. We noticed an incongruous-looking lighthouse on the banks of Bayou Petit Caillou, surrounded by an odd array of colorful statues. We stopped the car and got down, as we say in bayou land. As if on cue, emerging behind the Chauvin Sculpture Garden, a sleek blue shrimp boat christened the "Salty Dog" sails up the bayou, blasting the Beatles' "Lady Madonna." It was an appropriate foreshadowing of what we were to discover.
Ten years in the making, Kenny Hill's sculpture garden began after spending time in a tent and then a small cabin he built with his own hands on rented land. A skilled bricklayer, he created over 100 concrete sculptures throughout the '90s. Sword wielding guardian angels and the Banished from Heaven, cowboys and Indians, the raising of the flag on Iwo Jima, biplanes and eagles, Christ bearing his cross and even the artist himself again and again. Two scantily dressed women behind the lighthouse, originally nude, that Hill only covered up, barely, upon the insistence of the landlady, turn their backside to the water. The sacred and the profane, heaven and earth, damnation and salvation; they are all depicted and more on a tenth of an acre inches above the waterline. An eerie microcosm of the human experience.
In the small blue building across the street are housed various objects salvaged from Hill's home before it was torn down. There one can find pictures of him working on the sculptures or posing with his landlady who finally had him evicted when didn't keep up with his rent. An impressive but short totem pole is also to be found, along with knick-knacks and other memorabilia from the house. Contrary to popular belief, Hill didn't just disappear, never to be heard from again. Nor was he some wild-eyed eccentric battling personal demons, as his artwork might seem to suggest. As you can read in a note left by his ex-wife when she came to visit in 2007, he was a husband and a father to their three children whom she names. "Their Daddy is not a hermit; he was only a lonely man," she writes.
Our knowledgeable guides, volunteer caretakers associated with Nicholls State University who just happened to arrive shortly after us, assured us that he is alive and well somewhere up north but wants nothing to do with his wonderous creation, within which he nevertheless inserted himself repeatedly. Despite his reluctance to be associated with his work, he rightfully deserves to be recognized for this important contribution to Louisiana folk art in the same vein as Clementine Hunter or David Butler.
"Lady Madonna, children at your feet
Wonder how you manage to make ends meet
Who finds the money when you pay the rent?
Did you think that money was heaven sent?"