The Road to Bread and Circus Provisions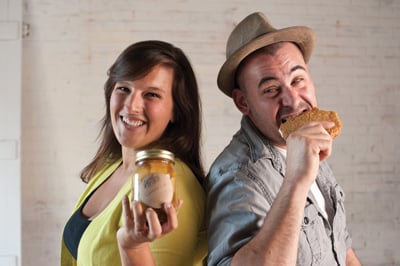 The recipe to hectic Friday mornings (which they seemingly all are nowadays) calls for a generous scoop of sarcasm, a staple ingredient in most everything chef Manny Augello and ex-wife Abi Broussard whip up.
"It's sooooooo hard working with marshmallows," sighs Broussard, co-owner and Chief Operating Wiseass of Bread and Circus Provisions, a Lafayette-based homemade condiment and charcuterie company.
Stomachs aren't even grumbling for lunch yet, but this facetious back-and-forth verbal dance of one-upsmanship has been humming for hours. Broussard's not gonna lie: She can see how an outsider might find it uncomfortable; how it'd be easy to misinterpret these playful exchanges between divorcees as something deeper than a way to get through the grind of an unwinnable supply-demand race.
Like, for instance, this morning Augello finished a batch of mayonnaise. While jarring and labeling it, Broussard snuck a taste. Meh, it's not as good as last week, she jabbed passive aggressively. That's probably why their marriage failed. She smiled a half-sweet, half-sinister smile at Augello.
Through a return grin Augello snapped back, "No, the marriage failed because you can't bake."
It's this Tender Loving Care (seriously, don't get it twisted, this is TLC) that sets Bread and Circus Provisions apart from the collage of condiment labels found along Row 4 of all those soulless goliath supermarkets throughout Acadiana. Trumpeting the same farm-to-table mantra Augello pioneered as executive chef at Jolie's Louisiana Bistro, Bread and Circus leans heavily on the bevy of local agricultural options available in its line of sauces, relishes and preserves. The still-teething company operates in borrowed kitchen space at the Saint Street Inn, pumping out products during the restaurant's down hours, enabling Bread and Circus to at least enjoy a fleeting presence in select Lafayette restaurants and specialty shops – Village Café and Pour to name a couple – and appease a loyal customer base at the weekly Lafayette Farmers & Artisans Market at the Horse Farm. Excited but not destructively anxious to immediately pounce upon their initial success, Augello and Broussard hope to make further inroads on shelves in the area as they continue their search for the ideal downtown Lafayette storefront.
"Anything that doesn't scare the crap out of you probably isn't worth doing," Augello says. "So yeah, I left a comfortable position with job security, and there was, of course, hesitation. It was like leaving a family, that's what Jolie's had become. And that's what I want Bread and Circus to become. Right now, it's Abi and I doing everything – jarring, packaging, labeling. So it's a small family and we're making it work."
Yeah, about family. Augello and Broussard were high school sweethearts who later wove their professional and personal lives together throughout their eight-year relationship, the last four spent as husband and wife. They were always thinking up ideas. Some flourished, some faded as nothing more than talk, and some – like Bread and Circus – came to fruition after their 2011 separation. From a distance, executing a business plan with your ex seems like an unfathomable juxtaposition that only becomes clearer once you peer through the kaleidoscope of culinary capitalism. The most common misconception, as Broussard so eloquently shares, is that "people think that we must be bumpin' uglies or something." Not the case. This is about bottom lines. Still, it persists. Just the other week, one of the farmers they buy produce from lit up when the duo show up together. Did they reconcile? No, Broussard assured him, this is just business.
"The dynamic between us two is, to us, simple," Augello says. "We get asked about this every time we meet someone, because it makes people awkward. 'Wait, you guys still like each other?'"
Broussard interjects.
"We're supposed to hate each other because we were once married to each other," she says. "But that's the thing: We were married. So there must have been something I liked. There was a reason. I mean, he's a real shitty husband." Augello laughs. Broussard continues, "But he's a great friend, a great business partner and a great father – just needs help in the husband department."
As far as food, well, that's a different story. The son of a chef, Augello's ambitious menu at Jolie's won him attention beyond the Acadiana triangle and a legion of devotees within it. Noting that, though, Augello struggled on just when and where to launch the Bread and Circus line and whether anyone would care enough to splurge on items used solely to accent a meal or dish. After months of tinkering, Augello finally felt comfortable enough to set up a makeshift debut at the weekly Horse Farm market.
"We thought, let's give it a shot: peddle some of our goods and see what happens,'" Broussard says.
"We actually didn't think anyone would want to buy our stuff" Augello interrupts.
"Yeah, if we got a few people, we'd have been happy," she says.
"We figure it was a chance to get our products out there, get some feedback and exposure," Augello says, "and see if we were onto something or not."
They were. Bread and Circus sold out of condiments in two hours.
"When we ran out, people wanted to buy the boxes we put stuff in," Broussard says as Augello laughs. "And we thought 'Wow.' We knew we had a good product, but what we were unsure of was whether Lafayette wanted it. And they do. They really do. We care about the ingredients that go in these condiments and they cared about that, too."