The Mother of Acadiana Profile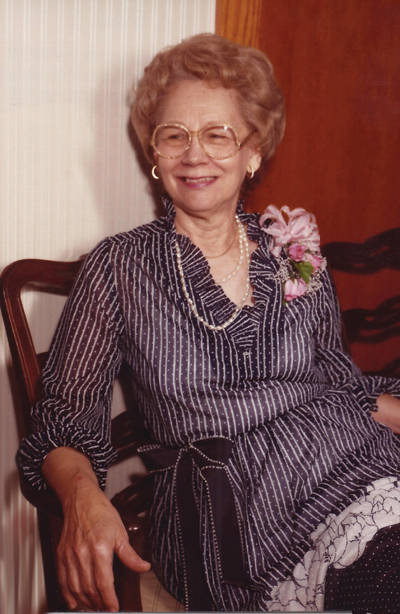 Although starting a magazine for South Louisiana was the brainchild of my dad, Bob Angers Jr., my mom, Geraldine Beaullieu Angers, was right there working with him in the tough, formative years beginning in 1968. And she worked with me for a decade or so after I took over as publisher in 1975.
The co-founder of Acadiana Profile, she opened the checking account, kept the books and set up a card file for subscribers. She was quite experienced in tasks such as these, having done them for many years for the Franklin Banner-Tribune before Dad sold the newspaper in 1965 and our family moved to Lafayette the following year.
Maintaining circulation records and writing checks were manual operations. I remember a hand-cranked adding machine at one end of our kitchen table. The table and the gray filing cabinet next to it constituted the original Bookkeeping Department.
I know Momma must have begun this new venture with some trepidation about its financial viability. She'd seen, up close and very personally, in the newspaper business in Franklin just how tight money could be in the publishing field. She knew, as every small-business owner knows, that when you own the business, you pay others first – employees, suppliers, tax collectors, everybody. And, if there's any money left, you pay yourself last. (I know financial advisers say such priorities are exactly backward, but just try paying employees last and see how quickly a business can fall apart!)
Now, at the time when the magazine began, our family was relatively comfortable financially – that is, compared to the nail-biting days in Franklin. My folks had a nice check coming in monthly from the sale of the newspaper, plus Dad was earning a salary as a writer for the Lafayette Daily Advertiser. However, knowing Dad's boundless determination to succeed in this new magazine venture, Momma was concerned that the fledgling magazine could become a drain on the household income. But that money was needed to feed, clothe, shelter and educate us eight children, most of whom were still living at home when the magazine was being born.
I know my folks lived under constant financial pressure, first with the newspaper and then with the magazine. I know Momma woke up in the middle of the night many times, worrying about money. In a real way, she was powerless to do much about it, except to pinch pennies. After all, she wasn't a salesperson, so she couldn't generate revenue.
Dad, on the other hand, was a great salesman – bold, articulate and convincing. His response to financial pressure was to attack it; his tactic was to "sell your way out of it." He'd sell ads and subscriptions and magazines by the dozens or even hundreds. And he'd get some of my brothers – Gerald, Tom, Glenn – to go out and sell subscriptions.
By sheer force of will, Dad found the money to run the business. He figured that if he could keep it going through the critical formative years, it would eventually become self-sustaining and somewhat easier and would surely go on for many, many years to come. He was right.
Still, Momma fretted and struggled to make the ends meet.
"This deficit bookkeeping is for the birds," she said on more than one occasion.
Hearing the discouragement in her voice, Dad would work all the harder to create the sales that brought in the revenue to run the magazine. So did I, beginning in 1971.
When a new subscription was sold, Mom would deposit the money, handwrite the subscriber's name and address on a 3-inch-by-5-inch index card and file it alphabetically in a special oblong box designed to hold such cards.
Right after the magazine went to press, she'd send the cards to a lady named Mrs. Peterson who would address the labels to be applied to the magazines for mailing. In the early days, 1969 through 1971 or '72, the mailing was prepared in our living room. A few of my brothers would apply the labels to the magazines and then sort by ZIP code. Stacks of magazines were spread throughout the room – one stack for Breaux Bridge, two for New Iberia, seven for Lafayette, one for Lake Charles, one each for Houma and Thibodaux, etc. Then they were loaded into heavy canvas bags and driven to the Bulk Mail Department in back of the post office, which at the time was on Jefferson Street in downtown Lafayette.
At first, Momma lightly supervised the labeling and sorting. But mostly she kept the books and maintained the subscribers' records. And, at the same time, she was a homemaker, mother, wife, adviser, comforter. She was always there, the stabilizing force in our home. I never heard her say a curse word, almost never heard her raise her voice, but I did see her crying once or twice. By her behavior and demeanor, she taught us prudence, moderation and forbearance while Dad taught us self-reliance, citizenship, salesmanship and ambitiousness.
When we were little kids, Momma taught us catechism and helped us with our homework while Dad was at the newspaper office, writing, editing, trying to get the paper to press. Momma had been a teacher before her babies started coming back-to-back in waves of three. (She lost one baby at birth, around 1960.) She graduated from St. Joseph's in Jeanerette and got her college degree in education from Southwestern Louisiana Institute, now called University of Louisiana–Lafayette.
A few years before Dad died, in October 1988, Mom went to work as a volunteer in pastoral care at Lafayette General as a records-keeper and visitor of the sick. There she kept a little card file on patients, like her box of subscriber records at home, and she was a bearer of peace to the sick, as she was to us children at home. She retired from the hospital in 2010, having served for 25 years.
She's 92 now and recently moved out of our house on South Audubon (formerly called River Drive), where the 10 of us lived and where Acadiana Profile took its first breath. I sometimes think of the magazine as another of her children – a living, breathing entity – whom she nurtured and mothered until it could fly on its own.
Today, she lives in an assisted living facility in Lafayette. While visiting recently, I heard a comment that warmed my heart from one of the residents.
"Your mom is the sweetest person out of everyone who lives here," she said.
"That doesn't surprise me," I responded.
Momma has a few health problems, as people her age do. But I believe she is rightly at peace, by and large, in the knowledge that she did well what was hers to do in rearing her eight children – and in helping to breathe life into Acadiana Profile.