The Hallmark of Authentic Cajun Cooking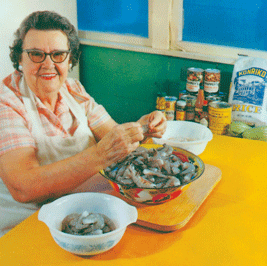 In 1976, when I went out into the field to begin gathering recipes for the first cookbook Acadiana Profile would ever publish, I was on a well-focused mission to track down nothing but authentic Cajun recipes.
But the first woman I encountered – who was typical of many others with whom I talked – seemed a bit surprised that anyone could be so naive as to think that a real Cajun cook would have recipes in written form.
"I don't have any written recipes," said the elderly lady, who was bound to have mastered a thousand recipes if she had mastered one.
Seeing that gathering these recipes wasn't going to be a simple matter of transcribing from her recipe card to my notebook, my next approach was to attempt an interview, asking the lady if she would tell me how she made shrimp-and-okra gumbo.
"I can't tell you how I do it; I just do it," she said. "You're welcome to come back later this afternoon and watch, though."
It was almost as though there were some kind of instinct at work in her.
Although the real Cajun cooks of decades past may have cooked without written recipes, this is not so much the case today. What does remain true today, though, is that good Cajun cooks take a great deal of personal pride in their cooking. As they have for generations, they put a lot of tender loving care into preparing meals for their families, and it shows.
Cajuns, or French-Acadians, have a tradition of excellence in the culinary arts dating back two centuries and more. The tradition was brought with them to South Louisiana after they were exiled by the British from their homeland – what is now called Nova Scotia – for religious and political reasons in the mid-1700s.
Once they were resettled in Louisiana, their storehouse of knowledge and experience in the culinary arts was greatly expanded because of the abundance of wild game, the diversity of seafood and the productivity of the rich alluvial agricultural lands in this semi-tropical part of the country. The cuisine was further enriched by the absorption of African, German, Spanish and Italian influences.
But the element that may give Cajun cooking its richness more than any other is patience – the willingness to put in the time to do it well no matter how long it takes. The Acadians of two and three centuries ago were rural people, tied strongly to their homes and lands; they had plenty of time and patience to try many kinds of recipes and to work with them until they were perfected. They prepared dishes sometimes requiring eight or 10 ingredients and took the time to allow those ingredients to blend one into the other, gradually and completely, until real gourmet fare was created.
This tradition of patience has found its way down through the decades and, together with knowledge and skill, remains today the hallmark of real Cajun cooking.
This column is adapted from the introduction to Acadiana Profile's Cajun Cooking (Book 1), the first edition of which was published in 1979.