The Founding – and the Founder – of Acadiana Profile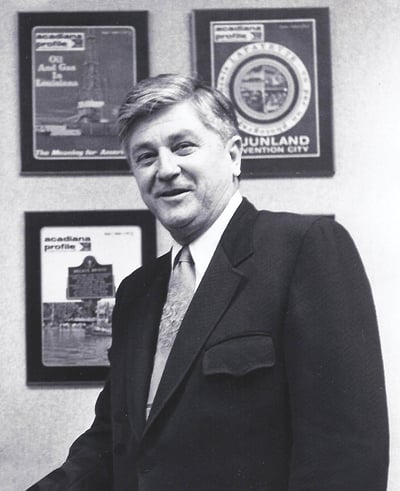 In the fall of 1968, I was at LSU in journalism school when my dad, Bob Angers Jr., called me to say he was starting a magazine.
At first blush, I thought he'd taken leave of his senses.
I couldn't relate so well to his radical idea because at the time there were very few city or regional magazines in the U.S. Arizona Highways and Los Angeles were relatively new, and Texas Monthly hadn't even been born yet.

Besides, everyone I knew in the field of journalism – whether students or working writers or editors – understood that our world revolved around daily metropolitan newspaper journalism. That was it. That was our paradigm. That's what we were being trained for in college, and that's what we did after graduation.

The first edition of Acadiana Profile was written, edited and produced mostly in October, November and December of 1968. It was published in January of 1969. Its subtitle was "A Magazine For Bi-Lingual Louisiana," and most of its articles were run in English and French. The whole issue was on one topic and was titled "French Renaissance in Louisiana." The issue carried only one ad, Frey Meats of Lafayette and New Orleans. The revenue from that ad – a sponsorship, actually – paid for the first printing (2,500 or 3,000 copies), which was done at Tribune Printing Plant in Lafayette.

My dad's decision to go bilingual was an expression of his support for the French renaissance movement – South Louisiana's resurgence of pride in its French-Acadian culture and heritage. He knew a lot about this movement because he had been writing news releases and editorials in support of it for a couple of years. This work was done under an informal contract with James Domengeaux, chairman of the Council for the Development of French in Louisiana, or CODOFIL. At the same time, Dad was a reporter and editorial writer for the Advertiser of Lafayette.

Only two years earlier, in the summer of 1966 – just after I finished high school at Hanson Memorial in Franklin – our family, all 10 of us, had moved to Lafayette. Dad had owned and published the Franklin Banner-Tribune from 1950 to 1965. (That's where I got my start in journalism, first as a photographer and then as a writer and editor of the teen page. I also delivered papers to homes, stores and vending machines.)

Dad was the prize-winningest editorial writer in the history of Louisiana when he owned the Banner. Talk about a guy who pulled no punches when he wrote! He believed with a passion in the American free enterprise system and was a staunch conservative who knew that the threat of communism was very real. He was a delegate to the Republican National Convention in Miami in 1968 and was a Ronald Reagan delegate – way before the term "Reagan conservative" was coined.

Dad was an Army officer in the Pacific Theater during World War II and seriously considered becoming a lifer in the military – until Mom, at home with three very small children, convinced him of the wisdom of his staying home to actively participate in the rearing of his children.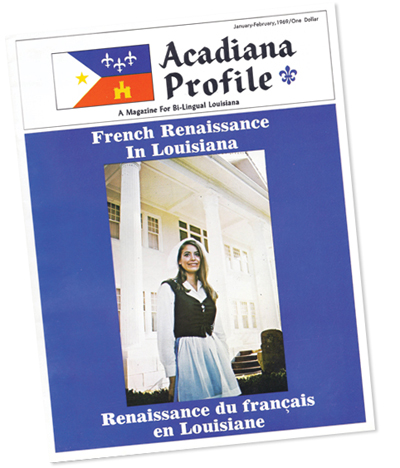 Before the war, he was a proud graduate of the LSU School of Journalism, the same school from which I graduated 30 years later. His dad – a real estate man and city marshal of New Iberia – scoffed at the choice of journalism as a profession, telling my dad, "You'll never make a decent living in that field." This, of course, got Dad very angry, and so he set out to prove the old man wrong. I'll admit, as Dad eventually did, that journalism, by and large, is not an easy way to make a living, nor is it a lucrative field for most of us who work in it. But the job satisfaction is through the roof.

After selling the Banner-Tribune and before starting Acadiana Profile, Dad worked for Latin American Report magazine, based in New Orleans. He enjoyed the slower, saner tempo of magazine work and loved seeing the way color photographs reproduced so nicely on glossy paper – as opposed to duller reproductions on newsprint. These were two of the things that predisposed him to want to start a magazine for South Louisiana. Another was that working for other people wasn't his style, really. He preferred to be the man in charge, as he was in the Army and later at the Banner-Tribune.

And so in December of 1968, with all the writing, editing and pre-press production now complete, he boxed up the paste-ups and photos and drove them just down the street to Tribune Printing Plant. Thus, he put to bed the inaugural edition of Acadiana Profile, now in its 45th year, a publication that would become one of the longest-running regional magazines in U.S. history.