The Food of Love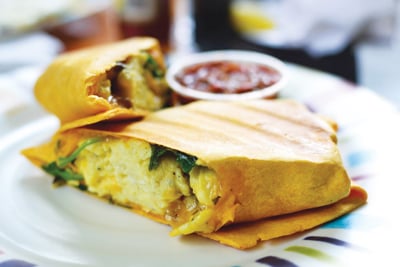 Acadiana is known for its great food and great music. Finding local spots that serve up delicious fare and have a live band in the corner or on stage down front is a win-win.
Artmosphere
902 Johnston St., Lafayette
(337) 233-3331
Back in 2003, when Beryl Kemp first opened Artmosphere, she was hoping to create a cool place for creative expression. Artmosphere has become that and so much more. With a commitment to "very intentionally diverse" music, as Kemp describes it, she's also focused on delivering excellent food choices.
Lately, she's put even more attention on the food in order to keep her license as a restaurant. In Louisiana, restaurants must prove that at least 51 percent of their sales are food related, and no more than 49 percent are alcohol. Artmosphere's commitment to good music and its relaxed environment that feels more like a living room makes it conducive to staying a while and having a drink or two. So, Kemp has ratcheted up the energy on the menu and started a public relations campaign to keep the community aware that Artmosphere starts serving food every day at 11 a.m.
She's also launched a line of healthy juicer drinks and a calendar full of daily specials, including an impressive Sunday brunch option.
"Tuesday, build your own burger," she says. "Also, our pizza is really popular. Traditionally, for years and years, the up in smoke wrap was our most popular item. We have a grilled vegetable mix with caramelized onions, zucchini, carrots and more. We cook it twice and put it on a pizza, sandwich on pita or in a salad."
Combined with a variety of fresh herbs, the grilled vegetables in a variety of forms have turned out to be one of the most popular things Artmosphere has done lately. She says Artmosphere is doing a lot more vegan, vegetarian and gluten-free dishes.
"I'm personally attuned to that kind of food and have learned that you can eat really delicious food – that's also good for you," she said. "When we first opened, we did food that was kind of radical that doesn't sound radical now, but I don't think people were ready for it. We're adding more unusual food combinations and trying to buy more and more local produce. It's easier to do now with more local meat and produce people officially approved vendors."
With live music ranging from Americana, classic rock, Cajun, zydeco and its legendary Tuesday open mic night, Artmosphere has a loyal music following.
"We've been hosting open mic night for 11 years," Kemp says. "Every Tuesday night, it starts about 9 p.m. and is now hosted by Andrew Toups."
Kemp says the restaurant is also doing its best to encourage people to come earlier on weekdays.
"We're starting music earlier," she says. "Every day, I get here thinking I'll go home earlier and stay because the music is so good. In my own heart, I hope people feel like Artmosphere is a place where people can feel at home when they go out. It's kind of a funky, relaxed atmosphere full of positive energy. When people come here, they're here to hang out and enjoy the art."

---
D.I.'s Cajun Restaurant
6533 Evangeline Hwy., Basile
(337) 432-5141
D.I.'s Cajun Restaurant is Acadiana's Rice Field of Dreams, proving that, "If you build it, they will come."
Situated between the bayous Des Canes and Nezpique, getting to D.I.'s is an adventure all within itself. Even its owner, Sherry Fruge, acknowledges that the restaurant is truly "in the middle of nowhere." But for nearly three decades, people looking for the real Cajun experience – in food and music, have made the pilgrimage to D.I.'s Cajun Restaurant, located in out from Basile.
"We've been open 28 years in February – and I've been here every night," says Fruge. "It's crazy sometimes."
Beyond the good Cajun food and music, D.I.'s is a family friendly restaurant.
"In that many years, we've seen children come with their parents, now married and coming with their kids," Fruge says. "We have a very friendly atmosphere. My hostess hugs just about everybody who comes through the door."
With live music three nights a week, Thursday, Friday and Saturdays, Fruge doesn't hold back her grandmotherly pride when showcasing her grandchildren's music. Her grandson Briggs Brown's CD (Briggs Brown and the Bayou Cajuns) is available for sale. He performs at the restaurant often. Her granddaughter, Megan Brown, has a band, T-Monde and Les Bissettes and two radio programs on KRVS.
"We invite parents to show their children Cajun dancing. Sometimes we have three or four generations dancing on the floor at time," Fruge says. "I used love to dance. Would rather dance than eat. With my grandkids making so much music, we've kind of kept the Cajun way going in my family."
Fruge, at 70, still plays the organ at church.
"My husband was one of the first ones in this area to start crawfish farming," she says. "We were rice and soybean farmers. The year the soybeans were very, very bad, he went to the County Agent. They told him to try crawfish. We started crawfishing. I was a hairdresser, and he was a rice farmer. Everybody jumped on the bandwagon. The price of crawfish went down. We started boiling crawfish three nights a week – a bring-your-own-bottle kind of thing. People started saying, 'you need to get a place.'"
Finally, they found a building and moved it to the location where the restaurant still stands.
"We were supposed to be open just for crawfish season. When crawfish was over, the customers were lined up to the sign and said, 'Y'all can't close,'" she says. "We've added on four times, and we started with the music from day one."
The restaurant seats 275 people, and if you go on a Friday or Saturday night, you'll want to get in line early.
"We moved the tables around and people would actually dance," Fruge says. "We've been very blessed. It's been a very long journey. I've met a lot of wonderful people from all over the world. People ask, 'How do they find y'all?' and I say, 'I have no idea.'"
Fruge still manages the kitchen and tried to get around to the tables to say hello to diners.
"I do a lot of the cooking. I have stayed in the kitchen. My food has to be a certain way before I let it go out," she says. "Our boiled crawfish is special. My husband, D.I., had discovered a real unique way of boiling and preparing them. We make our own seasoning."
They also move a large volume of crabs. Her etoufee is made from old recipes. She uses D.I.'s grandmother's bread pudding recipe.
"All of our food is battered as it's ordered. It's like having a gathering at your home. We prefer food that way. You can identify each piece of seafood because it's not battered like the other pieces," she says. "I make my own batter. We do an onion blossom. I make sauce."
She says she's tired but still enjoys working 12 hours a day. "My workers can't keep up with me," Fruge says.

---
Foundry on the Bayou
715 W. 1st St., Thibodaux
(985) 387-4070
Folks in Thibodaux know where to go when they want good music and fried pickle spears – and maybe a libation or two. It's The Foundry on the Bayou. Granted, the emphasis at The Foundry may be more on the music that the food, but their strong appetizer menu, including duck fat fries – and the famed fried pickle spears, with a side of Creole Ranch, keep folks coming back for more. The full menu goes way beyond appetizers and includes an array of burgers, poor boys and seafood platters.

---
Luna Bar and Grill
719 Ryan St., Lake Charles
(337) 494-5862
The Luna Bar and Grill in Lake Charles offers an impressive menu, eclectic atmosphere and lots of great live music. With seating in an outdoor garden, a beautiful bar that serves a variety of beers and a vibe that regulars describe as "funky" and "hippie," it's still not so far out there that retired school teachers stop considering going for lunch on a regular basis! Their Sunday brunch is popular, as are their salads and sandwiches – particularly the grilled shrimp on a jalapeno cheese bun.

---
Extras
Any article on Acadiana places that serve good food and feature great live music would be incomplete without mentioning, Prejean's, Café des Amis and Randol's. They are institutions. They're the kind of places tourists have heard of and want to visit; they have loyal local followings, as well.
Cafe des Amis
140 E Bridge St.
Breaux Bridge
(337) 332-5273
Prejean's
3480 N.E. Evangeline Throughway
Lafayette
(337) 896-3247
Randol's
2320 Kaliste Saloom Road
Lafayette
(337) 981-7080