The Benefit of Beads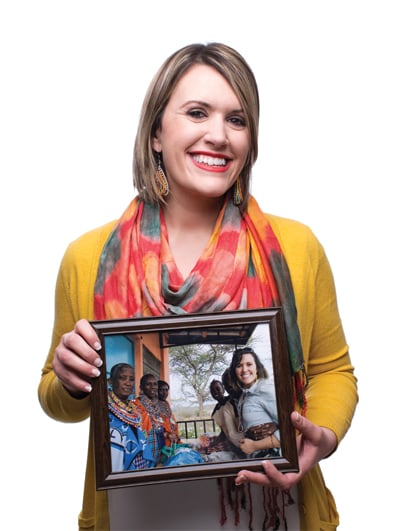 Because she's a pastor's daughter and embodies all the Pollyanna stereotypes of one, Liz Bergeron apologizes for not making her story short.
"I'm really bad at doing that," the 31-year-old explains.
Don't worry about it. The remarkable details behind the formation of an LLC built on TLC is well worth pressing pause on life to listen to.
As the CEO of Here and There Boutique, Bergeron partners with women of Kenya's Emarti village, selling their traditional, tribal-inspired items such as beaded necklaces, bracelets, headbands and even tableware like coasters stateside. Here and There has a digital storefront, but the majority of sales are done in-person at festivals and art markets throughout Acadiana. From a booth that includes plenty of pictures taken during her handful of trips to Kenya, Bergeron echoes the company's mantra: "Everything you buy here makes a difference over there" to swarms of curious customers.
"I want them to know this isn't pretend. This is legitimate," Bergeron says. "So I love answering questions like, 'Where is the money going?' and 'Where do they get the beads?,' because the profit is going to these women. It empowers them. We bargain. I place orders. I show them designs. We stress the importance of quality."
Bergeron's interest in Kenya piqued way before the formation of Here and There in March 2014 or even her first trip to the country six months prior. As a child, she recalls going to a "mission parade" where missionaries walked around, almost like a faux Olympic opening ceremony, carrying the flag of the countries they visited. The Kenya missionary never showed up, so Bergeron stood in, dressed in native garb.
"I don't think I knew what was going on; I was probably 8," she says. "But I remember thinking, 'This is cool. I like Kenya.' So it sounds like nothing, but that left an impression on my heart."
Fast-forward to the fall of 2013. She was depressed one day – as she says, "throwing a pity party … And at that moment, it just snapped, and I realized how good I have it here and that all these trivial worries and wants in my life were just that – trivial. And right then, Kenya popped up on my heart."
She called her father's friend, who organized relief trips to Africa, inquiring if a group was headed to Kenya anytime soon. Sure enough, a two-week women's-only mission was set to leave shortly through the nonprofit One Child Matters. Upon arrival, Bergeron marveled at the preponderance of women and children in the Emarti village, a common occurrence not only there but in many other areas of Kenya, as the men tend to take extensive gathering expeditions. She spent her days teaching villagers ways to conserve water and fight the spread of disease. She also took an interest in the jewelry the women crafted, partially to trade or sell, mainly for cultural reasons.
Bergeron says, "I instantly knew there was a market for this in America. So the trip ends, and I come back home, but my heart is burning – this stuff would sell, and this would provide jobs and income for a very poor community."
Through the same officials supervising the relief mission, Bergeron pitched the idea and made a small, initial purchase order. Raw materials (beads, strands, elastics, fasteners and adhesives) were provided: a 'no biggie' for Bergeron but cause for applause among the village women. As their relationship grew, Bergeron introduced the Emarti women to flashy-colored beads: highlighter shades of yellow, green, orange and pink. When she returned to pick up the order, all those beads had been swapped for primary colors. "Guess it wasn't their thing," Bergeron says. "But as always, everything was beautiful. So whatever works. But they do want to try things, and they are open to different designs and concepts."
Either Bergeron or her friend, Kasey Damiata, has been back to Kenya three times to pick up the orders – a one-woman chore.
"Between a duffel bag and a suitcase, everything fits. When you go, you give away half your clothes anyway," Bergeron says. "It's commercial, but my business is hardly commercialized, if that makes any sense. These aren't orders of 6,000 bracelets or anything."
Because Bergeron pays the bills with her Monday-Friday gig as a cost supervisor at Firestone Polymers, Here and There's 2015 festival schedule isn't quite ironclad, though she'll have a presence at the Lake Charles Flea Fest (March 21-22) and Houma's Southdown Marketplace Festival in April.
"Here and There is almost like the marriage of all these dreams coming together – my heart for Kenya, my heart for the boutique and my heart for these women," Bergeron says. "It all came together, and I'd like that to keep developing in the future. I'd love to have a brick and mortar storefront, and I'd love to expand beyond Kenya. Other places need just as much help and have just as much beauty. (Here and There) could be all over the world and everything you'd buy would help the well-being and empowerment of someone somewhere."