Thad Morgan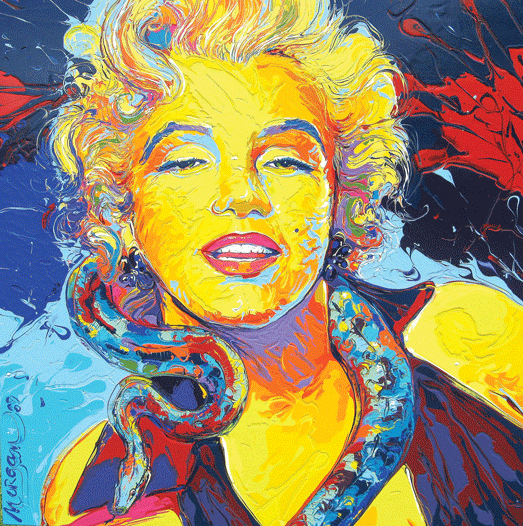 If this were a fairy tale, the epiphany would have sprouted the instant brush kissed canvas, awakening the suppressed artist within.
But leave it to reality to mess up a good story.
"Really," Lafayette painter Thad Morgan admits, "I was just tired and hungry. I didn't have much direction."
For more than a decade, Morgan's works – most of them trumpeting his hallmark generous use of bright, dominating colors – have left permanent paint strokes on the cultural canvas of Acadiana. Because he is the event artist for a litany of local festivals, some of Morgan's pieces continue the Cajun-centric linage of legendary figures (and mentors) such as Robert Dafford and Elemore Morgan Jr. But Morgan's desire to grow as an artist and his spirit of discovery make it difficult to pin him with an easily definable label, as varying facets of his style are often on display with a singular art show.
"Once I get an idea on a canvas, there's not a lot of thought process," Morgan says. "I'm consumed in the moment. So there isn't time to think. The work evolves the moment I do it. I have no idea what the piece is going to look like or the way the colors may mesh or complement each other until the painting is completely finished. You have to be spontaneous. I mean, this all started from spontaneity."
And it started in, of all random places, Costa Rica.
The year was 1994, and Morgan was literally and figuratively lost.
As was the case for many 20-somethings at the time, a vindictive economy had thwarted Morgan's plans to land a job in his field of study – advertising design. He pieced together a living by dabbling in a bit of everything: offshore oil work; the nightclub scene, both bouncing and bartending; telecommunications; teaching art in Houston's Third Ward. But nothing stuck.
Frustrated and in dire need of an escape, Morgan traveled to Costa Rica for a month to cleanse his soul. On this particular day, the sun was beginning to set on Morgan's 18-mile hike along Playa Negra, a "hang 10" holy ground in the northwest region of Guanacaste that served as the backdrop for the surfer movie Endless Summer II.
"I asked this guy on the beach if he knew a place [to stay]," Morgan says. "He pointed down the way. There was an American, he said, opening up a restaurant."
Morgan introduced himself to the owner, a laid-back guy named Paul. He showed Morgan around. In a couple of weeks, he said, this place – an expansive building with a hut motif – would be a cabana and bar for surfers. It would be called Pablo's Picasso. There'd be a pool table here and a ping-pong table there, and the cute women would gather at the half-circle bar. Morgan noticed Paul had a couple of brushes and some paint lying around in the corner. In need of lodging, Morgan offered to paint two large surfing murals on the walls if he could sleep in Paul's hammock for a couple of days. Oh, and Paul would need to feed him, Morgan added.
Paul agreed.
"We had a deal," Morgan says. "And as I painted, it felt natural. But I didn't recognize it as 'The Moment,' or even 'A Moment.' When that's happening, I'm not thinking, 'Man, is this something that can change me and give me a new direction in my life?'"
Morgan does admit, though, that in hindsight the story is kind of romantic.
Once he returned to Lafayette, Morgan took cautious first steps toward a career in fine art as he began familiarizing himself with the use of acrylic paint. It was around this time that Morgan assisted famous Lafayette muralist Robert Dafford – the artist behind such familiar large-scale works as The Arrival of the Acadians in Louisiana mural at St. Martinville's Acadian Memorial, The Clarinet mural along the outside of the Holiday Inn in downtown New Orleans and the frog mural in Rayne.
"There was a period of experimentation," Morgan says. "I didn't just dive in. For a while, it was basic stick-figure stuff – just playing with color, playing with style, seeing what worked. The more I experimented, the more I saw how certain styles of my work affected people on an emotional level. So I got pretty involved in how and why that happened – examining the power of art."
The education Morgan absorbed from his time with Dafford went well beyond stylistic tidbits to include lessons about "the process of painting." He harped on the importance of using quality materials, paint that would last.
Faced with the expected and unexpected logistical difficulties of creating art on gigantic public canvases, Dafford seldom lost his cool, always reminding Morgan to paint from a place of peace.
As he branched out on his own, Morgan's liberal use of color caught the eye of Lafayette's concentrated art society. He also became known for his occasional stylistic quirk of using the butt-end of the paint brush rather than the bristles to manipulate the acrylic paint across the canvas. In promotional items, Morgan has often said, "I use colors to express myself in a way I cannot verbally." For instance, a couple of years ago, Morgan had an Andy Warhol-esque phase in which he transformed iconic pop culture or historic images – photos of Einstein sticking his tongue out or a profile picture of Abraham Lincoln – into vibrant portraits in which the entire spectrum of colors was exhausted.
Morgan's local stature grew, and he received such honors as painting the 2006 Festival International poster, a special commemorative piece for Evangeline Downs in 2005 that celebrated the 40th anniversary of horse racing at the track, a tribute piece of Zachary Richard for the 2008 Festivals Acadiens et Créoles and the poster art for the inaugural LAfestival (a series of events to promote awareness for the wellness of the Atchafalaya Basin) in 2010.
While in a comfortable place professionally, Morgan fought against complacency (one of his biggest fears and greatest challenges, he says) by taking a break from painting to travel to Paris. Much like his jaunt to Costa Rica nearly 15 years earlier, the Paris trip was filled with inspiration – all of it announced and intentional this time.
"That trip completely changed my whole perspective of art and what it is to be an artist and the responsibility that comes with it," Morgan says. "I saw the seriousness of the practice. That stuff inspires you. That stuff changes you internally."
Morgan returned from France and in late 2008 staged a nine-piece debut show titled Les Inspirations de Paris at The Wine Loft in Lafayette's River Ranch community. In July 2010, Morgan's work was on display at a show titled Intoxication Without the Hangover at Lafayette's City Club.
"When I first started [painting in Acadiana], there weren't a lot of galleries to show at," Morgan says. "There wasn't a lot of art being showcased. That's no longer the case, and it's great to see all that support and all that energy brought into something that was left vacant for so long. It was a movement, really. An art movement. A creative movement. And as an artist from the area, I was always proud to be included in that, in a very small way."