Ten Things I Liked About Camp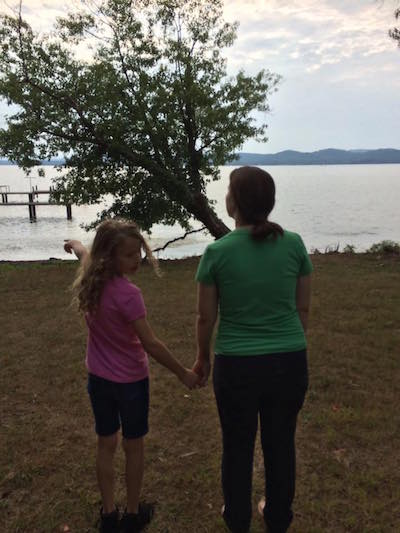 Ruby came back from camp with impetigo and a much greater sense of independence. The latter was pretty amazing to witness, and the former cleared right up with a bit of ointment. I am proud of her for staying the whole two weeks – next year she says she wants to go to all three weeks – making new friends, trying new foods, playing new sports. Of all the things I feel best about as a mom, perhaps at the top of the list is that after a bug got in her toothbrush, she simply went to the camp store and bought another toothbrush, not choosing the grosser two options of brushing her teeth with a bug-infested toothbrush or just not brushing at all. She's not ready to launch out into the adult world, but successfully navigating a bug in your toothbrush … well, that's a darn good start.
As part of this increased maturity, she asked me to again grant her blog access so she could convince other kids to go to camp next year. She has seen the light; she is a camp evangelist. So here you go: The Top 10 Things Ruby Liked About Camp.
Water-skiing/tubing/knee-boarding/wake-boarding. These were fun and fast. I learned pretty quickly but I could never quite stand up on the water skis. Once we were tubing and it was so wavy that we went sideways, but I stayed on. That was my favorite time.
Gym because I liked Pierce aka the gym teacher. In gym, we usually made up dances or played baseball.
Arts and crafts because I learned how to make friendship bracelets. I made like five and gave them away to people.
Swimming because I learned how to do ballet leg for the water ballet.
Sailing because we went to an island and canoeing because we went to an island and found a bird skull and found a bunch of clams.
The food was really yummy and I always went back for seconds, plus you got really hungry after all the exercise and the cooks were really nice.
I liked the camp dogs because they were fun to play with and really cute and all of them except Ezra liked to be petted.
I liked store because you could get two things. You could get candy and a soda, water and a fruit, soda and a fruit, water and candy. I usually got a Butterfinger and a Dr Pepper.
I met new friends and that was great because I knew they would be friends for life. I was a Seagull but I was friends with both White Caps and Seagulls – but I do think Seagulls are better! Go Seagulls!!!
I liked sleeping in my cabin after taps. At taps you would sing camp songs: "Day is done, gone the sun from the lakes, from the hills, from the sky! All is well, safely rest, God is night!" [Ed. note: Yes, it should be "nigh." But I like it the way she actually sings it.] I slept really well at camp.
I can't wait to go back next year, and I hope a bunch more kids come. If you're reading this and you have kids who are 7 or older, tell them they should try Camp Point Clear. It changed me as a person and made my life better and made me laugh a lot more.