Tales From the Swamp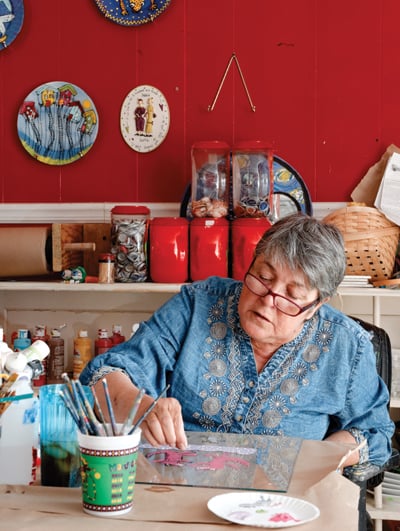 Alone with her thoughts – the unforged roadmap she'll dutifully follow until this piece is complete – Dot Tee Ratliff sits inside her MacGyvered-together studio, making up for lost time by magnificently painting lost times.
The Chauvin retiree isn't classically trained. She scribbled doodles for years – on napkins when bored, on blackboards a lot when teaching school children and those school children's children during a three-decade career in education – but nothing on a surface that wasn't designed to be erased or pitched in the garbage. Heck, without the persistent nudging of friend, Dennis Sipiorski, it probably would have stayed that way.
Ratliff didn't pick up a paintbrush until she was 50 years old.
"And it's wasn't a natural thing," she confesses. "It took me some time. I tried canvas and it didn't feel right. I'm a very tactile person."
So instead, she ventured toward using glass – framing each plate with washed-up Cypress her husband gathered from the property along Bayou Petit Caillou following violent storms. The featured characters of her pieces – pesky Tou-Lou-Lous (fiddler crabs), majestic pelicans, grizzled shrimpers and late-night fishing trips Dot Tee took mainly because the boys on the boats were cute – are wide-ranging yet all reside within this largely undisturbed enclave tucked away down Highway 56.
"I don't paint a painting. I paint a story," Ratliff says. "When I started, I didn't exactly know what to do, so painting about the life I lived seemed like a logical subject; the Cajun people the way they used to be from my childhood – Cajuns on a trawl boat, Cajun people working in their garden, playing in the palmettos, walking the levee, being scared by the feu follets."
A proud former tomboy, Ratliff seems to come from an upbringing lifted from the pages of a Mark Twain novel. While out with her cousins, she constructed camps and bridges out of nature's bounty. Games were invented on the fly while playing atop the levee.
Though she had a nice roof available to sleep under, Ratliff spent many nights in a rickety tree house. Her mother placed dinner inside an Easter basket rigged up to a rope. Food was pulled up. Dirty dishes were lowered back down. Most everyone was welcome, except one of Ratliff's cousins who had the nerve to carve a girl's name into the treehouse floor.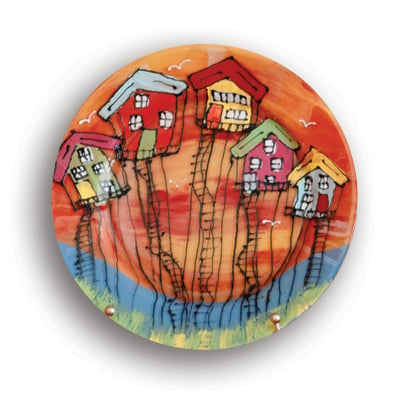 "Sounds mean, but he had it coming," she jokes. "He's the kind of guy who took you blackberry picking and left you in the woods so you couldn't find your way back."
To further preserve and explain the subject matter, Ratliff writes a paragraph synopsis of the story captured in her paintings on the back of the frame. Despite painting for approximately 10 years, Ratliff has produced an extensive catalog of work displayed throughout southeast Louisiana.
"One of my main worries when I started … I asked somebody, 'What am I going to paint when I run out of stories?'" Ratliff remembers asking. "He said, 'You'll never run out.' Thankfully, he's right so far. But I keep looking for things to add to my collection. Every day I sit with my Mom and her friends, and I listen to them talk in French."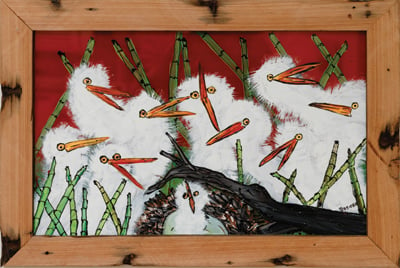 Inspiration came easy for Ratliff. The genesis of her art career blossomed while she worked at the Chauvin Sculpture Gardens, an awe-inspiring and somewhat bizarre display created by recluse Kenny Hill. The bright colors of Hill's mainly religious-themed sculptures are recognizable in almost every piece Ratliff signs. In fact, Ratliff's first public showing took place at the Sculpture Gardens where most everything on display was sold.
"Then the people of Thibodaux got interested," Ratliff says. "There are certain areas where people like folk art. It's not for everybody. Because with folk art, you're painting from your heart, and it might not mean the same for other people. So during my first shows, I stayed in the background while the people looked at my work. I didn't even think I deserved to be called an artist. When I was told that, well, I cried. 'You're an artist.'"
Much like Ratliff, who lives within a slingshot's launch of where she grew up, the premise of her artwork remains loyal to the area. She's never flirted with different subject matters, different styles, different vibes or feels. There's been no reason to, she figures, considering the diversity and uniqueness of all that surrounds her. Yes, it's familiar, and Ratliff admits that certainly comes in handy when she sits down to paint, letting her brush dictate where the creative process journeys. But there's also a sense of responsibility Ratliff willingly has adopted in her work – to document all that once was.
"Days after the BP oil spill, someone came into my studio, and I'll never forget this," she says. "They told me, 'You know, everything you paint is now pretty much obsolete.' And he's right. Look at playing on a shrimp platform and going night fishing with your daddy. Those are two things they don't have anymore. One of the stories, about the people planting Easter Lilies on their land, well, that land is a lake now.
"So it's like you're painting history. I didn't realize until the man in the studio said so. 'Look at this: You're painting history. Everything you paint is gone now.'"