Sur le Menu: Mexed Out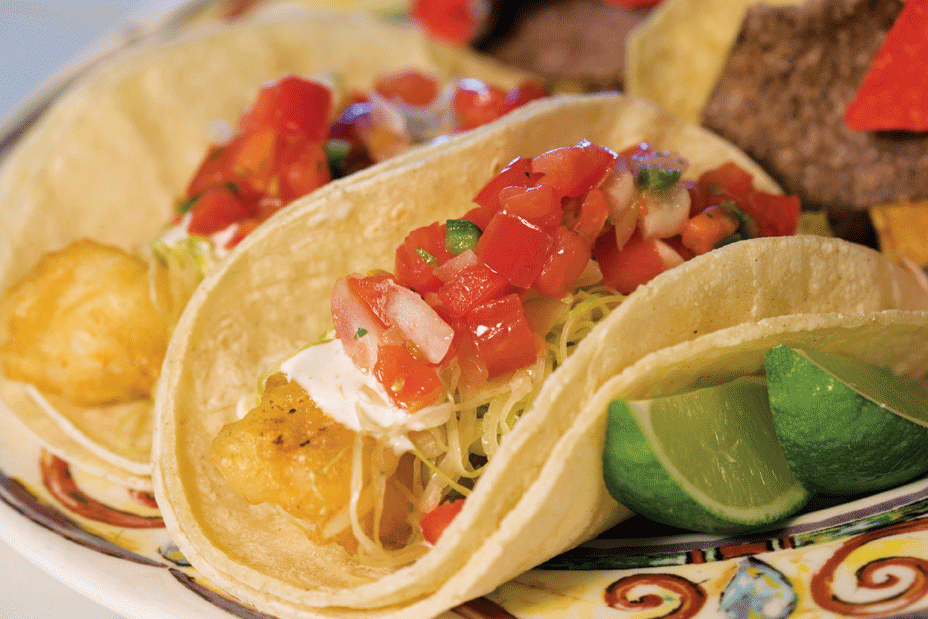 Agave Mexican Grill & Cantina
200 E. Vermilion St.
Lafayette
337/289-0000
If you're visiting downtown Lafayette and have a craving for food and fun from south of the border (with a hint of Creole thrown in for good measure), Agave is your choice.
Agave is a fun, high-energy restaurant with a consistent menu. With a loyal crowd that appreciates the party atmosphere and ample patio seating, the restaurant has become a local institution – although it should be noted that the music is sometimes so loud that any chance of dinner conversation is gone, which may or may not be what you're looking for.
For many, the drinks at Agave are as important as the food. However, there are several good choices on the menu, including Tuesday's $2.50 fish tacos and the seafood chimichanga.
El Potrillo
1934 Moss St.
Lafayette
337/237-1188
Frequently described by its patrons as being "that Mexican restaurant in the old Pizza Village building," El Potrillo has a following of people looking for authentic Mexican food. Its followers are die-hards and will challenge anyone or any place for the honor of El Potrillo! For sure, it's "real" Mexican food.
"I love their chicken fajitas," says Katrina Matthews Sekhani, a recent transplant to Lafayette from Austin, Texas. "They really are unparalleled, and that's comparing them to Austin's east side, a Mexican food mecca. But the very best part is my favorite waiter, Antonio, who calls me by name, delivers my chosen drink without having to ask what that drink is and translates random Spanish words for me."
If you gauge a Mexican restaurant by its refried beans and rice, El Potrillo will likely rank as the most authentic Mexican restaurant in Lafayette.
El Tapatio Mexican Restaurant
2624 Gertsner Memorial Drive
Lake Charles
337/475-9022
For many, El Tapatio is the hands-down Mexican food favorite in Lake Charles – especially for those looking for less Tex-Mex and more Mex.
El Tapatio is a very small and often crowded family-owned restaurant. It offers great value and is doing its best to serve consistently excellent and authentic Mexican food – so authentic that there's a chance that, unless you paid attention in Spanish class and learned a few helpful phrases, you might have a little trouble communicating with some of the staff, even the wait staff. But don't let that deter you. Si tu quieras comida Mexicana autentica, vamos.
For starters, try the queso blanco or the queso fundido, depending on your mood and/or taste buds. You won't be disappointed. From there, you can choose from a range of burritos. The Burrito Mexicano is a good choice – or try the fajitas. Or you might choose to pick your favorite menu item and give it a try. El Tapatio is the kind of Mexican place that is worthy of a little adventure.
Azteca's Mexican Restaurant
3535 Ambassador Caffery Parkway
Lafayette
337/769-1088
Azteca's Mexican Restaurant is not what you'd expect it to be. Stuck in the middle of a strip mall, two doors down from Chuck E. Cheese's, Azteca's quality of food and service comes as a surprise to most. Right off the bat, it achieves the first mark of a great Mexican restaurant: It serves delicious chips and salsa. The rest of the menu features many Mexican standards, but at Azteca's you want to be sure to try the fajitas.
"Their fajita meat is perfectly marinated and melts in your mouth," says Janie Baudoin Varisco of Lafayette. "Plus, the service is excellent, and they treat us like family."
La Pagua
4807 Johnston St.
Lafayette
337/988-1312
La Pagua is another one of those hidden-away jewels. The owners are a husband-and-wife team from Mexico and Ecuador.
Some patrons believe its queso "is the best this side of the Rio Grande," but don't take our word for it.
La Pagua serves steak fajitas with a whole onion – and the overall dish is legendary. The small restaurant serves some items that just don't make it on the menus at other restaurants; the tacos de lengua (seared calf tongue tacos) are one example.
Also the enmoladas are made of deliciously seasoned and shredded chicken to soak up the mole.
"I measure a Mexican restaurant by the relleno, and La Pagua does theirs well!" says Jay Breaux of Lafayette. "Good, good, good all around!"
La Palma Mexican Restaurant
710 St. Mary St.
Thibodaux
985/448-1221
La Palma Mexican Restaurant claims to be the only Mexican restaurant in Louisiana that grows its own peppers – and it very well may be. Like the peppers, the food La Palma serves is fresh, and since it opened in 2005, the restaurant has grown to be Thibodaux's Mexican food choice.
Yes, it's a small place, but the food is consistently good – and there's something heartwarming about how proud the family and wait staff are. They want their customers to appreciate the food they serve. They're also happy to tell you about their home, Zacatecas, Mexico.
Although the tight quarters don't make it a great choice for intimate conversations, the food makes up for it.
From the perfectly done rice and beans to the traditional carnitas, chuletas de puerco and homemade sopes, La Palma is a fine choice for Mexican food in the Thibodaux region.
Tortilla Soup
3910 Ambassador Caffery Parkway
Lafayette
337/704-2377
Don't let the name dissuade you. Don't let the fact that it's a combo Mexican restaurant and sushi joint dissuade you. Don't let the fact that two or three restaurants have already failed in this location dissuade you. Give Tortilla Soup a try. You'll be glad you did.
The reason behind the unusual pairing of Mexican cuisine and sushi is simpler than you might expect. The owner of the restaurant owns a Mexican restaurant and a sushi restaurant in another city. The two restaurants are close enough to each other that some Mexican restaurant patrons began asking if they could order sushi from the other restaurant and have it brought over. The management accommodated their requests – and it caught on. The owner started hiring sushi chefs for his other Mexican restaurants. And voilà.
At Tortilla Soup, the wait staff is incredibly polished, attentive and professional.
The manager of the restaurant knows quality Mexican food and is determined to serve it. They know they're up against tough odds in such a foodie-haven as Acadiana, but they're determined to win the crowd over.
Even though the restaurant is part of a small chain, the food is authentic Mexican cuisine. The chips and salsa are good, and the chip bowl is overwhelmingly never-ending; the staff is replacing the bowl before it's empty. The chile relleno is one of the best around. The enchiladas are excellent.
Plus, the restaurant brings in a fantastic ensemble of mariachis on Wednesday evenings for a fun, fun night.
Oh, and the tortilla soup is quite good, too.