Sur la menu: Upscale Casual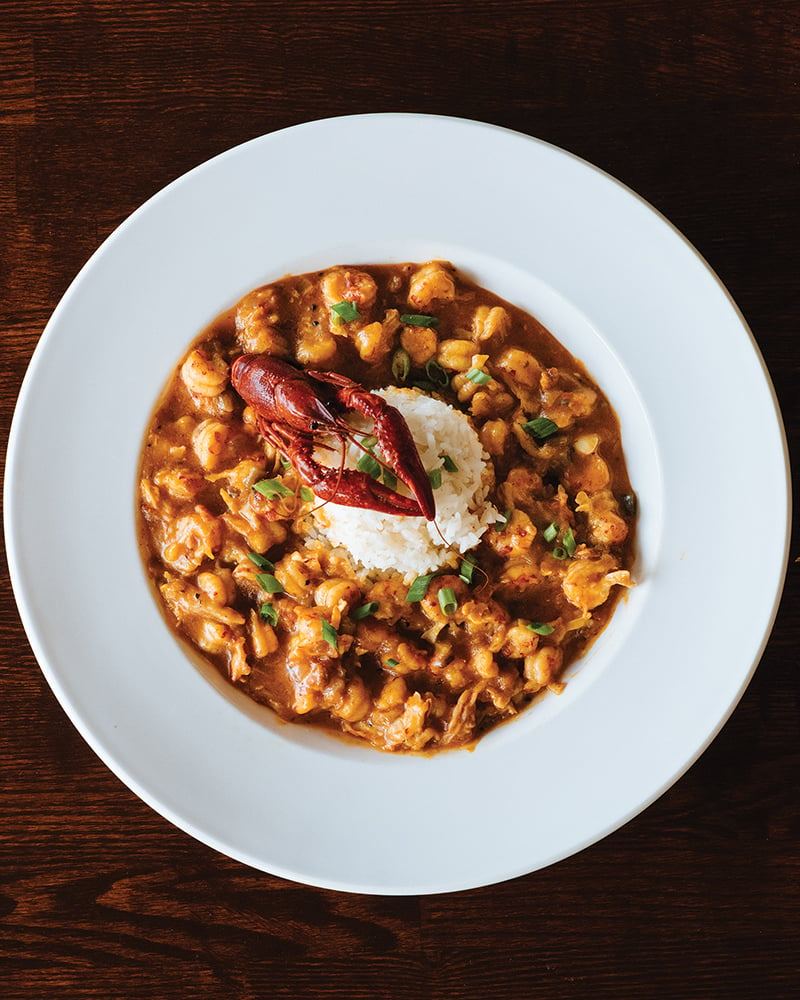 Located on a tree-canopied block of historic, downtown Breaux Bridge that bustles with strollers perusing antique shops and local boutiques, in less than two years Café Sydney Mae has successfully risen to the challenge of replacing the iconic Café des Amis, which thrived in the same spot for decades.
Bare wooden floors and old exposed brick contrast with a gleaming pressed tin ceiling, open wine storage, and plush leather guest chairs to pin down an atmosphere that is both swank and down home. It is come as you are: jeans and flannel or a gown guided in by a suit and tie.
At the helm of the restaurant is a woman with the same sensibilities.
If living well is the best revenge Executive Chef Bonnie Breaux is a five star general. In 2006, the Lafayette native was in the unenviable position of newly divorced single mother.
"I took inventory of my talents as a home-cook and opened a small restaurant, Breaux's, in Covington with the help of my family," said Breaux.
In the years since she has honed her self-taught, "Heritage Influenced Cajun/Creole" style she learned at the knee of her mother and perfected under Wayne Peltier at Clementine in New Iberia. She steered the kitchen at Roux in Tampa before Alcee and Lucy Durand tapped her to return to her native state to steward the kitchen at The St. John Restaurant in St. Martinville. In doing so she brought a fresh approach and organizational skills that revolutionized the historic restaurant. In 2017 she bested and outcooked scores of other chefs to become the first ever "Queen of Louisiana Seafood," an honor bestowed by the Louisiana Seafood Promotion and Marketing Board at the 10th annual Louisiana Seafood Cook-Off.
Chef Breaux, again with the Durands, opened Cafe Sydnie Mae in the spring of 2018. Named for the late Sydnie Mae Maraist Durand, a relative of the restaurateurs and a formidable, though beloved woman who served for 16 years in the Louisiana Legislature as a State Representative for District 46. She made things happen as the Chairwoman of the House Health and Welfare Committee, and also served on the House Executive Committee.
---
COMMANDING PRESENCE
Chef Bonnie Breaux creates masterful Cajun and Creole fare at Café Sydnie Mae —crawfish etoufeé and steak topped with crab meat
---
MENU
Try this
❶ STEAK
White country gravy on a 14-ounce rib-eye topped with a rich herb compound butter, and a bacon-wrapped 9-ounce filet. Optional toppers include sautéed jumbo lump crab, grilled or fried shrimp, crawfish etouffee, and Teche Wellington sauce.
❷ OPEN DAILY FOR BREAKFAST
Omelets are fluffy and stuffed with delicacies: The Atchafalaya with shrimp, crab, crawfish, onions, bell peppers and Swiss cheese; and The Sydnie Mae filled with creamed spinach, crawfish and pepper jack cheese.
❸ TEN DOLLAR LIGHT LUNCH SPECIALS
Entree options include Hawaiian or grilled chicken; blackened or grilled catfish or shrimp; Grilled Shrimp, Mushroom and Artichoke Medley; and a trio of fresh tacos stuffed with a choice of grilled catfish, shrimp or chicken.
---
Cafe Sydnie Mae
140 E Bridge St., Breaux Bridge. 337-909-2377. cafesydniemae.com.
---
BONUS BITE
Located just a few block away, Buck & Johnny's Restaurant (100 Berard St., Breaux Bridge, 337-442-6630, buckandjohnnys.com) has live music nightly and a rollicking Zydeco breakfast every Saturday morning from 8:30 to around noon. Dancers and diners enjoy the forceful beat of a live Zydeco band.
---