Sur la menu: Filler Up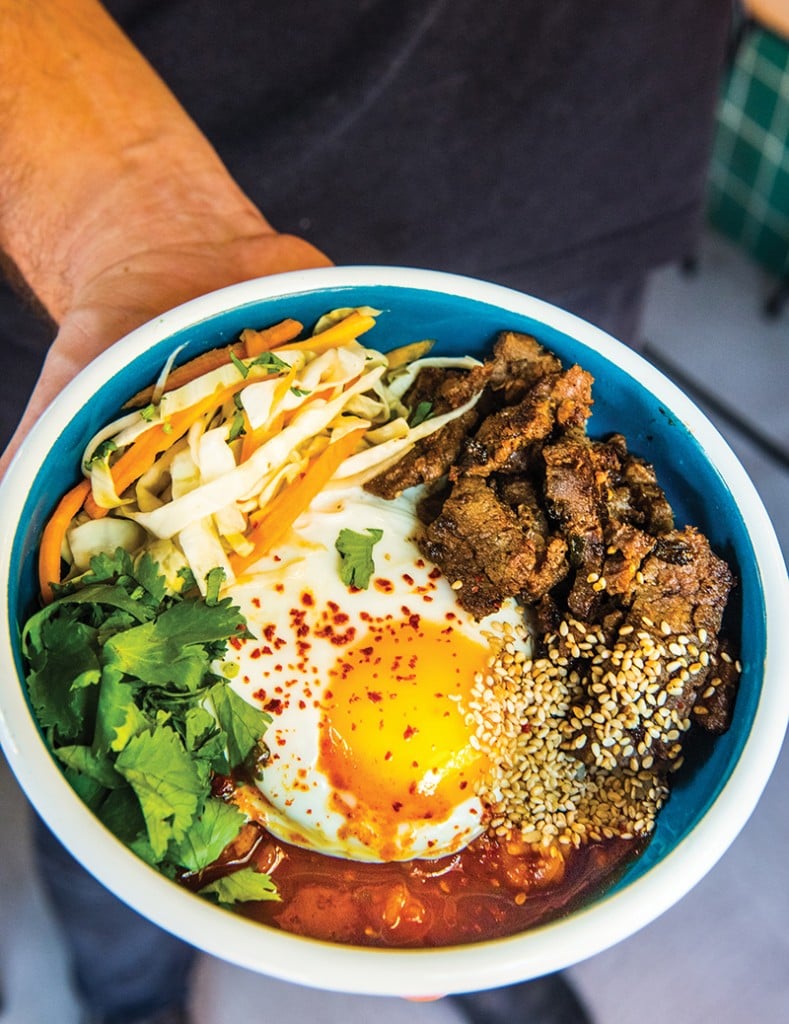 Last fall the familiar historic corner of Johnston and Jefferson streets in downtown Lafayette, previously occupied by The Filling Station and long ago serving as a Conoco gasoline station, reopened after a full renovation and expansion as Spoonbill Watering Hole & Restaurant. It takes its name from the roseate spoonbill, a bright pink bird with a spoon-shaped bill that lends the bird a look of permanent bemusement. Patrons enjoying outdoor seating are bathed in the glow of abundant neon tubing and signage while shielded from the busy street by a system of raw cypress planters filled with fountain grasses. The impression is bright, cheery and fun. The colorful interior of the triangular-shaped building is awash in natural lighting provided by newly-installed floor to ceiling windows.
A radiant exposition-style kitchen encourages voyeurism as Chef and Co-Owner Jeremy Conner and his kitchen crew prepare contemporary interpretations of south Louisiana classics merged with international flavors. A large curved bar is the other focal point of the space and the craft cocktail program, which includes festive Tiki varieties, does not disappoint. Check out the Corpse Reviver No. 2 (gin, Lillet blanc, Cointreau, fresh lemon juice, absinthe), Suffering Bastard (gin, bourbon, ginger ale, lime juice, mint), Roseate (Del Maguey Mezcal, strawberry, lemon, St.-Germain, mint, and a salt and pepper rim) and the T' Spoon (chamomile and lemon infused Buffalo Trace, Campari, St. Germain). A generous list of intriguing mocktails is also available.
Born in Opelika, Alabama, Conner began his career in the kitchens of Pensacola, Florida. He worked in various capacities in Lafayette kitchens, most recently as executive chef with the Village Cafe, before founding Cellar Salt Company, which he still operates. His diversified perspective on Southern food culture and Gulf Coast seafood flavors inspired his menu at Spoonbill.
General Manager and Co-Owner Stephen Daniel Verret has diverse skills as a designer, developer, creator and entrepreneur and he pressed them all into service in creating Spoonbill. Born in Lafayette, he moved to Los Angeles in 2011, where he explored the city's modern takes on bar and restaurant culture. He returned to Lafayette in 2014 to open the pop-up bar and pizza party, Olympic Grove. His vision for Spoonbill was inspired by the long-time TV hit "Cheers" — a place where everyone feels at home and the proprietors know their patrons by name. He loves people and says he is most at home when he is entertaining. (Read more about Spoonbill in our brunch feature.)
MENU
Try this
❶ Crab Quesadilla
A flour tortilla packed with Gulf blue crab claw meat, vibrant herbs, and a creamy mix of cheddar and mascarpone cheeses served with roasted tomato sour cream.
❷ Loaded Fries
Shredded mojo pork shoulder, melted cheddar, fresh pico de gallo, avocado crema, and hot pepper sauce.
❸ Fried Oyster Salad
Cornmeal-fried oysters, arugula, frisee, radish, and hard cheese with green chili-buttermilk ranch dressing.
❹ Chimichurri Steak
Seared 44 Farms flank steak with bright chimichurri, crispy shallots, and green rice.
❺ Bibimbap
Green rice bowl with bulgogi, hot pepper sauce, quick-pickled vegetables, sesame seeds, and a sunny-side-up egg.
Spoonbill Watering Hole & Restaurant / 900 Jefferson St. Lafayette. 337-534-0585. spoonbillrestaurant.com
---
BONUS BITE
With its sexy, atmospheric bar and craft cocktail selection, Pamplona, located just a couple of blocks down from Spoonbill, has long been a popular destination for tapas in Lafayette. Sure bets from the kitchen include Andalucian lamb sliders (fresh ground lamb, almonds, piquillo pepper, manchego cheese, and paprika aioli), bacon-wrapped dates (stuffed with Gorgonzola cheese and served with an almond puree), beef carpaccio (thin slices of tender beef with potato crisps, cucumber, and frisee tossed in lemon-truffle vinaigrette); and duck fat fries, for which no further explanation is needed.
Pamplona / 631 Jefferson St. Lafayette. 337-232-0070. pamplonatapas.com
---