Sur la menu: Allons Manger!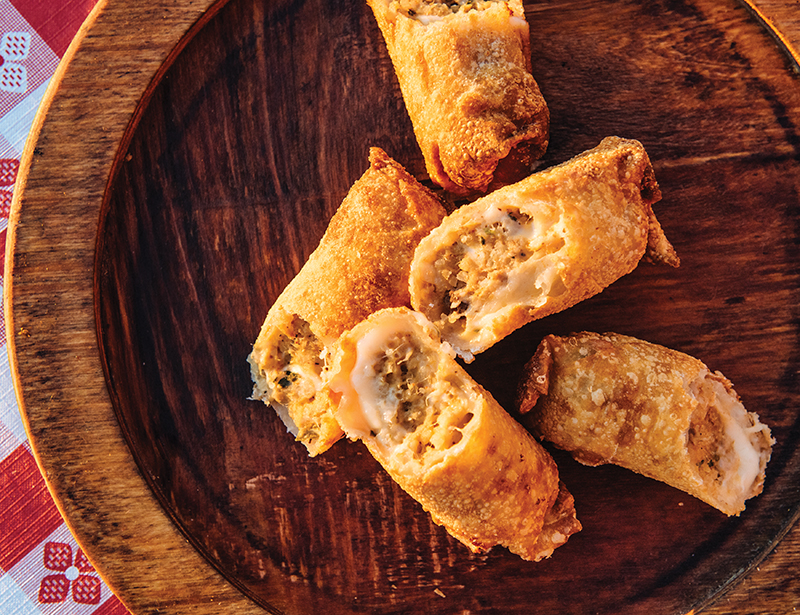 While the streets of New Orleans are overrun with partygoers, booze, boobs and beads, and cities all over Louisiana enjoy parades and balls of varying sizes and themes, small town Acadians celebrate the traditional day of feasting before Ash Wednesday with a Courir de Mardi Gras, literally the "Fat Tuesday Run." The modern day courir is a colorful ritual based upon the fête de la quémande — "feast of begging" — that originated in medieval France.
Processions of colorfully-attired, frequently-inebriated participants set out at dawn either on foot or horseback to make their way through small towns like Basile, Savoy, Eunice, Ville Platte, Mamou and Church Point accompanied by musicians who provide a background soundtrack of traditional Cajun music. As a procession approaches a home, the capitaine (leader) of the group will enter the property first to ask permission for the assemblage to proceed before the ragtag group storms the grounds and the ceremonial begging begins.
The goal is to acquire the ingredients necessary to assemble a communal gumbo by the day's end and homeowners may gift the beggars with ingredients or invite them to chase down a chicken for the pot. In return, the beggars and their accompanying musicians will provide a brief, lively group performance.
The spectacle is enjoyable for both observers and participants but those without chicken chasing skills may wish to seek their sustenance in a more (or less, depending on how you look at it) traditional way via one of the region's many excellent restaurants.
Open for breakfast and lunch, the Crazy Cajun Cafe in Mamou was a favorite of the late Anthony Bourdain, a frequent visitor to the region who partook in a courir just months before his death last year.
In addition to traditional boiled mudbugs (which usually hit right around Mardi Gras, but came early this season), the Crawfish Barn in Ville Platte offers slightly more exotic fare.
Located in Basile between Bayous Des Cannes and Nezpique, D.I.'s Cajun Restaurant has become is a national destination. In 1970, Daniel Isaac "D.I." Fruge adopted the common regional practice of seasonally alternating his rice and soybean crops with crawfish. He soon became known for his unique, flavorful style of boiling and seasoning the Louisiana delicacy and his farm equipment shed became a locals' weekend destination for $5 all-you-could-eat spreads served up on picnic tables. In 1986, the original restaurant opened and has since undergone several major expansions. Today the sprawling space in the middle of an open field includes an expansive dance floor and a bandstand that hosts world-renowned Cajun bands almost every night.
The demand for D.I.'s crawfish, Cajun fare, and hospitality has grown such among those in possession of private airplanes that the restaurant warranted its own FAA identifier (LA52, coordinates: 30.37°N/92.58°W, runway: 03/21 2,900' x 120' Turf).
---
MENU
Try this
❶ Krazy Cajun Cafe: Two slabs of country fried steak with sides of fries and a salad will set you back $10.50.
Excellent shrimp étouffée, another house specialty, goes for a thrifty $8.95.
❷ Crawfish Barn Zydeco Rolls, a taste bud explosion of six bite-sized eggrolls stuffed with boudin, pepper jack cheese, and diced jalapeños, comes with a rich, house-made cheese dipping sauce for $9.99.
Also $9.99, Shrimp Evangeline features six large shrimp stuffed with pepper jack cheese and wrapped with bacon. Available fried or grilled.
❸ D.I.'s The grilled seafood platter ($23.95) is heaped with enough for two or even three to share with crab cakes, fresh fish, shrimp, plump oysters and vegetables served with a lemon butter sauce for dipping.
---