Summer Living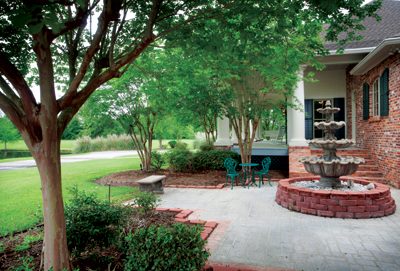 Magdelen church, which Father Mégret initially established in the remodeled home of Joseph LeBlanc when he purchased some of his land near the river. My great-great uncle, Father Fabian Laforest, built the current St. Mary Magdelen church, a majestic neo-Gothic landmark (circa 1911), after the devastating 1907 fire. He donated the massive church bells, inscribed with Amanda for my great-great grandmother who narrowly escaped the fire; their melodious chimes still ring out at noon. Father Laforest's gold-plated chalice from Pope Leo XIII, a gift from the Vatican, is among Abbeville's historic treasures.
Ever since Joseph Dupuy started selling oysters for a nickel a dozen on the riverbanks near St. Mary Magdelen church in 1869, the picturesque parish seat has been a magnet for seafood lovers. Directly across from the church on Père Mégret Street is Black's Oyster Bar, which opened 98 years after Dupuy's, just a half-block away. Other successful seafood landmarks are located within a few city blocks.
When I learned that Black's, my all-time favorite oyster bar that closed in 2010, had recently reopened, featuring live music on Saturday nights, plump bivalves fresh from Grand Isle, luscious crawfish etouffée balls as soft as pillows, and a new Sunday brunch, I decided it was time for a visit before the months without "r's" arrived and crawfish season came to an end. Besides, I'd been having a serious craving for the hot-boiled, lip-searing crawfish that I heard were running the size of long-neck beers at Richard's, a no-frills little tin-roof seafood joint, where each mudbug is hand-picked by the owner who is passionate about all things fresh.

---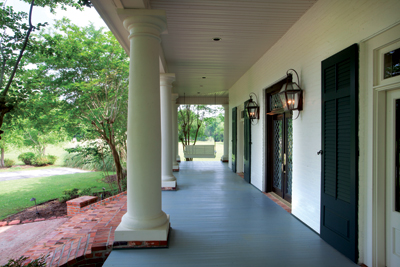 Kaplan native Toney Turnley, President of Kaplan Telephone Company, enjoys boating, cooking and entertaining friends in Abbeville, where he decided to build his home and boat dock for its prime Vermilion River location. His front porch overlooks moss-draped oaks, a pond and picturesque bridge. "I wanted a party house," said the gourmet grill master who enjoys Abbeville's rich seafood traditions that date back to the town's founding on the river.
---
Adding to the allure of an Abbeville culinary road trip was a standing invitation to view a "great party house" on the banks of the Vermilion. I'd heard that Toney Turnley, president of the Kaplan Telephone Company, hosted elaborate barbecues complete with live music near his pool house that had an outdoor kitchen and bar. He also had some party boats including a 43-foot Bertram and 27-foot Pontoon, and collected vintage cars, hence his seven-and-a-half-car garage on the tree-lined grounds. He has since built a second home in Abbevile.
"Toney's barbecues and crawfish boils are incredible and his house is amazing," said Resa Mouton (à la Mark; née Bohrer), an Abbeville resident and childhood friend. "For Halloween last year, he had a costume party with a live band, animated creatures in the back yard, all sorts of surprises and fabulous food," she explained. "Would you like to see it?"
With Resa's invitation and the promise of great oysters and crawfish, my daughter and I headed along Highway 90 towards Abbeville, stopping at Shawn's in Delcambre to stock up on chicken boudin infused with Steen's Cane Syrup and packs of Vermilion Bay Sweet.
After arriving in Abbeville with Resa at the Turnley residence, which is set far back from the winding road on 12 lush acres punctuated by ancient moss-draped oaks, I was intrigued with the picturesque pond and bridge that reminded me of a visit to Monet's Giverny years ago. Jeff Farris, who was in the process of painting and impeccably renovating the house, showed us around the grounds, which included a pass through the courtyard, pool area and outdoor living/dining room complete with a fireplace and a large flat screen TV, plus a bar and grill just outside the handsome pool house.

---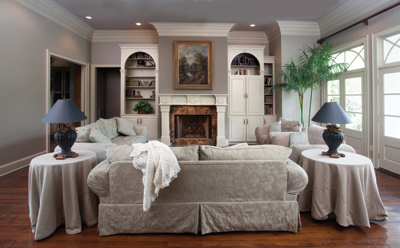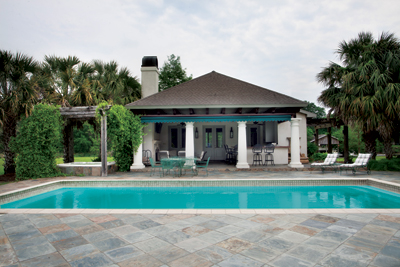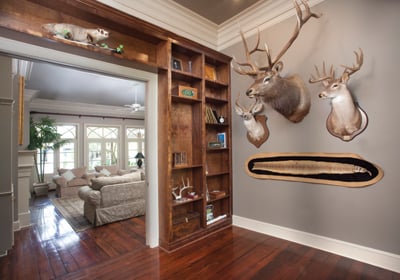 Top left The open floor plan features a living room that flows into a great room, wet bar, buffet serving area and dining room with stunning views of Turnley's lush 12-acres.
Top right The pool house design was inspired by a villa in Costa Rica. Friends gather at an outdoor bar to watch the cooking action, while others relax around the fireplace and flat-screen TV during autumn football parties. Spring brings crawfish boils, followed by summer poolside barbecues.
Bottom Left Turnley's gourmet kitchen designs include a custom granite-top island, a range hood and appliance garages.
Bottom Right A game room near the kitchen features such hunting trophies as a Newfoundland bull caribou, deer, badgers, Texas bobcats and a New Mexico bulk elk.
---
"I wanted to buy this property on the river so that I could have a boat dock with easy access for my fishing boat," Turnley tells me. "When I first looked at the property, there was a two-story house, and it was all overgrown. You couldn't get to the river and the ground was so unlevel, there was a six-foot difference in elevation."
The original house was torn down and a new "party house" was built on a level foundation after much digging. "I wanted to be able to see the Vermilion River," Turnley says. "The house has a great flow for parties. When I went to Costa Rica, I stayed in a villa. Afterwards, I returned and drew up the plans for the pool house, which was built in 2003." Turnley's spacious master suite overlooks the courtyard, river and pool house compound.
The gourmet kitchen that Turnley designed (with the assistance of Gerald Thibodeaux) opens onto a wet bar, great room, plus dining and living rooms with splendid views. Turnley's gourmet barbecues feature such items as grilled yellowfin tuna, lamb, steaks and venison. In recent years, he asked his sons, Bart and Matt, to step into the culinary spotlight and host the famed Abbeville parties.
"I just like to cook Cajun rice and gravy," Toney says in a modest, self-effacing manner. But we know better. With a love for fishing and seafood, parties and good times on the Vermilion River where Abbeville was founded, Turnley embodies the essence of the town, its gastronomic passions, traditions and culture that has endured since Pere Mégret purchased the first tracks of land bordering the bayou.