Summer Fruits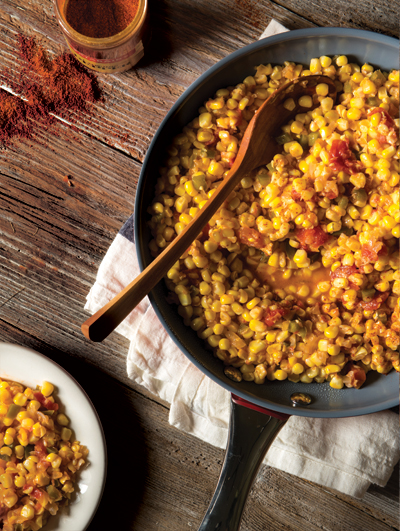 For the last few weeks on my morning walks around the neighborhood, I've been checking out my neighbor's garden hoping to find his tomatoes, eggplants and cucumbers ready for harvesting. He saw me coming and before I could say a word, he called out "it won't be long now." We laughed. I'm sure he knew that I'm foaming at the mouth just thinking about a platter of thick slices of tomatoes sprinkled with fresh mozzarella, chopped basil, salt and freshly ground black pepper.
The tomato is the fruit of a vine native to South America. By the time European explorers arrived in the New World, the tomato had made its way up into Central America and Mexico. The Spanish carried plants back home from Mexico, but it took some time for tomatoes to be accepted in Spain because it was thought that (like various other members of the nightshade family) they were poisonous. Some tomato advocates, however, claimed the fruit had aphrodisiac powers, and, in fact, the French called them pommes d'amour, "love apples."
We, here in south Louisiana, have an annual love affair with our local Creole tomatoes. Whatever kind you are lucky enough to bring to your table, here are a couple of tomato, as well as other fresh-from-the-garden recipes, designed to inspire.
Maque Choux

Fresh Corn Salad

Fig Cake

Maque choux is always made with fresh corn — no frozen or canned corn will do, as the milk from the corn cobs is the secret to making good maque choux.

16 ears of cleaned corn
6 tablespoons vegetable oil
1½ cup chopped onions
¾ cup chopped bell peppers
1 (16-ounce) can diced tomatoes
with their liquid
2 teaspoons sugar, or to taste
salt and cayenne pepper to taste

In a large, heavy pot heat the oil. With a sharp knife, cut the kernels off the cob and scrape to remove some of the tender pulp and the milk. Add ingredients to pot of oil. When the mixture begins to boil gently, reduce to medium-low and cook for about one hour or until mixture is creamy.

Do not cover pot while cooking. Also, it's very important to cool down the mixture before putting it into containers to freeze. It must be thoroughly cooled. I put the mixture in uncovered bowls in the refrigerator to cool. Stir occasionally.

6 ears fresh sweet corn, husks and
silk removed and cleaned
l large yellow onion, coarsely
chopped
2 medium zucchini, cubed
1 bunch green onions, trimmed
and chopped
1 medium-size dred bell pepper,
chopped
1 medium-sized green bell pepper,
chopped
¼ cup chopped fresh parsley leaves
salt and freshly ground black
pepper to taste
1 clove garlic, minced
2 teaspoons sugar
2 teaspoons Dijon mustard
½ teaspoon hot sauce
⅔ cup olive oil
⅓ cup apple cider vinegar

In a pot, cook the corn in boiling salted water until tender, six to eight minutes. Drain and let cool. Cut the kernels from the cob with a sharp knife. In a large salad bowl, combine the corn with the onion, zucchini, green onions, red and green bell pepper and parsley. Season with salt and pepper. Toss to mix.

In a small bowl, combine the garlic, sugar, mustard, hot sauce, olive oil and vinegar. Season with salt and pepper. Whisk until the sugar is dissolved, then pour over the vegetables. Toss to coat the vegetables evenly. Chill for at least 3 hours before serving. Serve with a slotted spoon.

If your fig preserves contain a lot of syrup, you should drain them a bit else the cake will be soggy.

2 cups sugar
3 large eggs
1 cup vegetable oil
1 cup whole milk
2 cups bleached all-purpose flour
2 teaspoons ground cinnamon
1 teaspoon salt
1 teaspoon baking soda
2 cups mashed fig preserves
1 cup pecan pieces

Preheat the oven to 350 F. Cream the sugar and the eggs. Add the vegetable oil and stir well to blend. Add the milk and mix well.

In a separate bowl, combine the flour, cinnamon, salt, and baking soda. Mix well. Add this to the first mixture, stirring, to blend. Add the pecans and figs. Stir again to blend. Pour into a 12-cup bundt pan and bake until it sets, about 1 hour.

Remove and cool before slicing to serve.

Makes 3 to 4 quarts
Makes about 12 servings
Makes 8 to 10 servings
---
Roasted Tomato Pasta
Heat the oven to 450 F.
In a medium-sized baking sheet pan or casserole large enough to hold the tomatoes without overlapping, combine 4 garlic cloves (minced), 1 cup chopped onions, ½ cup (about 15) pitted Greek olives, ¼ cup drained capers, 1 teaspoon chopped fresh thyme leaves (or ½ teaspoon dried), salt and cayenne to taste. Drizzle with 3 tablespoons of extra-virgin olive oil and spread out the ingredients evenly in the pan.
With a paring knife, carve a shallow "X" on the bottom of 4 large ripe tomatoes (about 2 pounds) and make a cone-shaped cutout on the top of each tomato to remove the core at the stem end. Halve the tomatoes crosswise and arrange, cut-side down, on top of the ingredients in the baking pan. Roast until the tomato skins blister and wrinkle, 20 to 25 minutes.
Remove from the oven and cool in the pan for about 15 minutes.
With your fingertips and a paring knife, carefully remove the tomato skins and discard. Place the contents of the pan (including the juices) into the bowl of a food processor or blender and pulse once or twice. The sauce should be chunky. Return the sauce to the baking pan and keep warm in the turned-off oven.
Prepare 1 pound uncooked pasta according to package directions. Drain and place in a large bowl. Toss with the tomato sauce and 1 tablespoon of olive oil and ¼ cup chopped fresh herbs such as parsley, basil or oregano. Season again with salt and cayenne to taste. Serve with freshly grated Parmesan cheese.
Makes 4 to 6 servings
(4 cups of sauce)