Stepping Forward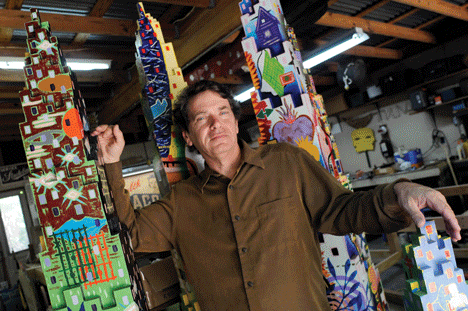 He speaks of art the way poets write of sunsets, the way lyricists sing of love, evoking a sort of reverence befitting of a funeral, dispensing vocabulary torn from the pages of a word-of-the-day desk calendar.
As one of the most recognized and accomplished living artists in Acadiana, Francis X. Pavy has certainly earned the right to serenade us a bit. When listening to him talk, the simple act of slapping paint on canvas suddenly has depth, feel, this unexpected romanticism your parents certainly never conveyed when they stuck your Crayola-drawn cat to the refrigerator.
It's refreshing to pick Pavy's brain because he won't immediately ping-pong back a reply. Nothing is canned, nothing recited. Uncomfortable pauses divide questions from answers, barriers of sincerity.
Ask for his thoughts and he'll say something that makes you think. For example, on his own Web site he's quoted as saying that he makes art for a variety of reasons – even though he doesn't understand all the reasons. A sentence later, he says that everything has meaning – though he might not understand the meaning.
So it should be a treat for Pavy to retrace the meandering path his artistic career has traveled in nearly 40 years. He is largely loyal to artistically portraying the merits and beauty of his Acadiana home, but it's only natural to wonder about Pavy's promiscuous ways with different artistic media – photography, glasswork, sculpting and painting, to name more than a few.
After a couple of heartbeats, he answers: "I don't know. I get bored pretty quick, ya know?"
Pavy laughs and then pauses again before punctuating with his usual introspective insight.
"Mediums are just avenues to express myself," Pavy says. "They are solutions to how I'm feeling at a time, what I want to convey. It's organic – one thing leads to another. When I'm up to my elbows in work, I'll see something and it'll spark a vision in my head. It won't leave me alone either. It doesn't leave until I've figured out the best way to accomplish [what I see]. I'm spontaneous."
At age 58, Pavy continues to evolve as an artist, willingly surrendering to the whims of his own curiosity – never knowing what's next but excited to find out. He's always looking forward, he says, outrunning boredom.
As Pavy plows ahead, though, the regional art community has begun to reflect upon the path already paved. A couple of years ago, Lafayette's Acadiana Center for the Arts put on a 35-year retrospective exhibit, a timeline of Pavy pieces dating back to his college graduation in 1976. Honored by the museum's gesture, Pavy compared the process of thumbing through works from his various artistic stages to flipping through the chapters of a book.
"It put me in a different head-space," Pavy recalls. "I pulled out a piece I didn't even remember doing. I pulled out pieces from when I was a vegetarian or when I was deep into meditation. It took me back to those different mindsets."
More recently, Pavy's work – almost all of it tied to this area in some fashion – has been featured prominently in celebrating Louisiana's bicentennial in 2012. Earlier this spring, the Arthur Roger Gallery in New Orleans displayed Pavy's self-described "honest" depictions of life in Acadiana in an exhibition titled 200: Art Inspired by 200 Years of Louisiana Statehood.
"For me, Louisiana is the center of the universe," Pavy says. "There's so much here that I don't even know about. I find it fascinating, this mix of culture that's here. It's a never-ending source of inspiration. … In my lifetime, I've never stopped exploring and uncovering the depths of this culture. I still have a lot to know about this culture. Louisiana is a big enough subject that there's a lot of range to cover."
Pavy's artistic genesis sprouted amongst the shadows of Girard Park's majestic oak trees. Armed with art books of Michelangelo and Raphael – gifts given to him by his parents – an eager-to-learn 6-year-old Pavy enrolled in summer painting seminars instructed by the iconic Elemore Morgan Jr. (Full disclosure: Pavy says that, at the time, "I didn't know who he was. He was just a guy who taught art.")
Unknowingly learning from the hands of a master, Pavy marveled at the wide array of colors Morgan magically whipped up by simply combining primary reds, blues and yellows. Obviously impressionable, Pavy begged his parents for art supplies so he could follow Morgan's lead. When they purchased him paint-by-number sets, Pavy disregarded the paper sheets and instead experimented in mixing colors.
"Who knows how many paint-by-numbers I went through doing that?" Pavy says. "It was probably a bunch."
Traces of that childhood rebellious nature linger in Pavy's current work. Many – such as a piece titled Carencro featured in the Arthur Roger Gallery showing – slap the viewer awake with unapologetic colors while several focal points play Twister with your eyes, vying for attention like puppies at a pound. With so much to absorb, Pavy's colorful pieces discourage passing glances – an aspect he explains with typical gusto: "This is a semitropic environment, and it's kind of a theory of mine that colors become more vibrant the closer you get to the equator," Pavy says. "There's a lot of color available naturally here, so if you're aware of that and experience that, it's going to be a familiar calling card in your repertoire. That's my personal theory anyway. It's a matter of choice. I like the intense color."
But what if Pavy lived in, say, North Dakota? Would his colors be more subdued?
"Depends on how long I lived there, I guess," Pavy jokes before elaborating, almost in soliloquy. "Maybe if I grew up in the Black Hills, I'd have a different viewpoint. Then with the snow and the long winter, you're less exposed to color and greenery. There are more animals that are brown and white, not the same variation. And maybe that doesn't ring completely true because I know there are a lot of Northern artists who do paint with a lot of color. But it's a different color palette. I don't think it can match the vibrancy of the South."