Spring Flinging
Round up of what's new in Acadiana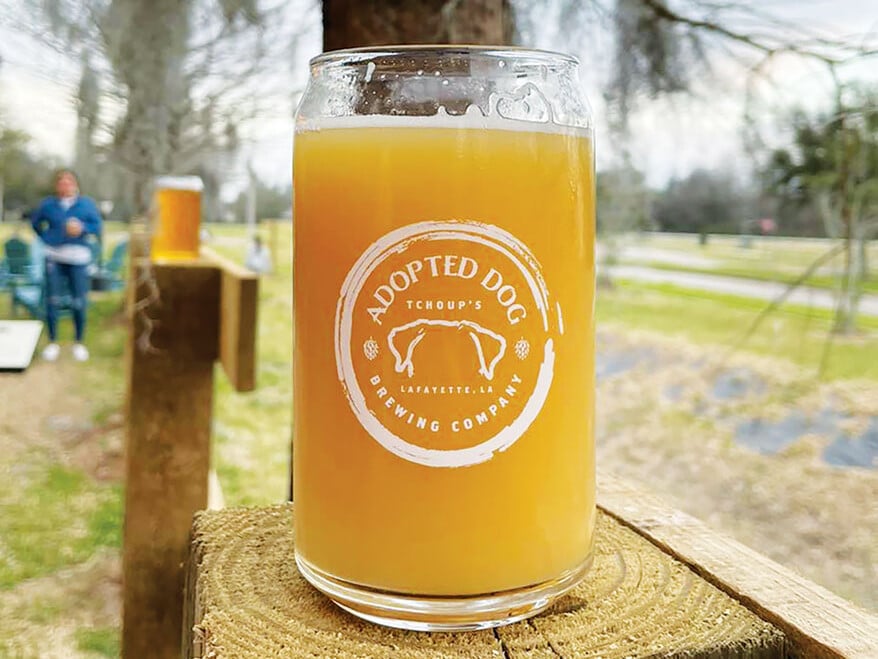 Lafayette
Sipping Suds with Pups and Pals
Two adopted dogs served as the inspiration for Ryan and Traci Pécot's latest venture, the new Adopted Dog Brewery (ADB). Owners of Tchoup's MidCity Smokehouse, the pet-loving husband-and-wife team unveils a family- and dog-friendly craft beer haven with an indoor arcade and large, outdoor seating area surrounded by trees. Enjoy in-house brewed ambers and pales, non-alcoholic beer and home-brewed root beer while Fido checks out other bar-hopping pups (adopteddogbrewing.com; facebook.com/adopteddogbrew).
Lake Charles
New Children's Museum Underway
Cameron LNG recently contributed $50,000 for Lake Charles' new Port Wonder Project, with a nod to the new Children's Museum currently underway. Arranged around a view corridor from the street to the lake, it will be housed within the state-of-the-art Port Wonder facility along with the new Department of Wildlife and Fisheries Science and Nature Center and Educational Complex upon completion (cambridgeseven.com/project/port-wonder-childrens-museum-and-nature-center).
Lafayette
High-end Pooch Pampering
Dogtopia recently opened in Lafayette to the delight of devoted pet parents. A state-of-the-art pampering daycare and spa facility, the upscale center allows owners to drop their dogs off during the day in a safe, fun, supervised environment that provides socialization with other dogs. Spa perks range from the Feet, Face and Fanny Trim Up to the Nail Trims and Spa Deluxe (dogtopia.com/lafayette).
Broussard
Help Solve Monkey Mystery
Although an arrest has been made after the recent theft of 12 spider monkeys from Zoosiana, the monkeys' safety and whereabouts remain a mystery. Anyone with any information is urged to contact the Broussard Police Department (broussardpolice.com), the Louisiana Department of Wildlife & Fisheries (wlf.louisiana.gov) or call Lafayette Crime Stoppers at 337-232-TIPS/800-805-8477.
Houma
Boots for Beautification
Enter a Jean Lafitte look-alike contest or a treasure hunt during the Pirates & Boots Festival (April 22), celebrated in conjunction with Keep Terrebonne Beautiful's Love the Boot Week. The fundraising fest features live music, regional cuisine, booths and kids' activities galore (keepterrebonnebeautiful.org).
Scott
Crazy for Cobblers
The Peach Cobbler Factory opened in Scott (next door to Piggly Wiggly in the space previously occupied by Green Heart Meals). Founded in 2013 (and not affiliated with Cobbler House in Abbeville and Youngsville), the offerings include 12 flavors of cobbler, 12 flavors of pudding, Pudd-n shakes, cobbler cookies and cinnamon rolls (tip: they can be stuffed with any of the 12 cobbler options). Ask about Dessert Flights (peachcobblerfactory.com).
Breaux
Allons Danser!
Bridge The 7th annual Pardoning of the Crawfish led by Lt. Gov. Billy Nungesser was recently held to launch the three-day Breaux Bridge Crawfish Festival (May 5-7) featuring more than 30 zydeco and Cajun bands, dance contests and lessons, crawfish races and eating contests, cooking demos and an abundance of crawfish creations. Put on your dancing shoes and "cut da rug" to Wayne Toups, the Pine Leaf Boys, Steve Riley, Horace Trahan and Chubby Carrier (bbcrawfest.com).
Lafayette
Francophone Fun in the Sun
Grammy-winning contemporary Christian singer Lauren Daigle headlines the 37th annual Festival International de Louisiane (April 26-30) in conjunction with Lafayette's Bicentennial. The international and regional array of talent includes Angélique Kidjo, ADG7, Dub Inc., Tank & the Bangas, George Porter, Lisa LeBlanc and Corey Ledet. Look for flamboyant belly dancers and pow wow dancers, sample fest favorites like crawfish nachos and duck quesadillas, and treat the kids to the educational Petit Marché (festivalinternational.org).