Spring Fling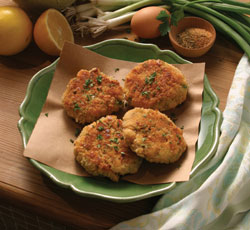 by STANLEY DRY
Other states may herald spring with the arrival of shad roe, fiddlehead ferns, a final melting of the ice or robins returning from the South, but in Louisiana, crawfish are the true harbingers of the season. It's as simple as that.
No matter that fresh crawfish are usually available as early as November and that frozen crawfish tails can be purchased year-round. Never mind what the elders say about spring – the season hasn't truly arrived until the pecan trees leaf out. Azaleas? Sure, their blazing colors signal the changing of seasons, but azaleas, like eager gardeners who set out tomato plants too early, can be fooled by a false start.
It probably wouldn't matter if we were to have snow in March. Backyard boilers who could get their hands on a sack of crawfish would be out in the middle of a snowstorm, just as hunters will go through their winter rituals even when the weather turns unseasonably hot, the blind swarms with hungry mosquitoes and there's not a duck in the sky.
Maybe the combination of crawfish and spring has as much to do with ritual as anything else. We eat crawfish at other times of the year, but now is the time when we feast on them to celebrate the harvest, in anticipation of spring and as an important part of the Lenten diet. Even crawfish boils on Good Friday have become commonplace, which I find somewhat puzzling. Admittedly, my theology is weak, but eating crawfish in any preparation hardly seems penitential.
At any rate, here is a light luncheon menu for a lazy weekend afternoon. Appropriately, it features crawfish, this year in an unfamiliar guise. In deference to the season, the courses are tinted green, from avocados in the soup to a green herbal mayonnaise with the main course to Key lime juice and zest in the dessert.
For starters, a velvety avocado soup served cool or slightly chilled is seasoned with the bracing flavors found in guacamole, onion, cilantro, lime and hot pepper. The soup, which never touches the stove, is the essence of simplicity and requires only minutes to prepare.
For the main course, crawfish cakes take their inspiration from those made of crab meat. They are loosely held together with egg and crushed crackers, seasoned with parsley and green onions. They're served with a rich mayonnaise built around parsley, chervil and chives. A bold salad of couscous, laced with green olives and capers, accompanies the crawfish cakes.
For dessert, a moist pound cake brightly flavored with the juice and zest of Key lime is served with fresh sliced Louisiana strawberries, another springtime treat. If you can't find Key limes, use an equal amount of juice and zest from larger limes.
To go with the meal, a Sauvignon Blanc would do nicely, though my personal choice would be a fresh fino or manzanilla sherry from Spain.
Avocado Soup
4 medium avocados, chilled
3 cups chicken stock or broth, chilled
2 tablespoons Key lime juice
4 teaspoons chopped cilantro
2 teaspoons finely grated onion
Salt
Tabasco
Cilantro leaves for garnish
Halve avocados, remove pits, scoop out the pulp and place in blender. Add broth, lime juice, cilantro and onion and puree. Season to taste with salt and Tabasco. Serve cool or slightly chilled, garnished with a few cilantro leaves.
Makes 4 servings.
Spicy Crawfish Cakes with Green Mayonnaise
12 ounces peeled crawfish tails
1 1/2 teaspoons Creole seasoning
2 tablespoons lemon juice
1 tablespoon chopped parsley
1 tablespoon chopped green onion tops
1/2 cup crushed unsalted crackers
1 egg, lightly beaten
For frying:
1/4 cup olive oil
1/4 cup flour
1 egg, lightly beaten
1/2 cup crushed unsalted crackers
In the bowl of a food processor fitted with a metal blade, pulse crawfish tails a few times until they are coarsely chopped. Transfer to a mixing bowl and add Creole seasoning, lemon juice, parsley, green onion tops, egg and crackers. Mix with a fork to combine. Form mixture into 4 cakes.
In a large skillet, heat olive oil on a medium setting. When oil is hot, dredge crawfish cakes in flour, then egg, then crushed crackers. Fry until nicely browned, about 4 minutes; turn and cook on the other side until browned, about 2 minutes. Drain on absorbent paper. Serve topped with a ribbon of green mayonnaise (recipe follows).
Makes 4 servings.
Green Mayonnaise
1 egg yolk
1 tablespoon lemon juice
Large pinch of kosher salt
1/4 cup vegetable oil
1/4 cup extra-virgin olive oil
1 tablespoon chopped parsley
1 tablespoon chopped chives
1 tablespoon chopped chervil
In a medium mixing bowl, whisk together egg, lemon juice and salt. Combine oils in a measuring cup. Whisking constantly, slowly add oil, drop by drop, to the egg until incorporated. Continue whisking and adding oil, increasing the flow as you go. Add chopped herbs and check seasoning.
Makes about 1/2 cup.
Couscous Salad
3 1/2 cups cooked couscous
1/4 cup extra-virgin olive oil
2 tablespoons chopped bell pepper
2 tablespoons chopped parsley
2 tablespoons chopped green olives
2 teaspoons capers
Salt
Freshly ground black pepper
Cook couscous according to package directions, using chicken broth in place of water, to yield 3 1/2 cups. Turn couscous into a large bowl, and fluff with a fork while drizzling on olive oil. Add additional ingredients, toss and season to taste with salt and pepper. Serve at room temperature.
Makes 4 servings.
Key Lime Pound Cake with Strawberries
1/2 cup unsalted butter, softened
1 1/2 cups sugar
3 large eggs
1/2 teaspoon pure vanilla extract
1 1/3 cups all-purpose flour
1/8 teaspoon baking soda
1/8 teaspoon salt
1/4 cup buttermilk
2 tablespoons Key lime juice (about 3 limes)
Finely grated zest of those limes
1 pint hulled and sliced strawberries
for garnish
Fresh mint for garnish
Preheat oven to 325°. Butter and flour an
8 1/2-inch-by-4 1/2-inch-by-2 3/4-inch loaf pan.
Cream butter and sugar until fluffy. Add eggs, 1 at a time, beating well after each addition. Sift flour, soda and salt. Combine buttermilk, lime juice and zest. Alternately add flour and buttermilk mixtures, mixing until just combined. Turn batter into prepared pan and bake in preheated oven until a tester inserted in the center comes out clean, about 65 to 70 minutes. Serve with sliced strawberries and fresh mint.
Makes about 8 to 10 servings. •