Sounds for All Seasons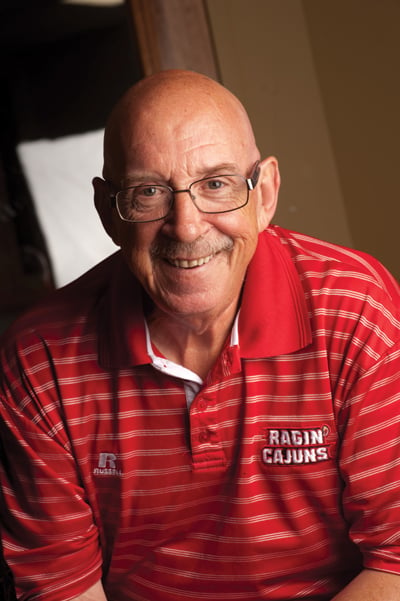 There's a twisted romance found in the life of the nomadic narrator, a sort of masochistic joy that only becomes crystal clear when you turn the radio off and stop listening to Jay Walker.
The game is over. The lights are off. Noise is a muzzled whisper, at best. The dark stadium sits hauntingly at rest, empty but for the gluttonous mosquitos. Traffic has cleared. Gas receipts, a plastic motel key and a wrinkled press pass – none of which he'll keep – clutter Walker's pockets. If he's hungry, the only food left open this left will be served on Styrofoam.
For someone whose "office" is filled with thousands of screaming people, stadiums and arenas morph into incredibly lonely and reflective scenes once the clock expires. Such is life on the road. Walker wouldn't want it any other way.
Because, as he gleefully admits, it's a cool job. Like, really cool. Probably cooler than yours.
Since 1991, the New-Englander-by-birth, Cajun-by-choice has been the familiar radio voice of UL sports, broadcasting football, men's basketball and baseball in addition to his Monday-Friday sports talk hosting duties on KPEL 1420 AM in Lafayette. He always wanted to do sports – a dream position he chased for years, back when his hair was long and the rock wasn't yet labeled "classic," spinning records at various music stations.
But it's still a job, and it's still a grind. That's why this year has been so special.
The recent rebirth of UL athletics fully matured during the 2013-2014 school calendar as the Cajuns were one of two teams to win a football bowl game, make the men's basketball NCAA Tournament and host a NCAA baseball super regional (University of Louisville being the other). Not surprisingly, the voice of the Cajuns has something to say about it: mainly, that UL's collection of current coaches refuses to settle, each believing their team can not only compete against but topple programs with quadruple the athletic budgets.
"What's happened this year – football, basketball, baseball – is kind of like being paid back for all of the common years," Walker says with a slight laugh. "You know, I've broadcast a lot of bad football but now I'm seeing good football. There had been quite a dry spell in basketball. Baseball has always been pretty good, but nothing like this.
"It's like OK, 'You've gone through this. We're going to let you have this,'" Walker continues. "I've become somewhat weathered through all this, that a lot of stuff doesn't hit me personally. But there were some times in that ballpark where it gave me chills. The fans took it to another level."
So did Walker, as his soundtrack to these seasons-unlike-any-others offered plenty of opportune moments to paint a picture with words. Baseball's three-day whirlwind in the regional round left Walker pretty much spent. The Cajuns basketball team mustered up two big defensive stops in the semifinal and finals of the Sun Belt Tournament. And then of course there's Walker's call of Tulane's missed field goal attempt at the end of the New Orleans Bowl, the veteran play-by-play man noting that while Green Wave kicker Cairo Santos might have won the Lou Groza Award, he's no Brett Baer (the UL kicker who nailed a 50-yard game winner in the 2011 New Orleans Bowl.)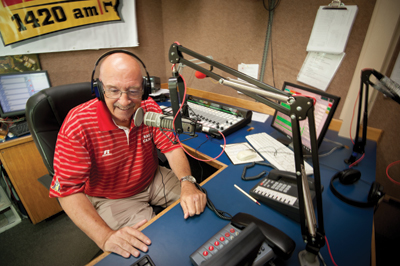 "I felt bad later, because it almost sounded like I tried to disparage him, but it just came out!" Walker says. "There are a couple times where I've thought about it, 'If we win what am I going to say?' But those have been few and far between.
"You don't know they're coming, so you don't have time to think, 'Gee, what am I going to say right here.' You know, Baer kicks the field goal and all I could say was CAJUNS WIN! And I said it over and over and over. You don't get a chance to rehearse because the performance is different every single night."
Because schedules overlap – the latter weeks of football clash with the beginning of basketball while baseball starts in the middle of basketball's conference schedule – Walker is forced to shift play-by-play styles from one day to the next.
For instance, on football broadcasts Walker is flanked by a color analyst and a sideline reporter, limiting him to simply recite what he sees – score, time, down and distance, IDing players making catches or tackles – instead of breaking down what just happened. Compare that to basketball, where Walker is left on his own courtside, frantically keeping up with the action like a caffeinated auctioneer.
"You don't have time to be inaccurate," Walker says. "If I call out the wrong name, I can't take it back. The good news is you only have 10 people on the court at one time, so that makes it a little easier, but it's so fast paced."
Then, there's baseball, which Walker explains, "is toootally different. It's almost therapeutic. You can let the crowd talk for you. Even if you don't say anything, you can hear the crowd every pitch – cheers, pissed off at an umpire, a foul off a bat. There's time to say what you see. Like, they serve beer at the ballpark, and if I see a guy with one in each hand I'll say, 'There's a fan double-fisting.' It's relaxing…relaxing to an extent."
That's because the climate surrounding intercollegiate athletics has exponentially intensified during the last decade or so, creating a sense of immediate gratification within fan bases, and vile outbursts when that thirst isn't repeatedly quenched. It's become much more cut-throat, much nastier thanks to the cloak of anonymity offered in online forums and comments sections. As best he can, Walker tries to counter that carnage on his daily talk show, approaching topics with the calm of a high school guidance counselor.
"Every win is euphoric. Every loss is tragic," Walker says. "Unfortunately, some of those people are the most vocal … A lot of the criticism I get is from the angry fans because I don't come across as angry, like I'm trying to protect somebody. I'm not. I just go about it differently."