Sister Cities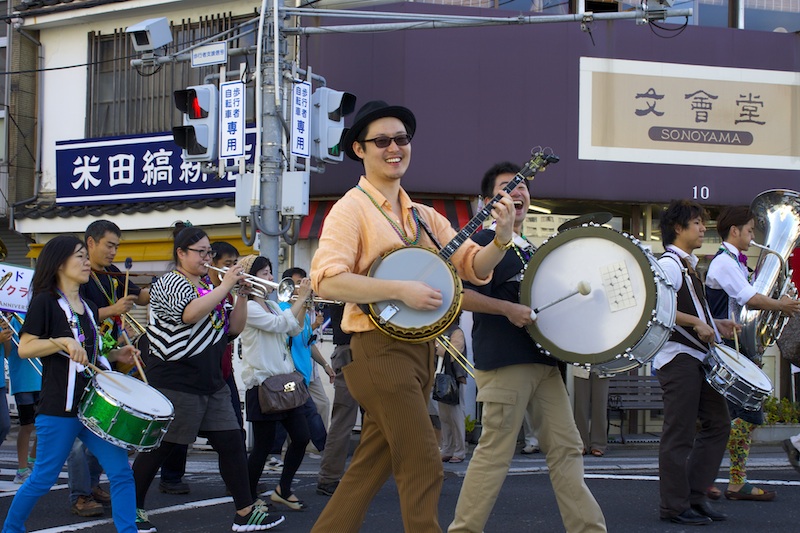 "Don't blow your nose in public," I said aloud to myself in the mirror just before boarding my flight to Japan. Ever since I got the news that I would be traveling with a delegation of New Orleans civic and business leaders to our sister city of Matsue, this stipulation of Japanese etiquette had really flustered me. I felt the sniffles coming on.
Our delegation consisted of local leaders, including Mark Romig, my boss and the President/CEO of the New Orleans Tourism Marketing Corporation, and Donna Fraiche, the Honorary Consul General of Japan in New Orleans. We were joined by the Sasha Masakowski Jazz Quartet, who would be performing twice during our time in Matsue and touring throughout Japan.
Despite my oncoming cold, we flew out of Louis Armstrong Airport the morning of Oct. 1, 2013, with tightly-wrapped gifts in hand, hoping to make some sort of good impression on the people of Matsue.
View of Matsue
New Orleans and Matsue established a sister city relationship 20 years ago in recognition of their shared history through the life of international writer Lafcadio Hearn. Though he is most famous for his writings about Japan, Hearn also lived in and wrote about New Orleans for 10 years before he moved to Matsue. Hearn eventually married Koizumi Setsu, the daughter of a local samurai family, and took the name Kiozumi Yakumo.
A few days and many, many miles from New Orleans, our delegation arrived in the nearly-silent Matsue airport: no music or colors, just people wearing surgical masks and forming a neat queue at the baggage claim. I thought, Why are we sister cities with a place like this?
Our delegation was greeted by several smiling employees of Matsue City Hall's International Tourism Division. They guided us straight from the airport to Izumo-taisha, a Shinto shrine dedicated to the god Okuninushi. Izumo-taisha is said to encourage good relationships, and though locals typically take this to mean romance and marriage, we figured a visit to Izumo-taisha could also be a good omen for the bond between New Orleans and Matsue. I tried my best to emulate the claps and bows of other shrine visitors, vaguely hoping that the bond would become more clear as the evening progressed.
The sun was beginning to set as we drove along the shore of Lake Shinji toward Matsue City Center. The spectacular red and blue rays disappearing over the water were just enough to momentarily distract our group from fatigue and intense longing for a shower.
We didn't have a chance to stop by the hotel before we went to dinner with some of Matsue's most important dignitaries, and I'll admit I would have appreciated a few minutes to splash water on my face and brush my hair. But within minutes of stepping off the bus, I was shaking hands with Mayor Masataka Matsuura, the Mayor of Matsue.
Our hosts treated us to a traditional Japanese dinner, complete with multiple small courses and a focus on local delicacies. We ate sashimi and pickles, fresh water clams from Lake Shinji, soba noodles from the Izumo region, and wagashi, an indigenous Matsue sweet made from bean paste. But before I was even able to grasp that first piece of sashimi with my chopsticks, the sake started flowing.
The food at the welcome dinner
I learned that the region surrounding Matsue is considered the birthplace of sake. According to the legend, it was first brewed by some concerned parents who were trying to keep a serpent from devouring their daughter. Their strategy was to get the serpent drunk enough so he could be killed by a samurai warrior. That was probably the first moment I thought, Ok, I can see the sister city connection. NOLA invented the cocktail, Matsue invented sake.
The next morning we got up bright and early for the opening of the "New Orleans and Lafcadio Hearn" exhibition at the Lafcadio Hearn Memorial Museum. I'm a little ashamed to admit that before I was asked to go to Matsue, I had never heard of Lafcadio Hearn. But the renowned writer is part of Matsue's cultural life-blood, and he influences local identity in a way not entirely different from some of New Orleans's famous jazz musicians. Our group had the privilege of meeting Bon Koizumi, Lafcadio Hearn's great-grandson, who treated us to lunch at one of Matsue's finest Italian restaurants.
The Delegation at the museum exhibit
That evening, we heard through the grapevine, that Jon Cleary was in town – yes, Jon Cleary, the funk pianist from New Orleans. He was touring through Japan at the time, and since Matsue had officially declared October "New Orleans Month," Jon's agent had organized his tour accordingly. Our delegation got to hang out a bit with him before his show, which was a combination of performance and explanation of New Orleans Jazz rhythms. I was struck by how engaged and hungry the local audience was. They were eager to learn everything they could about a genre of music that originated halfway across the world.
On our final day in Matsue, the city held an official ceremony to celebrate the 20th anniversary of the sister city relationship. The event was planned out to the minute, in true Japanese style, with official gifts, speeches, and a performance of traditional Japanese dance. Sasha Masakowski and her band performed at the close of the ceremony, while the crowd clapped and danced along.
As our delegation left the ceremony hall to take our places in the afternoon's "Little Mardi Gras" parade, we were stopped by a group of preteen girls waiting in the lobby for Sasha. They gave her the full "Beyoncé treatment," screaming, giggling, touching her hand, and taking photos with her.
Sasha Masakowski and her fans
Next came "Little Mardi Gras," organized by the community and led by the "Matsue New Orleans Club." I wasn't sure what to expect, and I'll confess that I thought it might be a little… amateur. But once I saw all the marching bands lined up playing a perfectly timed "When the Saints Go Marching In" and gearing up for a second line through the city center, I knew this was the big leagues. As we took our places in the lineup, some of the parade organizers passed around beads and black and gold umbrellas.
When the parade reached the river, Sasha and the rest of the quartet hopped up on the central stage, where they were scheduled to play a few sets. Without a second thought, Sasha invited the entire local Khachaturian brass band, who had marched in the parade, to join them.
Performance after the parade
Even though the members of Khachaturian didn't speak English, the lead singer had mastered the lyrics of New Orleans' favorites like "Iko Iko" and "They All Ask'd For You." Our delegation watched as the two bands became one group of performers, communicating through music, dance, and a collective sense of spontaneity.
It wasn't until that moment that I truly understood why New Orleans and Matsue share a special bond. The people of Matsue are incredibly proud of their own culture and history. Hospitality is part of their M.O. and they love to tell everyone they meet how wonderful their city is. But their curiosity about and enthusiasm for New Orleans culture was humbling.
I realized that all too often, I forget to be curious and open to the best of others' worlds. I hope that when a delegation from Matsue comes to New Orleans next fall, we can not only show them the best of New Orleans, but also show them the best of their own culture and how it has made an impression on us.
---
Ann Marshall Thomas is the Marketing Coordinator at the New Orleans Tourism Marketing Corporation and a writer for GoNOLA.com. She loves to travel but also loves the feeling of coming home to New Orleans. Follow her on Twitter: twitter.com/AnnMarshallT