Sights to Behold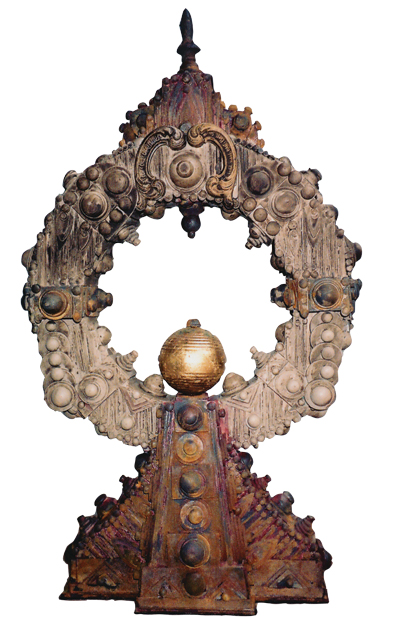 There's a poster.

t might be in your room or in your psychiatrist's office, framed in a den or thumbtacked to the break-room wall, or maybe you're a procrastinator and haven't unrolled the thing yet. It's the one from this year's Festival International, the one they sell as a fundraising vehicle, the one with the blue-rust border and the wood sculptures that appear to have been excavated from an ancient Mayan temple instead of forged with four different kinds of popsicle sticks in Fred Daspit's work shed on Stephens Street.

As the retired professor says in a voice on loan from Vincent Price – commanding, deliberate and a tad cryptic – so many friends and contemporaries marvel at its brilliance, commenting how they can't take their eyes off it, how the complicated pieces bait them in for much more than a passing glance. Daspit smiles, embarrassed by the flattery, humored by the irony: The man who made the poster – or, more accurately, created the work featured in the poster – can't see the poster. Not directly, anyway. Daspit's star as an artist and author is ascending to levels of acceptance he once fantasized about, but the rise has coincided with the loss of most of his eyesight. Less than a decade ago, doctors diagnosed Daspit with macular degeneration, an eye condition in which the center of the retina deteriorates.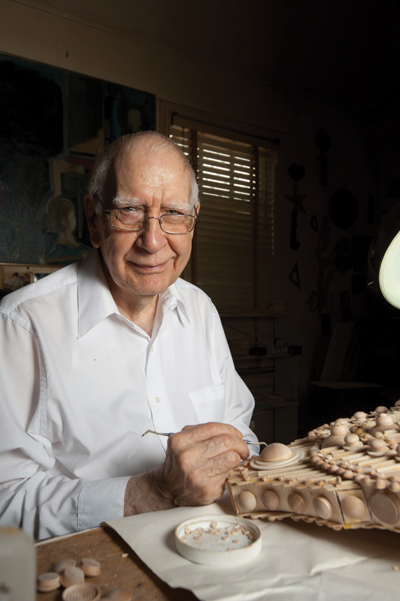 "Where your face would be," Daspit explains to me, "all I see is a gray dot. The peripheral is clear. The straight-ahead is a mystery. I asked my friend Peter a couple of years ago: 'Why now? Why now this late in my life am I having this success?' My friend quipped back, 'Well, aren't you glad it happened now as opposed to even later?' I laughed because there's a lot of truth to that.

"I sometimes wonder, 'Where in the world did these things come from?'" Daspit continues, "because during the process, I'm not looking directly at the piece. I'm looking at it sideways."

Despite teaching art history for close to 40 years at ULL, authoring three books on Louisiana architecture, meticulously constructing miniature models of some of the world's most fascinating structures and designing Christmas murals on his teachers' chalkboards when he was in high school, Daspit never felt like a true artist until this still-recent venture into wood-sculpting. Inspiration for the pieces comes from a series of red-bound, gold-leaf books on the history of civilization that Daspit inherited as a child, shrewdly completing the entire set by collecting the volumes from family members who used them as doorstops and paperweights.

"Growing up in St. Martinville, I used to take clay and marbles and any bright-colored pieces of debris I could find in the trash and create art," Daspit says. "So I look back, and those elementary school tendencies are still visible in my work today. But even then, I didn't feel like an artist. I was just a kid being creative. With these pieces of wood, though, I'm starting to accept the title. This is totally different, according to some people who are supposed to be knowledgeable. People see things in my work that I don't. They see the metaphysical. I have no doubts that it's there. I'm sure it is. I just don't put it in consciously. It's all subconsciously or intuitive as opposed to an artistic technique."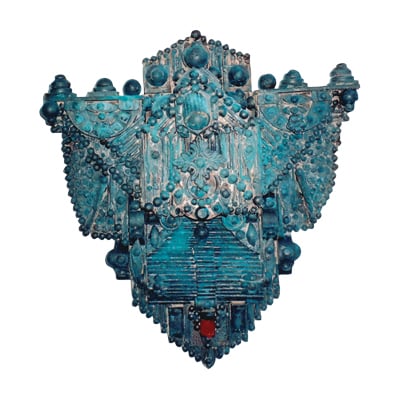 The wood Daspit uses generally is swept from the floors – and pulled from the waste bins – of carpenters, builders and other local artists, the reason being that the shapes of scraps tend to be more interesting and inspiring than anything found on a store shelf. Daspit draws out the armature for the pieces in plywood, but because he can't see well enough to follow the lines, he leans on the help of his grandson (and occasionally his wife) for the cutting. That's when the popsicle sticks come into play; they are essentially materials to build up the textual surface, Daspit explains. Additional wood pieces are adhered and then coated in a colored spray just before Daspit applies a final layer of a solution containing iron dust, which embellishes the ancient rust effect.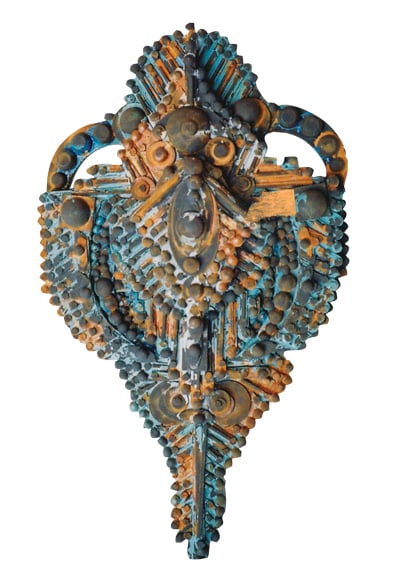 "Each piece evolves," he says. "It's a gradual buildup. Since I can't see clearly, I work underneath a magnifying light, and I'm essentially looking at a flat. You know this has to go there, that has to go here, this needs more, etc. But the whole – the whole is a mystery to me until they're displayed on the gallery wall for the first time. Looking directly at them, displayed, is like looking at them for the first time."

Daspit's wood pieces have been exhibited at the Paul and Lulu Hilliard University Art Museum at ULL, Gallery 549 in downtown Lafayette and the Abbeville Cultural & Historical Alliance Center.

"This sounds awful and conceited, but I don't mean it to be so – but it amazes me to see the pieces and know I'm the one who did them," Daspit says. "I don't comprehend it totally. It's very strange to me. I looked at pieces from the last show and said, 'My God, this thing is beautiful.' And I felt guilty saying it.

"I'm a person who all his life copied other things, and the satisfaction was never there," Daspit continues. "They looked beautiful, and I made a lot of money doing it for decorators and designers, but the satisfaction was never there. But the satisfaction is there with these pieces. I did this. It floors me."