Shining Star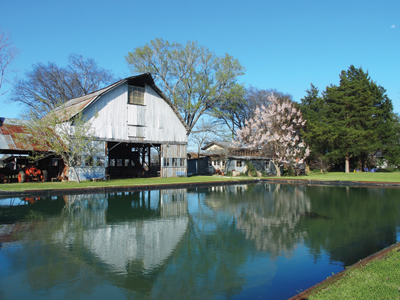 The delta of Northeast Louisiana, wide, flat and fertile, has been tilled for cotton, soy, rice and corn for 300 years, including the lands around Oak Ridge in Morehouse Parish where Joe Cooper Rolfe and ancestors have farmed for two centuries.
In the midst of Rolfe's cornfields today, in a space cleared generations ago, stand two homes and 17 dependencies ranging in age from 60 to 160. These days they serve as workshops and mini museums, all bursting with collections of tools and implements related to farmstead labors or to art.
Rolfe calls the amazing complex the Starr Homeplace in honor of his creative and community-minded wife Starr, who died in 2001.
"She inspired all this and started it with me," he says. Like Starr's memory, her oil-on-canvas works fill the homes and museums.
Large equipment acquired for the farm through the years is displayed in the immense, circa-1927 barn and around the grounds, supplemented with dozens of machines and accoutrements from the personal collection of the late, legendary Dave Pearce. Gathered during his 21-year stint as State Commissioner of Agriculture, the Pearce Collection is now entrusted to Starr Homeplace for safekeeping.
The nine-acre "collection of collections" is accessible most any day, and creative types who'd actually like to use certain tools are especially welcome. In fact, Rolfe is so interested in the public's use of his facilities, that he hosts six Community Days a year (including the second Saturdays of May, June, July, September and October throughout 2017) where craftsmen and artists demonstrate their skills as visitors watch and ask questions.
During a short walk through the compound on a typical Community Day — say from the 1870 schoolhouse with its music-related collections to the 1835 dogtrot cabin with its needle arts and loom room — it wouldn't be unusual to pass an artist or two at their easels, David and Amy Howard displaying their glass beadwork and a meticulous leatherworker giving it her awl.
These days the interest of master-of-all-trades Tim Anderson is focused on wooden boat building, so, as guests exit the wheelwright and cooperage displays in the 1927 corncrib — perhaps headed for the "Primitive Kitchen" or "1950s Kitchen" he's the fellow they'll see test-floating a scale model of his current project in the compound's big reflecting pool.
(Left) Balik work by Tammy Matthews. Photo by Eric Sutherland. (Right) 1909 butchering stove for rendering lard.
(Left) Joe Rolfe presents Cultural Assets maps to librarians at
Community Day event. Photograph by Cindy Ingram (Right) Bottle tree graces 1870 school
About that time, Rolfe will ring the dinner bell and, after a big plate of beans-and-rice or gumbo, blacksmith Oma Lee of Bastrop (see "Do") will stoke his fire and lay down a hammer and anvil rhythm that always draws a crowd.
Nearby, in the Woodworking Shop, stocked with chisels, adzes and froes dating from the 1700s, birdhouse craftsman Jim Free of Monroe is sharing workspace with a jeweler who's pouring molten metal into a cast, and with a multimedia artist named Tammy Matthews of Monroe who's decorating a silk hat in the Balik method (the old Indonesian art of applying paraffin-controlled dye to cloth).
"More and more people are hearing about these get-togethers and coming out," says Matthews, barely looking up from his intricate task. "They get excited when they see something new, sometimes even want us to give them lessons then and there. I myself would never have learned Balik if Joe didn't have all these assets here."
With 60 species of Louisiana trees, Starr Homeplace doubles as an arboretum, and as another Community Day draws to a close Joe Rolfe will likely be found over by his state-champion hackberry tree discussing the slumping economy and quoting sources on "Creative Economics," which holds that folks only-too-rarely consider their creative abilities as potential careers.
"People can learn here, utilize the facilities and libraries here, and actually find alternative or supplemental careers," he says. "We have and need good financial support, of course, but our greatest need is for more people to find us, to benefit from Starr Homeplace and to spread the word.
Starr Homeplace, open most days but call ahead. Some camping and B&B facilities, 318-224-5700, starrhomeplace.org
---
DO! Visit Starr Homeplace's blacksmith off the farm
Heat, hammer, repeat and slowly, in the hands of blacksmith Oma F. Lee of Bastrop, a lowly railroad spike becomes a conversation piece and a razor-sharp utility knife.
That's fun to watch, but Lee's real claim to fame is his instant-heirloom camp knives and hunting knives of fine tempered steel.
Those involve working the metal to perfection, sanding and shaping "presentation quality" lengths of black oak or exotic hardwoods for grips, then hand-crafting and sewing fine leather to create the sheaths.
Find him at a Starr Homeplace Day event, or visit his home smithy at 9476 McCowin Road in Bastrop (318-281-4855). For other local points of interest, visit Bastrop's Information Center at 110 N. Franklin (318-281-3794, bastroplacoc.org).
---
DINE
In Oak Ridge dining "around" means around the region
The nearest offerings are in Rayville where the Southern fried chicken and veggies at the Feed Lot will make you happy (800 Harrison, 318-728-6999), where Johnny's Pizza House offers a localized disk called the "Swamp Sweep" (crawfish, shrimp and Andouille, 1924 S. Julia, 318-728-6474), and Big John's Steak and Seafood offers…take a guess (112 Cottonland, 318-728-2177). A classic courthouse-square diner in Bastrop, called PT's Eat-a-Bite, has the best breakfasts hereabouts, and a fun spot for lunch is the Country Cream Drive-In (102 Davenport, 318-647-5188) with its swell burgers and truly special ice cream in the pretty town of Mer Rouge.
---
DETOURS
Poverty Point Promotion
La. Hwy. 134 zigzags a bit but leads, as the crow flies, a short 25 miles east from Oak Ridge to the 3,500-year-old earthen ridges and mounds of Poverty Point on Bayou Maçon. That's way too close for visitors at the Starr Homeplace to skip the chance to visit to that immense complex of 3,500-year-old mounds, thought to have been the center of a trading network that spanned the continent. With the ridges' ¾-mile sprawl plus outlying mounds, it was the largest such site in America — and would be for 2,000 years. Poverty Point was designated a National Historic Landmark in 1962 and a State Commemorative Area in 1975, but the big promotion came in 2014 when it became the 22nd in the U.S. to make the United Nations' list of World Heritage Sites (318-926-5492, crt.state.la.us/ louisiana-state-parks, and povertypoint.us).
Natural History on Campus
It's an equally short ride, west of Oak Ridge via 134 or I-20, to the UL-Monroe campus where Hanna Hall is the new hiding place for the expansive Natural History Museum of Louisiana and regional marvels. Plan for two hours or, if you've got 'em, two days. (Weekdays during semesters, then Saturdays only. 318-342-1868, ulm.edu/mnh/visit-us.html)
---