Saving the Best for Last
Two former UL athletes resurrect a historic Victorian home in Sterling Grove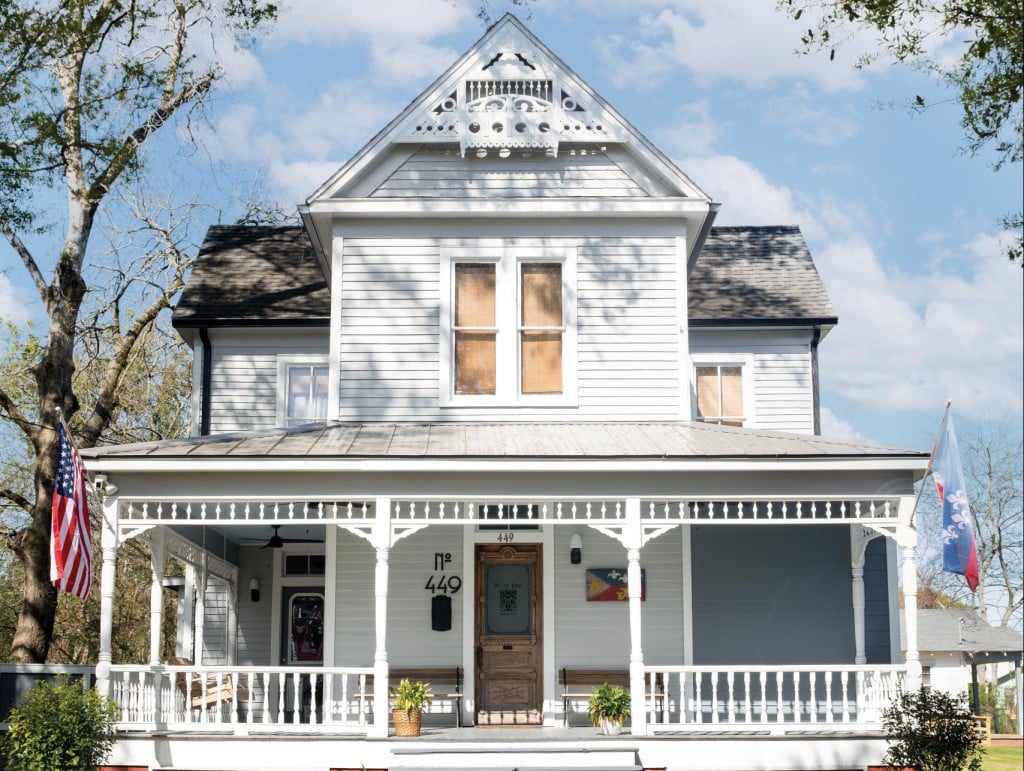 If you drove toward Opelousas from Lafayette in the early 1900s, chances are the last home you'd pass would be a gingerbread-laced Victorian.
"Everything north of it was just cattle ranch," says architect Stephen Ortego, of SO Studio Architecture.
Dubbed, "The Last House," this historic Sterling Grove property originally spanned an entire block, according to the Preservation Alliance of Lafayette. But over the years, the home fell into disrepair. When Leigh and Mark Robson purchased it in 2016, the only residents were a family of raccoons.
The Robsons weren't fazed. The transatlantic couple already owned a home in Scotland they had converted from an old cow barn. They immediately vowed to restore The Last House to its former glory, bringing in Ortego to lead the historic preservation. Ortego says his experience with Victorian-era buildings helped him unearth the original builders' intentions.
"When you start peeling back layers, you can start seeing the story," says Ortego.
He explains the previous owners divided the home into multiple units, likely during the Great Depression. Without any original blueprints to fall back on, Ortego had to put the pieces back together like a life-sized jigsaw puzzle. He says once he discovered the faint outline of the original staircase (which had made its way to the home's exterior), things started coming together.
But the restoration process wasn't all smooth sailing.
On New Year's Day of 2017, someone broke into the construction site and stole the home's disassembled doors, transoms, casings and stair banister. Thankfully, the story doesn't end there. One viral Facebook post and a gracious Sunset antique dealer later, Leigh reunited with every last one of the stolen items.
Today, the sturdy, old-growth cypress home stands as an architectural time capsule. The Robsons even managed to incorporate some original lath boards in the entryway as a tribute to James McNaspy — a plasterer by trade — who built the home for his oldest daughter at the turn of the century.
The Robsons' connection to McNaspy goes beyond the house itself. Although they've lived all over the world, Leigh, a world-champion trampoline gymnast, and Mark, a college soccer player, first met at the former McNaspy Stadium. The stadium bore the name of James' son, CJ, who was the athletic director at then-USL.
For the Robsons, this was just one more sign from the universe they were meant to end up in Lafayette at "The Last House." In Scotland as in Sterling Grove, homes are known for their names instead of their addresses. Mark and Leigh created a logo for the house that now adorns the front door. They say the Last House moniker still fits.
"We've both lived in so many places," says Mark. "This is it, we're never moving again."