Romance Along the Bayou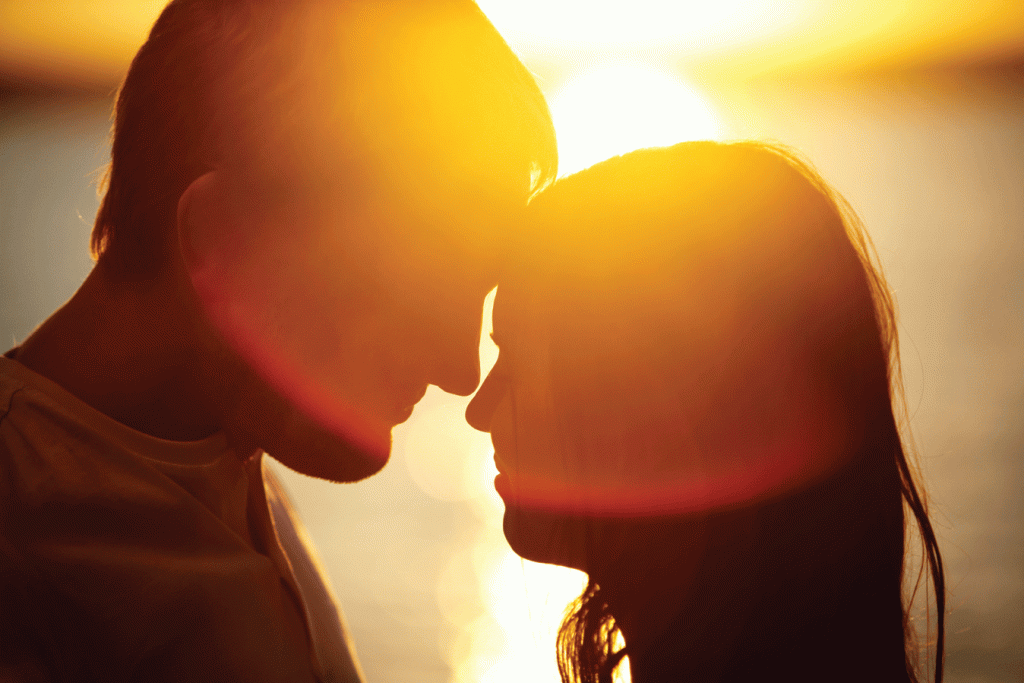 In a state of love or simply in love with the state of Louisiana? There is no shortage of romantic spots in Acadiana that are capable of stoking those fires – especially in the spring. Ancient oaks draped with moss, dreamy bayou sunsets, elegant antebellum homes, cozy bed-and-breakfast inns and world-class meals prepared with South Louisiana hospitality are just some of the things that can be found in the well-known cities and towns of the area and in the environs that surround them. Choose one destination for a day trip or several for a weekend and enjoy the romance that Louisiana offers at every turn. Many of the places listed here are suited to birthdays, engagements, anniversaries, weddings and honeymoons.
Just 90 minutes from New Orleans, in Patterson, is the 18-hole Atchafalaya Golf Course at Idlewild and the Atchafalaya Clubhouse, a raised Acadian-style cottage restaurant with a wide porch overlooking the green. And you don't have to be a member or a golfer to enjoy the amenities. Both the course and clubhouse, which were designed to take advantage of their lush Atchafalaya Basin location, are open to the public. The Atchafalaya Basin is the largest swamp in the United States, and a leisurely round of golf here affords views of countless types of flora and wildlife, from cypress trees to bald eagles. With one side of the clubhouse facing a lake and two others facing miles of verdant golf course, sunset is a captivating time of day, but both the restaurant and bar are open daily from 7 a.m. In 2010, Golfweek Magazine named the clubhouse the No. 1 food and beverage operation along the Audubon Golf Trail, and in 2011, New Orleans CityBusiness named it one of the best restaurants in the area.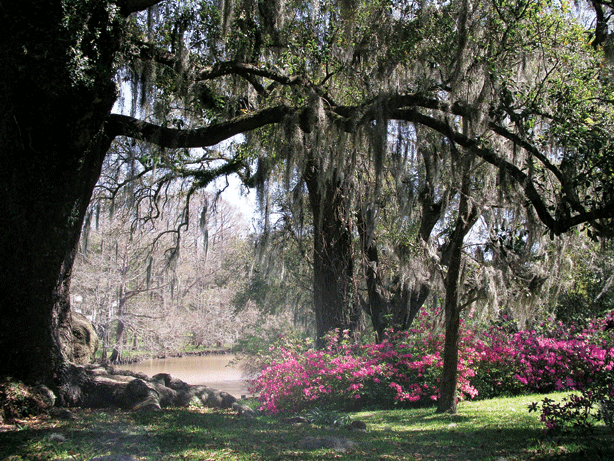 West from St. Mary Parish is Iberia Parish, home to New Iberia and to the renowned 1834 sugar plantation, Shadows-on-the-Teche, which has the distinction of being the only historic museum and garden operated by the National Trust for Historic Preservation in Louisiana. As its name suggests, the white-columned brick house, built by sugar planter David Weeks and his wife, Mary, sits next to the banks of the Bayou Teche amid stately oak trees, many of which are more than 100 years old. Designated a National Historic Landmark in 1974, the house was occupied by members of the Weeks family for more than 120 years, and its well-preserved history includes more than 1,700 letters, photographs and other paper documents that bear witness to the deaths, births, business and of course romance that took place there. Across the street, Le Rosier Country Inn is located in the heart of downtown New Iberia and within walking distance of Victor's Cafeteria, which has been serving traditional home-style foods since 1969, and Clementine Dining & Spirits (named after Louisiana folk artist Clementine Hunter), where you'll find a turn-of-the-century mahogany bar and a diverse, upscale menu that includes Cajun and Creole selections. The inn offers complimentary food items such as cheese trays, chocolates and wine or champagne, and each of its five rooms, which are housed in the carriage house behind the main building, has feather beds, pressed 600-thread-count cotton sheets and a private bath as well as a balcony or porch. In lieu of breakfast on-site, each night at the inn includes a complimentary breakfast-for-two voucher at Victor's.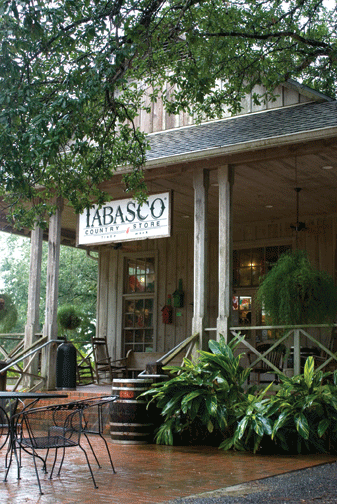 Avery Island, known for both its exotic, tropical beauty and for the Tabasco pepper factory, where the McIlhenny family, owners of Avery Island and Tabasco, have produced their patented pepper sauce since 1868, is a 15-minute drive from downtown New Iberia. The tiny island – which is actually not an island but a salt dome surrounded by marshes and bayous – is named for the Avery family, who settled there in the 1830s. But the McIlhenny name – Edmund McIlhenny married into the Avery family before the Civil War and founded McIlhenny Co. – goes hand-in-hand with the attraction it is today. In addition to touring the Tabasco factory, visitors to the island can take in its Jungle Gardens and Bird City, a 170-acre nature preserve that includes splendid displays of azaleas, Japanese camellias, papyrus, bamboo and other botanical varieties and has been a nesting place for snowy egrets for more than 100 years.
Although not as well-known, Jefferson Island, also in Iberia Parish and 15 minutes from New Iberia, offers several peaceful and romantic settings – the Joseph Jefferson mansion built in the 1870s and Rip Van Winkle Gardens, a 25-acre semitropical paradise leading to the historic home. The house, built by 19th-century actor Joseph Jefferson, contains period antiques and paintings and can be toured daily. There's also a relaxing café overlooking Lake Peigneur and bed-and-breakfast cottages for overnight guests. Luxuriant with color year-round, the gardens include azaleas, camellias, irises and magnolias, as well as a profusion of springtime bulbs and annuals, all highlighted by the exquisite site of peacocks strutting freely about the property. Adding to the romance of the place is the legend that pirate Jean Lafitte buried his treasure under the oak trees here.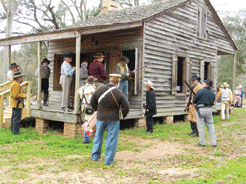 To the north, in St. Martin Parish, the historic town of St. Martinville is located in the heart of Cajun Country and considered by many to be one of the most romantic spots in the state. Home to the legend of the ill-fated lovers Evangeline and Gabriel, immortalized in Henry Wadsworth Longfellow's poem Evangeline, St. Martinville is a reminder of a time gone by and a frequent destination for engagements and weddings. The Old Castillo Bed & Breakfast, built in 1829, lies next to the quiet waters of the Teche and beneath the branches of the Evangeline Oak, officially recognized as the spot where the young Acadian heroine waited for her betrothed. The Old Castillo has seven guest rooms, each with a private bath and balcony, breakfast daily and a parlor with a television and fireplace. The front of the inn faces St. Martin de Tours Church Square, home to a statue of Evangeline and to St. Martin de Tours Catholic Church, built in 1836. The oldest church in Acadiana, it has its original cypress pews and pulpit, as well as daily services. A boardwalk along the bayou and a gazebo are both within walking distance, as are the town's restored 19th-century Opera House, Le Petit Paris Café (breakfast and lunch), Danna's Bakery (for fresh French bread, sweets and pastries) and the St. John Restaurant (lunch and dinner). For those in search of nature with no interruptions, Longfellow-Evangeline State Park is a short drive from downtown.
West of St. Martin Parish is Lafayette Parish and the city of Lafayette, which is the fourth-largest city (by population) in the state. Unlike some of the other destinations highlighted here, Lafayette includes both country-style places for relaxation and romance as well as options with a more urban aesthetic. La Maison de Belle Montgomery, a quaint three-bedroom/three-bath bed-and-breakfast with old-time Acadian ambiance, was moved in 2002 to its current location on Girard Park, the site of Festivals Acadiens et Créoles, one of the city's premier food and music festivals. Built in 1898, it has been completely restored and features high ceilings, original oak and pine floors and a carriage house once occupied by Pulitzer Prize-winning author John Kennedy Toole. Girard Park includes picnic areas, tennis courts, a golf course, an outdoor track, a pond with swans, play areas for children and more.
Downtown, the Juliet Hotel is a boutique hotel with luxury amenities. It occupies a building that was once a department store and has 20 rooms, all named after cities or characters in Romeo and Juliet; a pool; a hot tub; a fitness facility; a steam room and sauna; and a front desk staff well-versed in directing guests to restaurants, entertainment, parks and sites around town. The Buchanan Lofts, located in a renovated downtown warehouse, operates as a hotel. But its nine lofts, each featuring hip, retro-chic décor and kitchen facilities, have the feel of big-city lodging. The area is rich with classic Cajun and Creole restaurants, such as the award-winning Café Vermilionville, as well as restaurants offering a fresh take on traditional Cajun and Creole fare, such as Jolie's Louisiana Bistro, now in its fourth year serving locally sourced Louisiana farm-to-table dishes, and The French Press, where you'll find an innovative menu of breakfast and lunch selections daily (except Mondays) and white-linen dining on Friday and Saturday nights. Tsunami (owned by the same people who own Buchanan Lofts), a fine dining Japanese grill and sushi bar in a contemporary downtown setting, and Pamplona Tapas Bar & Restaurant, known for fine wines and small bites, are popular choices, as well.
Outside of the city but still in the Lafayette area, several bed-and-breakfasts offer the quiet charm of small-town living. Breaux Bridge, 15 minutes west of Lafayette, is where you'll find Maison Des Amis, or "house of friends," one of four Lafayette-area bed-and-breakfasts featured in chef John Folse's 1999 book, Hot Beignets & Warm Boudoirs. The Caribbean-Creole cottage, which was built in the 1860s and renovated in the 1990s, is fronted by a white picket fence and a rose-covered trellis gate. There are four antique-furnished guest rooms with private baths; a glassed-in porch overlooking Bayou Teche; a garden landscaped with flowers, fruit trees and circular boxwood hedges; a waterside gazebo; and a dock. Nearby activities include renting canoes, fishing and the favorite of all Louisiana pastimes – sampling the delicious cuisine of South Louisiana. Guests of Maison Des Amis often dine at Café Des Amis (separately owned but just a stone's throw away), a casual restaurant specializing in Cajun and Creole cuisines. Located in a 100-year-old building noted for having the first working elevator in the state of Louisiana (the refurbished elevator is now a hostess stand), the café serves such signature Southern dishes as barbecue shrimp and beignets. The Saturday morning Zydeco Breakfast is a regular attraction for locals and tourists, whether dining, dancing or both.
In Rayne, also 15 minutes from Lafayette, Maison D'Memoire Bed & Breakfast combines private cottage accommodations, 25 acres of bucolic scenery accessible to guests and a homemade breakfast delivered to your door every morning. Each of the tiny Cajun cottages – lovingly restored by the owners, painted with cheerful colors and surrounded by picket fencing – is at least 100 years old. And the same patience and attention to detail that went into the restoration of these secluded, warmly intimate retreats can be found in the memorable breakfast fare, which completes the tranquil, down-home experience.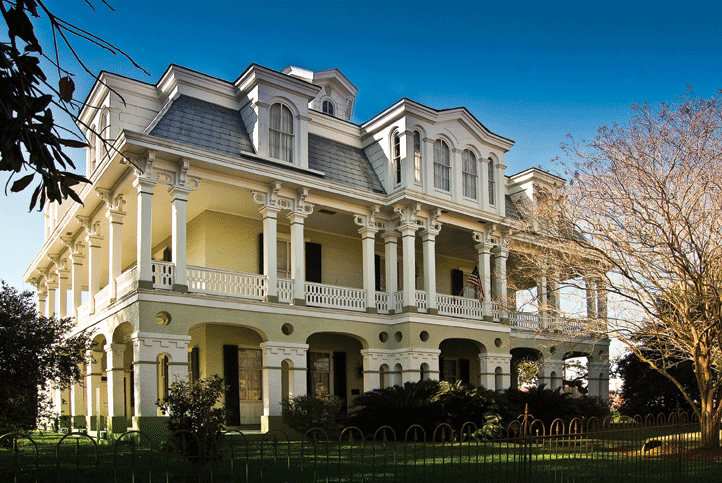 If it's a grander atmosphere you seek, some of the historic homes and plantations along Bayou Lafourche offer gracious hospitality in elegant surroundings. Dansereau House Bed & Breakfast in downtown Thibodaux was originally built in 1847 as a single-story Italianate residence and later enlarged and embellished as a Second Empire gem, featuring three stories, a two-tiered gallery and a cupola. Today the mansion, renovated extensively in 2003, operates as a bed-and-breakfast with four beautifully appointed rooms and two huge suites, both with luxury baths, fireplaces and more than 1,200 square feet. Each night includes a full gourmet breakfast on-site. On Thursday nights, the bar, known as The Drinkery, is open to the public. And in the spring and fall, Dansereau House presents its live music series, plein-air events (weather permitting) that guests often enjoy from the comfort of the veranda. Dansereau House is this year's recipient of the Louisiana Travel & Promotion Association's Louey Award for Accommodation of the Year – Best Bed & Breakfast and is near upscale restaurants, retail and Bayou Lafourche. Guests even can walk to Jean Lafitte National Park, which has an Acadian Center and music on Monday nights.
And finally, north of Thibodaux, in Napoleonville, you'll find Madewood Plantation House, one of many plantation homes along Bayou Lafourche. Designed by architect Henry Howard and built in 1846, Madewood is a National Historic Landmark and is considered to be the purest example of Greek Revival architecture in South Louisiana. Originally part of a sugar plantation, the delightfully maintained property to this day lives up to its reputation as "the queen of the bayou." Madewood offers tours for visitors and a special package for overnight guests (all by reservation) that includes a candlelight dinner with such South Louisiana specialties as chicken-and-andouille gumbo, crawfish étouffée and bread pudding. The music room can be reserved for private dining. Madewood has eight bedrooms, each with an antique canopied bed; offers a full breakfast; and is within easy access of an idyllic stroll along the bayou.
Atchafalaya Golf Course & Clubhouse at Idlewild
400 Cotton Road, Patterson
985/395-4653 | www.atchafalayagolf.com
Avery Island
800/634-9599| www.tabasco.com
Buchanan Lofts
403 S. Buchanan St., Lafayette
337/534-4922 | www.buchananlofts.com
Café Des Amis
140 E. Bridge St., Breaux Bridge
337/332-5273 | www.cafedesamis.com
Café Vermilionville
1304 W. Pinhook Road, Lafayette
337/237-0100 | www.cafev.com
Clementine Fine Dining & Spirits
113 E. Main St., New Iberia
337/560-1007 | www.clementinedowntown.com
Danna's Bakery
207 E. Bridge St., St. Martinville
337/394-8465
Dansereau House
506 St. Philip St., Thibodaux
985/227-9937 | www.dansereauhouse.com
The French Press
214 E. Vermilion St., Lafayette
337/233-9449 | www.thefrenchpresslafayette.com
Girard Park
500 Girard Park Drive, Lafayette
www.lafayettela.gov/parksandrecreation/dpt600parkslist.asp
Joseph Jefferson Mansion
5505 Rip Van Winkle Road, New Iberia
337/359-8525 | www.ripvanwinklegardens.com
Jean Lafitte National Park
314 St. Mary St., Thibodaux
985/448-1375 | www.nps.gov/jela/wetlands-acadian-cultural-center.htm
Jolie's Louisiana Bistro
507 W. Pinhook Road, Lafayette
337/504-2382 | jolieslouisianabistro.com
The Juliet Hotel
800 Jefferson St., Lafayette
337/261-2225
La Maison de Belle Montgomery
608 Girard Park Drive, Lafayette
337/235-2520
Le Rosier Country Inn
314 E. Main St., New Iberia
337/367-5306 | www.lerosier.com
Longfellow-Evangeline State Park
1200 N. Main St., St. Martinville
337/394 3754 | 888/677-2900
www.crt.state.la.us/parks/ilongfell.aspx
Madewood Plantation House
4250 Highway 308, Napoleonville
985/369-7151 | www.madewood.com
Maison Des Amis
111 Washington St., Breaux Bridge
337/507-3399 | www.maisondesamis.com
Maison D' Memoire Bed & Breakfast Cottages
8450 Roberts Cove Road, Rayne
337/334-2477 | 866/580-2477
www.maisondmemoire.com
The Old Castillo Bed & Breakfast
220 Evangeline Blvd., St. Martinville
800/621-3017 | www.oldcastillo.com
Pamplona Tapas Bar & Restaurant
631 Jefferson St., Lafayette
337/232-0070 | www.pamplonatapas.com
Petit Paris Café
116 S. Main St., St. Martinville
337/342-2606
Rip Van Winkle Gardens
5505 Rip Van Winkle Road, New Iberia
337/359-8525 | www.ripvanwinklegardens.com
Shadows-on-the-Teche
317 E. Main St., New Iberia, LA
337/369-6446 | www.shadowsontheteche.org
The St. John Restaurant
211 E. Bridge St., St. Martinville
337/394-9994
Tsunami
412 Jefferson St., Lafayette
337/234-3474 | www.servingsushi.com
Victor's Cafeteria
109 W. Main St., New Iberia
337/369-9924 | www.victorscafeteria.com