Recipes to Celebrate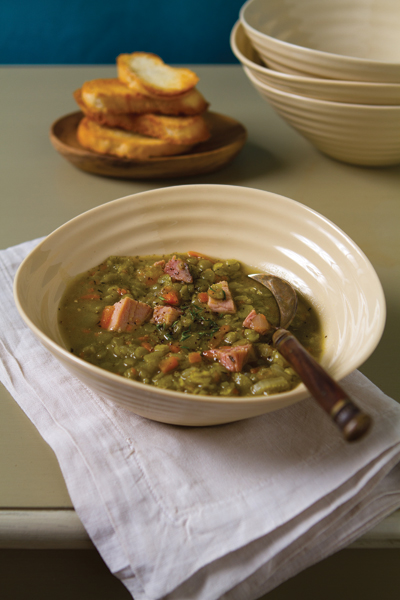 When February and March roll around, my calendar gets jampacked. There is Carnival season with parades, balls, cocktail parties and King Cake parties. This year, at least Valentine's Day is two days after Mardi Gras so I don't have to mix hearts and roses amidst my purple, gold and green Carnival décor. I'm a Pisces (Feb. 26), which puts some pressure on my dear husband to try to plan a birthday party, a getaway weekend or a night on the town. Just when I feel like it's time to take it easy, there's St. Patrick's Day, followed by the Sicilian feast of St. Joseph. And this year Easter is March 31! Whew!

At least I got organized during the Christmas holiday season. Yes, it took me almost a week, but, with a little help from my husband, I rearranged and stored decorations (in airtight and labeled clear storage boxes) from New Year's to Christmas. Now I can easily move from one festivity to the next!

With that task out of the way, I can spend time planning menus for the upcoming busy season.

For the past 20 years or so, I've had the same menu for watching the Mardi Gras parade on the Sunday before Fat Tuesday in my hometown of St. Martinville. Split pea soup made with the ham bone left over from New Year's, muffuletta sandwiches, Mardi Gras pasta salad and homemade King Cake seem to satisfy my guests.

Split Pea Soup
1 pound dry split peas
1 ham bone or 2 cups cubed ham
3 quarts chicken broth
1 cup chopped celery
1 cup chopped onions
1/2 cup grated carrots
1 teaspoon dried leaf thyme
2 teaspoons salt (more or less to taste)
1 teaspoon freshly ground black pepper
2 bay leaves
1 cup dry sherry
Combine all of the ingredients, except the sherry, in a large Dutch oven, and bring to a boil. Reduce heat, and simmer for about 2 hours, stirring occasionally. Add the sherry, and simmer for another 30 minutes. Adjust seasonings, remove the bay leaves, and serve hot. Serves 8 to 10.

Valentine's Day is one of my personal favorite events, and more often than not, my husband and I enjoy a dinner à deux at home. We take turns planning the menu, but there is always a decadent chocolate dessert paired with a brandy Alexander, one of my favorite after-dinner drinks. This dessert recipe serves 8 to 10, but it can be stored in the freezer for later use.

Frozen Chocolate-Almond Mousse
1/3 cup chopped toasted almonds
1/2 cup crushed butter-flavored cookies
2 tablespoons sugar, divided
3 tablespoons melted butter
2 tablespoons amaretto
2 cups vanilla ice cream, softened
2 eggs, separated
1 tablespoon rum
2 tablespoons strong coffee
6 ounces semisweet chocolate pieces, melted and cooled
1/2 cup whipping cream, whipped
Toasted almonds for garnish
Preheat the oven to 350 degrees.

Mix the almonds, cookie crumbs and one tablespoon of the sugar with the melted butter. Press into the bottom of an 8-inch oiled springform pan. Bake for 10 minutes. Cool. Place in the freezer.

Mix the amaretto with the ice cream, and spread on the crust. Return to the freezer.

Beat the egg yolks until thick and lemon-colored. Blend in the rum, coffee and chocolate, and set aside.

Beat the egg whites with the remaining tablespoon of sugar until soft peaks form. Fold into the chocolate mixture. Fold the whipped cream into the chocolate mixture. Spread this mixture over the ice cream, and sprinkle with more almonds. Freeze for at least eight hours before serving. Serves 8 to 10.

Brandy Alexander a la Commander's Palace
1/2 ounce créme de cacao
2 ounces cream or half-and-half
1 1/2 ounces brandy
Freshly grated nutmeg
Combine the créme de cacao, cream or half-and-half and brandy in a cocktail shaker half filled with ice cubes. Shake. Strain into a stemmed wine glass, and sprinkle with nutmeg. Serves 1.
I think I'll let my husband have it easy this year for my birthday and have him prepare this menu for me at home: Caviar with traditional garnishes washed down with ice-cold vodka, hearts of palm salad with Dijon mustard vinaigrette and this wonderful tournedos Rossini served with a nice bottle of Médoc. Dessert? That's easy – more brandy Alexanders.

Tournedos Rossini
2 fillet steaks, each about 1 1/2 inches thick
2 baking potatoes, peeled and cut into balls with the large end of a melon baller
1 tablespoon vegetable oil
6 tablespoons butter, divided
Salt and freshly ground black pepper
2 tablespoons cognac or brandy
2 tablespoons port
1/3 cup beef stock or broth
1/4 cup heavy cream
2 round slices of foie gras, 1/4 inch thick
1 black truffle, shaved into 4 slices (optional)
Remove the fat from the fillets, and tie them to hold them together.

Clean the potatoes, and scoop out little balls. Cook the potato balls for about 2 to 3 minutes in boiling water, and then drain. Heat the oil and 2 tablespoons of the butter in a flameproof casserole, and add the potato balls. Brown them a bit, turning them once or twice, and then put the casserole in a preheated 350 degree oven to finish cooking.

Heat another 2 tablespoons of butter in a skillet, and brown the steaks on both sides. Season with salt and pepper.

Discard the fat from the pan, and add the remaining 2 tablespoons of butter. Add the cognac or brandy, and carefully ignite it. When the flame has died down, remove the steaks, and keep them warm.

Add the port, stock and cream to the pan, and bring it to a boil. Cook until it has reduced by half and is smooth.

Place a slice of foie gras and two slices of truffle on each steak. Ladle the sauce over the tournedos, and surround them with the potatoes. Serve immediately. Serves 2.

Nancy's Cabbage Rolls
For St. Paddy's Day, my menu may vary. Sometimes I make a big pot of cabbage rolls; other times it's corned beef and cabbage, but there is always Irish coffee after dinner. Nancy, my sister-in-law, is the ace at making these cabbage rolls.
1 large or 2 small heads of cabbage
1 cup raw long-grain rice
1 pound lean ground beef
1 pound lean ground pork
3 garlic cloves, minced
2 cups chopped onions
1 cup chopped green bell peppers
1 6-ounce can tomato paste
Salt and cayenne to taste
Pinch or two of allspice
4 12-ounce cans tomato sauce
Sugar
2 cans water measured in tomato sauce cans
Boil the cabbage in water until slightly tender. Drain well, and cool. Combine the rice, beef, pork, garlic, onions and bell peppers in a large mixing bowl. Add the tomato paste, and mix well, using your hands. Season with salt and cayenne. Add the allspice.

Carefully separate the cabbage leaves. Spoon 2 to 3 tablespoons of the rice mixture into each cabbage leaf. Roll carefully but not too tightly. Be sure to tuck in the sides of the leaves so the filling will not fall out.

Make a layer of the rolls in a large roasting pan. Pour in half of the tomato sauce. Sprinkle with a little salt, cayenne and sugar. Make another layer of rolls, and pour in the remaining tomato sauce. Sprinkle again with salt, cayenne and sugar.

Pour in the water. Cover, and cook over medium-low heat for about 1 hour and 15 minutes, or until the rice is tender. Baste occasionally with the pan juices. Serve hot. Serves 10 to 12.

Irish Coffee
1 ounce Irish whiskey
1 1/2 teaspoons simple syrup
6 ounces strong hot black coffee
Heavy cream
Put the whiskey and syrup in a mug or Irish coffee cup. Stir. Pour in the coffee, and top with cream. Serves 1.

Fig Bread
My contribution to the St. Joseph's Day Altar is this fig bread.
1 1/2 cups unbleached all-purpose flour
2/3 cup sugar
1 1/2 teaspoons baking powder
1/2 teaspoon salt
2 eggs
1/2 cup milk
1/3 cup oil
1 teaspoon vanilla extract
1/3 cup light brown sugar
1/2 teaspoon ground cinnamon
2 tablespoons butter
10 fig bar cookies, crumbled
Preheat the oven to 350 degrees.

Combine the flour, sugar, baking powder and salt in a large bowl. Set aside.

In another bowl, combine the eggs, milk, oil and vanilla. Stir this mixture into the flour mixture. Mix well. Pour half of the batter into a greased and floured 8.5-inch-by-4.5-inch-by-2.5-inch loaf pan.

In a bowl, combine the brown sugar and cinnamon, and cut in the butter. Add the crumbled fig cookies to this mixture.

Add half of the fig mixture to the batter in the pan. Pour the rest of the batter on top, and then top with the remaining fig mixture. Swirl with a knife.

Bake until lightly browned, about 1 hour. Serves 8 to 10.

Syrup-Rum-Glazed Ham
And for Easter, I make this baked ham. Don't forget to save the bone to make soups or red beans and rice.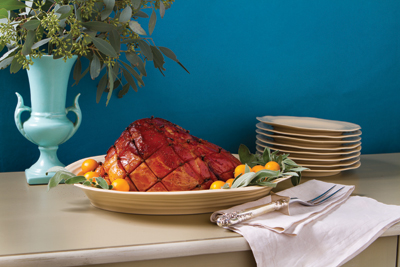 7-to-8-pound (shank end) fully cooked cured ham
1/3 cup Steen's 100% Pure Cane Syrup
1/4 cup firmly packed light brown sugar
1/4 cup dark rum
1 teaspoon freshly ground black pepper
2 tablespoons fresh lemon juice
Preheat the oven to 350 degrees.

If the ham comes with the skin still attached, remove most of it with a sharp knife, leaving a layer of fat and a collar of skin around the end of the shank bone. Trim the fat, leaving a layer about 1/2-inch thick. Score the fat into diamonds.

Bake the ham on a rack in a roasting pan for 1 hour.

Combine the syrup, sugar, rum, pepper and lemon juice in a small mixing bowl. Whisk to blend well. Spoon the glaze evenly over the ham. Return the ham to the oven, and bake for 30 to 35 minutes, or until the glaze is brown and bubbly. Remove the ham from the oven, and let it rest for about 15 minutes before slicing to serve. Serves about 10.
Use any leftovers to make sandwiches the next day. The bone is ideal for making soups.