Port Fourchon, A Recreational Gateway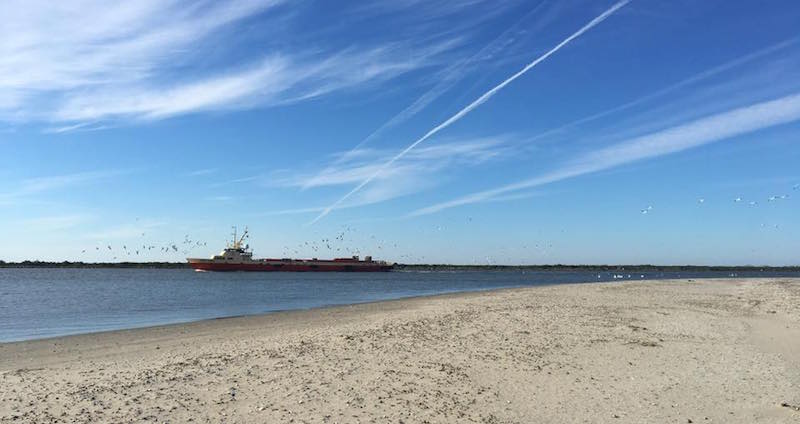 It's the southernmost point of Louisiana that's reachable by automobile, a world unto itself: Port Fourchon.
This massive coastal seaport, which sits at the mouth of Bayou Lafourche and the Gulf of Mexico, is somewhat reminiscent of a scene from a science fiction movie (think: a multiplex space station). It's no wonder; Port Fourchon is a chief oil and gas marine hub on the Gulf Coast with some of the largest boat and marine companies in the world operating from the port. Visitors from around the world, who make their way down to the area, are usually stunned by the magnitude of vessels and marine-related docks, and all the deep water sector support that comes out of Fourchon. (Fact: Port Fourchon services over 90 percent of the Gulf of Mexico's deep water oil production with more than 600 oil platforms within a 40-mile radius. This area supplies 16-to-18 percent of the United States' oil supply.)
This nationally significant port has another vibrant life, it's also a commercial and recreational fishing Mecca. Port Fourchon has a public dock facility at the end of Highway 1 (LA 1); and while mostly private boat owners fish in and out of Fourchon, there are a handful of great charter fishermen offering their expertise in these waters. These fishing charters offer diversified trips – both inland and offshore – in the Gulf and complex marsh waters, both of which are home to a variety of sought-after fish species.
The marshes of Port Fourchon are known for red fishing; the rich marshes, the tidal flow and rock jetties attract many who love to catch redfish. Adding to its attractiveness, Fourchon is centralized with Grand Isle just 15-miles away, and even more marsh fishing that extends into Leeville and beyond. If you need a boat, you can rent one from a handful of rental facilities in neighboring Grand Isle.
Among the Port Fourchon Fishing Charters is Cajun Made Charters, where inshore, offshore and overnight trips are operated from Moran's Marina in Fourchon. Cajun Made Charters offers several different trips for one to six people, and can accommodate almost every saltwater anglers, regardless of their preference – shallow and deep water bottom fishing, kite fishing, overnight tuna and swordfish, offshore fly fishing, and big game trolling. Cajun Made can handle it all, and all excursions include fuel, ice, bait and tackle. (Tip: This charter service is already booking for the summer, so operators advise you to book now for summer excursions.) Some other Port Fourchon charter options are Tuna Time Charters and Steve Tomeny Charters.
If you get hungry, head to Moran's Marina where you will find C.Moran's Restaurant, home of great steaks and amazing stuffed flounder. Within its convenience store, Moran's also has a deli that serves hamburgers, fried chicken, plate lunches and Southern-style breakfasts. If you need to wet your whistle before or after fishing, Moran's also has Fin's Bar that's open from 3:00 p.m. – til. (Tip: The convenience store has all the fishing supplies you need, and there are slips to park your boat!)
A great option for Port Fourchon lodging is Moran's Marina Motel, which is located next to C.Moran's Restaurant. Rooms at this motel have two queen-size beds, a mini-fridge, microwave, cable television and Wi-Fi. (Tip: Request a room on the west side of the motel so you can watch some of the area's most beautiful sunsets; also, you can request a suite with a larger room that includes a jetted tub.) Moran's also offers camps with three bedrooms (that sleep up to eight people), plus there's an RV site.
Be sure to stop and ogle over the Lady of the Gulf Seaman's Memorial, which is the only dedicated Seaman's Memorial for the state of Louisiana. The memorial is located next to Port Fourchon's Emergency Command Center, which is about a half-mile from both Moran's Marina and the Port Fourchon Marina off of Highway 1. The Lady of the Gulf stands 16-feet tall atop a pedestal, and in her cloak she carries all those who have been lost at sea, the remains of an oil rig, a capsized boat and the fins of a lost diver. (Event Tip: The Golden Meadow-Fourchon International Tarpon Rodeo, one of the top fishing rodeos in Louisiana, will be held July 5-7, later this year.)