Plus ça change: Power Couple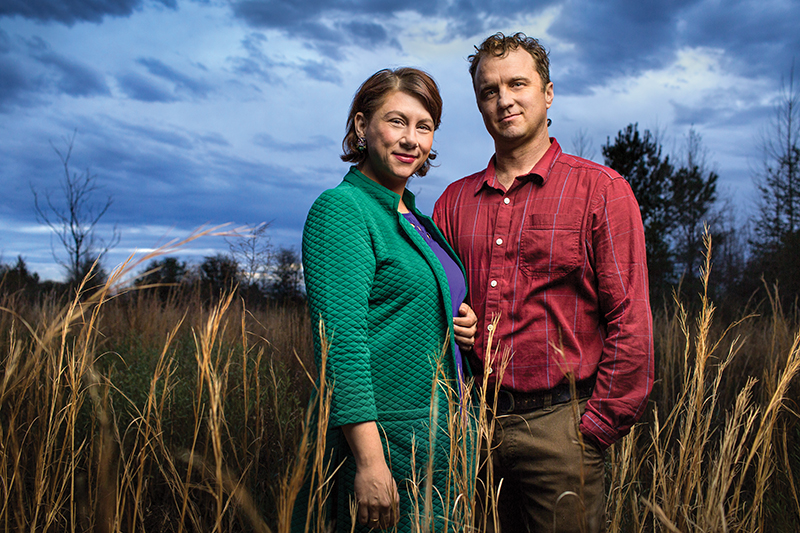 The story of individual contributions to the various French cultures of south Louisiana appears in numerous documentaries, articles and books, but rarely do we hear about the role of couples, which strikes me as odd given the importance of family. There were, of course, Cléoma Breaux and Joe Falcon; in more recent times there are Ann and Marc Savoy. As we explore the evolution of traditional Cajun culture in the 21st century and how a husband-and-wife team can make an impact both individually and as a couple, we must look to the multidisciplinary approach of Ashlee and Louis Michot to see where it is going.
On the one hand, we have Louis (pronounced "Lou-EE") who, with his brother André, co-founded the Grammy-winning Lost Bayou Ramblers; on the other, we have Ashlee — French teacher, multimedia artist and poet — who recently edited and contributed to the first French-language collection of women writers from Louisiana, "Ô Malheureuse!" Louis' other projects include the film "On Va Continuer," Michot's Melody Makers, movie soundtracks and collaborations with the decidedly un-Cajun likes of The Pogues' Spider Stacy and The Violent Femmes' Gordon Gano. Together, they form, along with Corey Ledet, Soul Creole, a Cajun-Zydeco fusion jam band that sings in English and French.
Their greatest creation together is that of a family with three young sons living in a traditional bousillage home on La Prairie des Femmes in Saint Landry parish. In addition to tending to her family, Ashlee documents in hand-decorated notebooks the Cajun French words and expressions heard on KVPI's radio show, "La Tasse de Café." You can find much of her work on her various Instagram accounts. Given the path they have followed, it is only fitting that it was the French language that first brought them together.
They met at Festivals Acadiens et Créoles in September 2003 under a tent where CODOFIL was handing out pins that said "Oui, je parle." According to Ashlee, they actually noticed each other a few times over the festival weekend but never spoke. Under that tent, they were introduced to each other in French. They then went dancing to Lil Nate where someone asked her how long they had been dancing together, to which she replied, "Oh, about 15 minutes!" Soon thereafter, he took her to visit Ethel Mae Bourque who sang for them her "new old" songs: some traditional ballads, but also contemporary accounts of personal experience, like the trouble Hurricane Andrew caused her, sung in that style. Sixteen years later, they have been together ever since that day.
In many ways, they have been doing the same thing with their art by taking up-to-date content and putting it into old forms filtered by new technology. The best way to preserve a culture is not by putting it in a can like it was figs or pears, but by pushing it forward with the tools of the 21st century. Who knows? Future generations may one day be nostalgic about old-time Cajun social media.
---