Plantation Country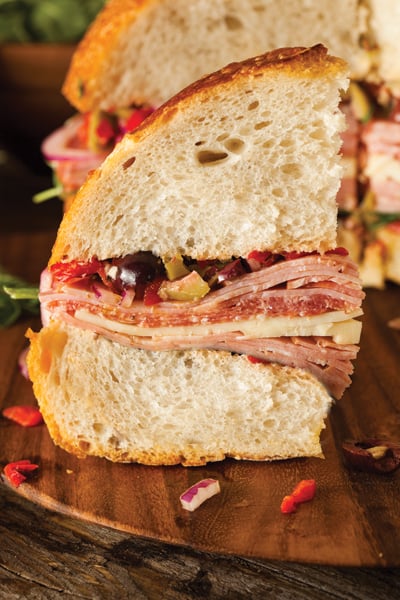 Sometimes during the dog days of summer, there's nothing more appealing than an informal meal. And if the meal is on the Italian side, that's even better. For nearly 40 years, Anthony's Italian Deli has been one of Baton Rouge's best-kept secrets. Tucked away in the corner of a shopping mall, you may have to make a safari of sorts to find it, but the reward for your efforts will be fruitful.
Try Anthony's New Orleans Style Muffaletta: The incomparable flavor of muffaletta bread studded with sesame seeds, Genoa salami, cappicola, Mortadella and Provolone cheese are combined with the tang of an olive salad that moistens and melds all of the ingredients together perfectly. The Godfather, not to be refused, is a sandwich made from Genoa salami, American prosciutto and Provolone cheese, topped with romaine lettuce, marinated peppers and dressing.
If you're craving comfort food that takes grilled cheese sandwiches to a higher stratosphere, indulge yourself by ordering the Cheese Lover: melted together in a blissful mélange are swiss; mozzarella; provolone and American cheeses flowing together tomatoes, served on crunchy muffaletta bread. One of my favorite poor boys, the Home Made Meat Balls, arrives for your eating pleasure on crispy muffaletta bread saturated with homemade tomato sauce. The meatballs nestling there are blanketed with velvety melted mozzarella.
Anthony's homemade Italian sausage has just the right balance of spices and anise to be truly Italian. This, by itself, makes a delicious poor boy. There's also a sandwich inspired by pepperoni pizza, with signature muffaletta bread filled with imported Italian pepperoni, sliced paper-thin with a healthy dose of melted mozzarella.
For dessert, order the cannoli – or tiramisu – or spumoni. u
Anthony's Italian Deli
5575 Government St.
Baton Rouge
(225) 272-6817
---
LaPlace
Where The Racoons and Alligators Play
If you want a summer adventure, take a tour of the mystical Manchac Swamp. Cajun Pride Swamp Tours, based in LaPlace, has a fleet of covered mini-barges and experienced captains. Here, you can meander through their privately owned refuge across murky waters that mirror the trees, moss and cumulus clouds in the sky. The perfume of wild hibiscus rose mallow combined with marsh plants pierces the warm air in a most pleasant way, and the cries of wild birds add music to this hushed, green world.
The tour captain and the wild inhabitants of Manchac have an understanding with one another. Recognizable to the resident raccoons, gators, and other swamp denizens, the boats are greeted by scurrying creatures and alligators responding to the call of the skipper – all at a safe distance. An ongoing narrative accompanies the tour, providing education and insight about the wetlands, along with stories about the swamp's inhabitants and the habits of American alligator. You'll pass the mysterious and tragic site of Frenier, wiped out in 1915 by a hurricane that swept over Ruddock, and learn the strange story of Julia Brown, who once lived there. As Manchac casts its spell about you and you stare into a purple bank of water lilies, you just might be greeted by the blinking eyes of a little raccoon wearing its furry bandit's mask. Cajun Pride also provides shuttle service from numerous New Orleans hotel to the tour site.
Cajun Pride Swamp Tours
110 Frenier Road, LaPlace
(504) 467-0758