Planning Ahead and Building Trust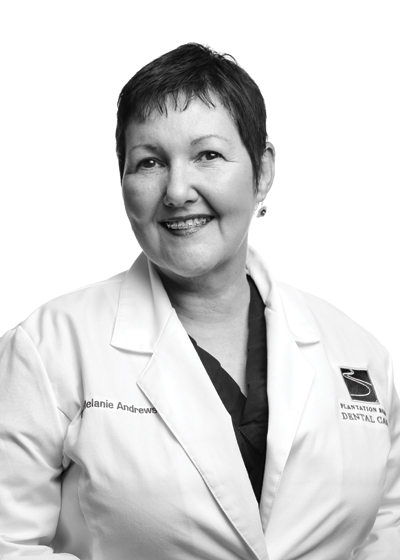 Melanie Andrews
Destrehan
Specialty: General Dentistry with emphasis on Restorative and Cosmetic Dentistry
• Louisiana Tech University 1979
• LSU School of Dentistry 1983
Native of Trout
When Dr. Melanie Andrews picked dentistry as a profession fresh out of high school, she envisioned a practice built on lasting relationships with her patients, their children and their grandchildren. "My initial attraction to dentistry was for the unique blend of science and art, as well as the ability to work with my hands," Andrews says. "It was important to me to pursue a 'helping' profession and I also wanted to run my own business." In 1985, after completing a Residency in General and Hospital Dentistry at University Hospital of Jacksonville, Florida and just two years after graduating dental school, Andrews began her private practice in Destrehan. "I have a true family dental practice where I take care patients from age 2, to age 92," Andrews says.
Focusing on the big picture is key to Andrews' special area of interest in comprehensive restorative treatment. Helping patients "understand how that impacts their mouth, their smile and their physical health as well," is Andrews' priority.
"In 30 years of practice there have been many tough cases along the way," Andrews says. This year however brought forth a case that would challenge Andrews to employ all of her education, training, talent and abilities.
The patient was a 30-year-old woman who had missing teeth as a child and over the years since had undergone extensive dental work at a different practice. She had become unhappy with the look of the prior work, which included braces, implants and crowns. As a result, the patient not only was dissatisfied, but also reticent having had a bad experience with her former dentist.
"I spent as much time treatment planning the case, as I did actually doing the work, using all available resources as well as skills I've learned from years of practice and continuing education," Andrews says. "In her case, the previous dental work, and her reservations about any treatment at all, forced me to think through every step of her plan."
Extensive consulting with the lab technician, the implant company and the patient, as well as studying the case through models and photography lead to moving forward with the treatment. "In the end, seeing this beautiful young woman finally able to smile – with beautiful teeth and soft tissues – was so incredibly rewarding."