Pizza Toppers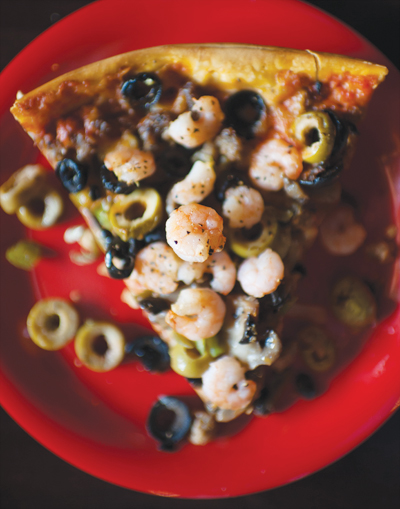 Nearly every town and everyone has a favorite pizza.
For many of us, it's the one we grew up with. For others, a favorite pizza is sometimes discovered in a stars-are-aligned-and-the-crust-is-just-right moment that transcends time and space.
Favorite pizza has a lot to do with memory and sentiment. A favorite pizza is like an anchor in a harbor – it's contemporary comfort food. They say the sense of smell is the strongest sense of memory. Perhaps that's true. But the sense of pizza ranks right up there.
In Lafayette, there's plenty of great pizza. La Pizzeria, for example, is fantastic, but for many longtime Lafayetters, the favorite pizza decision ends up in a three-way split.
The deciding factor seems to have been the geography of childhood – which pizza place was closer: Alesi's, Dean-O's or Pizza Village?

Alesi Pizza House
4110 Johnston St., Lafayette
337/984-1823 • alesipizzahouse.com
"When it comes to pizza, Pizza Alesi is the best," says Elizabeth Hamilton, a die-hard fan, who is not alone in her devotion to the Johnston Street brick building. The menu has plenty of Italian staples, but if it's pizza you're looking for, the Alesi contingency offers a convincing argument: "Pizza Alesi," Hamilton says. "The crust is super-thin and has huge, yummy strips of bacon on the crust. I don't know what all is on it, but it's perfection."
She's been going to Alesi's since college and isn't sure she's ever ordered anything else.
"It's true Italian," says Kristy Robin Landry, who faithfully orders the shrimp pizza with extra cheese.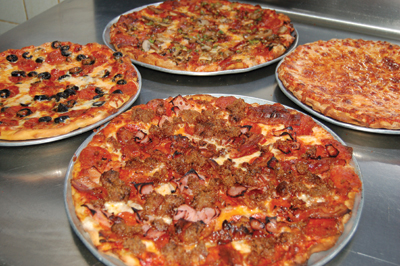 Landry has been going to Alesi's for much of her life and, like people who like a particular pizza everywhere, has much sentiment tied up in her pizza preference. She remembers the older Alesi couple who helped build the restaurant and their devotion to each other.
"I want a love like that – for another person, for food and for my career," she says. "That restaurant was their baby. They were proud of it and rightfully so. It's quaint, romantic and somehow, it's still child-friendly – with excellent service and reasonable prices. I love that place. Memories are made there!"

Dean-O's Pizza
305 Bertrand Drive, Lafayette
337/233-5446
2312 Kaliste Saloom, Lafayette
337/534-8092 • deanospizza.com
Dean-O's Pizza has been making pizza with South Louisiana flair for decades. Members of the old guard know exactly what they want when they get to Dean-O's. Some quintessential local favorites include the Cajun Executioner, pizza for the folks who like it spicy, with pepperoni, hot sausage, spicy shrimp, fresh onions, bell peppers and a lot of jalapeños; the Cajun Canaille with shrimp, Louisiana smoked sausage and jalapeños; and finally, the Marie LeVeaux, with Blue Point crabs sautéed with mushrooms, onions and spices.
Dean-O's does have more tried and true pizza options for those who prefer their pizza more traditional, but the salads are also a hit – a mega spinach salad called Popeye's Revenge is a local favorite, and the Cheeseburger Salad is an unexpected surprise. A spiced-up ground beef (or turkey) patty with melted cheese on a bed of greens and veggies, it's a salad that is proof that the sum of its parts is greater than the individual ingredients.
Pizza Village
1935 Moss St., Lafayette
337/232-1418
2340 Kaliste Saloom, Lafayette
337/706-8644 • pizza-village.com
People who love Pizza Village will fight you for their pizza's honor. It's been a matter of Northside pride since the restaurant opened back in 1971.
Granted, they feel a little betrayed now that Pizza Village has opened its fancy new South Lafayette restaurant, but they still stand behind the Moss Street institution.
They also love the inexplicably delicious salad that goes with the pizza. It's simply iceberg lettuce, ham, cheese and olives, but many have speculated as to what secret potion Pizza Village employees must sprinkle over the salad to make it taste so unbelievably good.
Almost every conversation over a Pizza Village salad goes like this:
Person A: "How can this be so good?"
Person B: "I don't know, but it is."
Person A: "It's just iceberg lettuce, ham, cheese and olives."
Person B: "I know, but it's perfect."
Person A: "Even the temperature is perfect."
Person B: "I know, and I don't make a habit of noticing the temperature of my salad."
But back to the pizza.
It's a thin-crust, not-too-heavy-on-the-sauce good kind of pizza.
Stephen A. Duhon says he almost always orders the Pizza Village Special, a practical pizza of pepperoni, hamburger, onions, green olives, black olives, bell peppers and mushrooms.
The new Pizza Village on Kaliste Saloom has a fine full-service bar and a slightly different menu with dessert options, but it still offers the same thin-crusted goodness that is Pizza Village pizza.
Liz Mouton, a longtime Pizza Village fan, isn't picky about which topping is on her Pizza Village pizza.
"I just love their pizza," Mouton says. "It's part nostalgic – I mean I know their phone number by heart. They greet you by name. It's unbeatable. I love the thin crust."
And great pizza with the potential to make a native wistful exists outside the confines of Lafayette.
Tony's Pizza
335 E. Prien Lake Road, Lake Charles
337/477-1611 • tonyspizzainc.com
"I've been going since I can remember," says Richard Leblanc, a loyal Tony's fan. "When I was a little kid on Sundays, we'd go pick up a platter of spaghetti and meatballs. I always enjoyed the pizza."
Like so many other local pizza-lovers, Leblanc started out loving the thin crust. Now that he's older, he prefers the deep dish.
Just like local pizza joints everywhere, Tony's is relaxed and easygoing – and has cold beer.
Tony's is also famous for its homemade Italian dressing. The Tony's faithful will drive for an hour to stock up on a take-home bottle of the salad dressing.
Leblanc prefers the Deluxe Veggie Pizza. "They're one of the few places that will put broccoli on their veggie pizza – and I like that."
Pizza Shack in Opelousas
Michelle Wiltz of Opelousas swears by Pizza Shack in Opelousas. Per normal, it's the pizza she grew up with. The crust is thin, and the beer is cold.
"They've been around forever," she says. "The pizza is good. The beer is served in an ice-cold mug. It's one of those small-town dependable pizza places. It's always crowded and very casual. The place is packed with people like me who grew up eating the pizza."
Patricia Parks agrees – even though she hasn't been in a few years.
Parks is more proof that when people think "great pizza," they think about the pizza they loved growing up.
"I just remember going with my parents as a kid and with my friends in high school," she says. "As a kid, I enjoyed the arcade games, and as a teenager, we played the heck out of the jukebox. Pizza Shack is like your typical pizza place – it's dark, cozy and wall-to-wall booths. Like any respectable pizza place, they serve ice-cold pitchers of beer."
And then Parks hastens to add, "I had the beer as an adult, not a teenager, by the way!"
Her pizza of preference is the Ferdie's Special. "It's loaded with pepperoni, sausage (Savoie's Cajun sausage!), shrimp, jalapeños, onions, cheese and lots of other yummy goodies – all on the thin and crispy crust that locals love!"
Amore Pizzaroma
105 Jacqulyn St., Abbeville
337/898-6002 • apizzaroma.com
Sean Trcalek is a major fan of Amore Pizzaroma. He is not alone.
"It's great because of the variety of specialty pizzas – and the variety of sauces they use," he says.
For Trcalek and others, Amore has figured out how to serve pizzas with just the right amount of red sauce. But they don't stop there; they also serve pizzas with Parmesan sauce, barbecue sauce and even honey-mustard sauce.
The Chicken Florentine pizza is a popular choice. It's made with Parmesan sauce, grilled chicken, feta, roasted garlic and roasted tomatoes.
The Shrimp Pesto pizza is another favorite that capitalizes on the proximity to good, fresh shrimp. "They use whole roasted cloves of garlic on several of their specialty pizzas, which are incredible and roasted to perfection,"
Trcalek says. "The pizzas are made with homemade crusts – pan, thin and crispy, even a whole wheat thin crust, and they make their sauces from scratch to complement the crusts, which hold up well to the toppings."
Amore is not pretentious about what it is. It's a pizza place connected to a Shell gas station at the corner of Jacqulyn and South State streets. It's simple, comfortable, clean, quaint and composed of mostly booths. It even offers a drive-thru for pickup.