Pilgrimage to Oakley House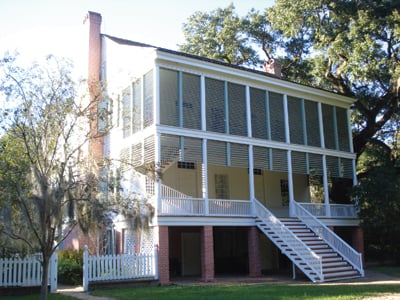 Oakley House in West Feliciana Parish, one of the most famous of Louisiana's landmark homes and one of the oldest of State Parks' 19 State Historic Sites, will co-star with other historic public and private homes chosen to be part of the 45th annual Audubon Pilgrimage tours, March 18-20. Named of course for John James Audubon, who found 32 of his Birds of America during his four-month stay at Oakley in 1821, the Pilgrimage (not to mention all those blooms and birds of spring) makes this the best imaginable time to pay a call.
Set in today's hundred-acre patch of forest now known as Audubon State Historic Site, five miles south and east of St. Francisville via U.S. 61 and Louisiana 965, Oakley appears to visitors strolling its old carriage drive just as it did to Audubon when he arrived from the Bayou Sara steamboat dock. Built in the earliest months of the 19th century, when this was still the western extremity of Spanish West Florida, it remains as a rare example of an unusually large pre-Greek Revival home, complete with a nearly full-height brick basement and two full upper floors, both clad in such tropical features as slender-columned and heavily jalousied galleries for directing breezes into and through the house.
James Pirrie (a Scotsman who incongruously was serving as territorial magistrate for the Spanish regime) and his wife, Lucretia Alston (widow of Ruffin Gray whose 1796 Spanish land would become Oakley Plantation), began construction of Oakley House about 1801. They furnished it in the simple and elegant Federal style, creating an interior that also appears much as it did in Audubon's day thanks to many items of furniture and accouterments gifted to State Parks by descendants.
One old bookcase contains Lucretia's handwritten volume of plantation recipes, alongside her ledger of herbal cures and medicines compiled from her readings and from knowledge of apothecary learned as a student of the Ursulines in New Orleans. Hand-colored prints from the original edition of Birds of America adorn every major room, and Audubon's office/bedroom contains items owned or used by him during his brief sojourn at the plantation.
Just outside, a parterre garden filled with azaleas and hip gardenias (the hips once used for decorating the living room and dining room) retains its original formal pattern of boxwoods, although the hedges themselves, gnarled beyond salvation, have been very recently replaced.
Behind the garden and home, next to a small "kitchen garden," stands the reconstructed kitchen built on original foundations around the original open-hearth fireplace, with its pots and kettles suspended by swiveling iron hangers above the blaze. The room is large enough to double as exhibition space for occasional demonstrations like the spinning and weaving of cotton and wool on a vintage spinning wheel and giant 200-year-old loom.
Beyond the kitchen, a visitor with map-and-guide leaflet in hand is free to explore two nearby slave cabins (frequently used for presentations on the life and labors of the slaves, skilled workers as well as fieldhands), and a well-preserved barn still houses buggies, wagons and oddments of tools and harness beneath the hayloft.
Standing at a respectful distance from the old complex, a modern Interpretive Center presents cotton planting and ginning exhibits and a hands-on display of 1820s apparel, plus artifacts like Audubon's own paint box, glasses and army-style cot. A small theater offers a film about the plantation, the Felicianas and Oakley's most celebrated visitor.
---

Audubon's room.

A barn full of history.

Plantation kitchen
---
Audubon's role at Oakley was to tutor young Eliza Pirrie in painting and dance, in return for room, board and salary, with ample free time for drawing the birds he found there in what he considered an astounding abundance of species. He also found time to complete a portrait of Eliza, a copy of which hangs in the house until such time as the original might be acquired.
Many opportunities for following in the artist's footsteps – and meeting the descendants of his birds – can be found in the vicinity, beginning by hiking Oakley's own forest trail and (four miles east via 965) the ridgetop trails at a section of Audubon's beloved Tunica Hills, now a Nature Conservancy property called the Mary Brown Preserve. He was equally successful on his explorations of nearby Bayou Sara and, in woodlands north of St. Francisville, around such plantations as Beechwood and Beech Grove (neither still standing) where wife Lucy tutored for extended periods while Audubon was off to complete his paintings, to find sponsors for the publishing of Birds of America and, ultimately, to find a qualified and willing publisher in London.
Other grounds often trod by Audubon lie west of Oakley on 965, between U.S. 61 and the long-since vanished river town of Bayou Sara, where Audubon collector Arlin Dease invites guests as well as passers-by to relax among the statuary and gardens of his cultural arts center (and guest cottages) called Hemingbough.
All told, of the 435 world-famed, life-size Birds of America, 167 were painted in Louisiana, of which 80 were done in the Felicianas during his visits (totaling about 23 months), including the 32 created at Oakley.
When you depart, head straight to your book dealer or abebooks.com (thousands of dealers) to find for yourself and the 8-to-12-year-olds in your life A Nest for Celeste by master artist and storyteller Henry Cole. Closed, it's a decorator item; opened it's an inch-thick story of Audubon, his young apprentice Joseph Mason and a mouse named Celeste, brought together for a few months at Oakley. With its fast-paced tale and every-page scenes rendered by the deft shadings of Cole's pencil, it is a masterpiece of children's literature. (Tegen Books, 2010.)
A ticket to this year's Audubon Pilgrimage will unlock the gates and doors of Oakley and Rosedown State Historic Sites, the expansive gardens and oak alley of Afton Villa plantation gardens, the famously haunted 1790s Myrtles Plantation and three private homes: 1809 Cabildo, 1836 Rosale and the Vinci Cottage on the grounds of 1817 Virginia House on Royal Street in St. Francisville. The homes are open 9:30 a.m. till 5 p.m. daily, as is the "Rural Homestead" living history village where volunteers in period garb demonstrate open-hearth cooking, quilting, mule-powered plowing, blacksmithing, grist milling and the "carding" and spinning of cotton.
Speaking of vintage garb, it's become a tradition for locals to dress in 1820s style right along with the role-playing reenactors, especially at Friday night's wine-and-cheese reception at Grace Episcopal's Parish Hall and Saturday night's "Light Up the Night Soiree." Friday evening also bring a "Royal Street by Candlelight" tour, "robust" hymn singing at United Methodist, tours of Grace Cemetery and, at Temple Sinai, a stage presentation on Audubon's life. Ticket information for home-tour and evening events is available at (225) 635-6330, audubonpilgrimage.info or in person at the Historical Society Museum (11757 Ferdinand St., with its wonderfully redesigned and expanded historical exhibits).
Following on April 30, 1-5 p.m., the annual spring "Garden Stroll," presented by Master Gardeners of the LSU AgCenter will provide access to gardens at four private homes and at the Bains Elementary School garden, scattered from St. Francisville eastward to Jackson. The Master Gardeners will be available all afternoon for consulting, and proceeds benefit the local 4-H Scholarship Program and West Feliciana school gardens. Call the West Feliciana AgCenter at (225) 635-3614 or visit strancisvillespringstroll.org for details and tickets.
As always, St. Francisville's 28-year-old and increasingly famous Southern Garden Symposium, with its outstanding lectures, workshops, social events and silent auction, will be headquartered at Hemingbough and Afton Villa on Oct. 7-8. Visit SouthernGardenSymposium.org or call (225) 635-3738 for particulars.