Personnes d'Acadiana: Final Destination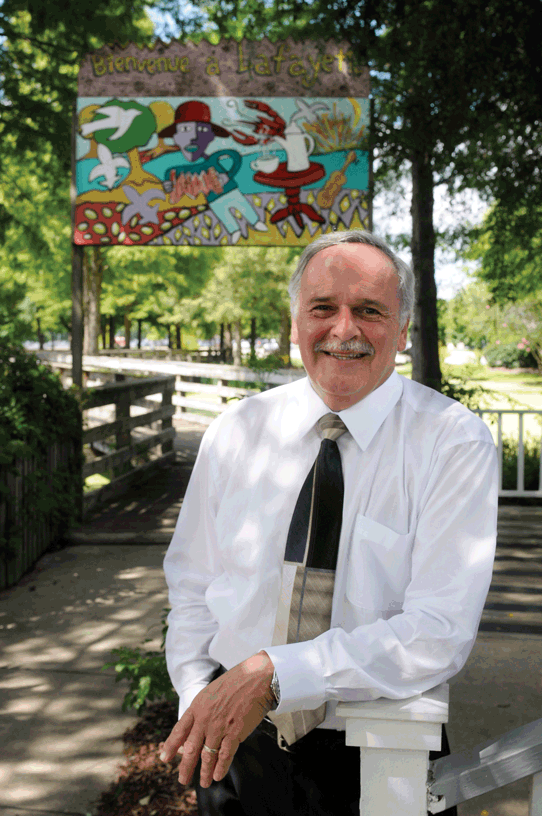 Gerald Breaux admits the plan for the first day of the rest of his life – Aug. 16, 2012 – isn't overly ambitious.

"I'll take my walk, like I do every morning," Breaux says. "Then, for the rest of the day, I'll do my best not to drive my wife nuts. That's about it."

Hmmm, I guess we'll give the guy a break. He deserves it.

Because for the past 31 years, Breaux has served tirelessly as the director of the Lafayette Convention and Visitors Commission, a role that afforded him the opportunity to contribute to and witness this area's tourism boom from its infancy. In a move that surprised his contemporaries and family, Breaux announced near the beginning of the year that he'll be retiring this summer. After a lengthy search, former community development director Ben Berthelot was chosen as Breaux's successor – a daunting legacy to duplicate let alone exceed.

Remember, when Breaux took this post, there was no Cajundome, there were just 2,000 hotel rooms, there was no Festival International, Festivals Acadiens et Creoles was a glorified street dance, you couldn't go on an Atchafalaya Swamp Tour because there weren't any and Cajun musicians needed "real jobs" to pay the rent.

Fast-forward to today: The Cajundome welcomes acts such as Elton John and Justin Bieber, there are 8,000 hotel rooms, Festival International consists of world music acts spread across five stages, Festivals Acadiens attracts tens of thousands of visitors, swamp tours leave every hour and there are plenty of gigs to go around.

"Back then, we weren't even on the map," Breaux says. "There wasn't a tourism industry in Lafayette. The hotels in Lafayette were for business travelers to stop off on their way to making sales calls. So when you're dealing with no product, you have to start somewhere. So I and a lot of people smarter than me tried to figure out, 'Why would people come here? And what is our brand?' This was before the word 'brand' became a buzzword. Our brand was obviously going to be our culture, food and music.

"We don't have any ski slopes here. We don't have any sandy beaches. We had to have something real – something to showcase rather than exploit."

Who better than Breaux to nurture Lafayette's tourism identity? A Northside High and ULL graduate who had his wedding reception at a Cajun dancehall, he inherited an afterthought department of six employees and a meager $225,000 budget in Nov. 1981. Tourism? Who needed tourism? The artery of the oilfields pumped endlessly, supplying a (seemingly) untouchable economic heartbeat to the area, so there was no immediate need to diversify and cultivate other industries – like Acadiana's untapped tourism riches.

In fact, Breaux says Lafayette existed primarily as an "adventure tourism town," the kind of place with hidden/inconvenient cultural nuggets that only a select group of visitors had the patience or know-how to unearth.

"Then, just like that, the game changed," Breaux says.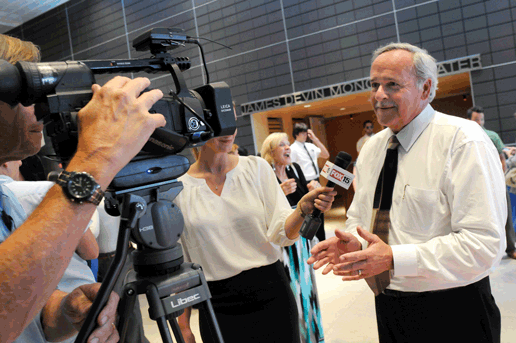 Increased overseas oil production sucker-punched domestic drilling, causing Lafayette's workforce to stagger as the price per barrel dipped lower and lower. About the only businesses thriving were the catchy bumper-sticker manufacturers who tried to find the humor in a dire situation that really wasn't all that funny, looking back.

"Something had to be done to give the local economy a jolt," Breaux says. "And you start looking around – what are your assets? What are your liabilities? Well, our assets were our culture, food and music.

"And it was mandatory to do it the right way," Breaux continues. "The community has to want to do it, or it's not going to happen. Fortunately, there were enough people who said, 'You know what? We're going to do this and we're going to take pride in it.' We didn't create a Dollywood kinda thing. Nothing wrong with Dollywood, but it can be argued it exploits the Appalachian people. And we didn't want to go there."

Breaux and his staff pummeled tourism conventions, educating the masses about the uniqueness of the region and (smartly) pushing Lafayette as a piggyback trip to those visiting New Orleans – a three-days-there, one-day-here sales pitch. The LCVC promoted already-established culinary gems like Prejean's, Randol's and Mulate's in Breaux Bridge and fought to host state events like the high school boys' basketball "Top 28" in the Cajundome.

But without a doubt, Breaux's greatest tourism coup remains the creation of Festival International – arguably the premier world music gathering anywhere. What seems like a no-brainer concept today considering Festival attracts 400,000 visitors over five days and has become a formidable rival to New Orleans' Jazz Fest, was a risky venture upon its inception back when Breaux worried how he'd fill a one-stage schedule. Three years ago, the original Festival Founding Fathers held a 25-year reunion and Breaux recalls more than one of them looking around the jammed five-stage spread and muttering, "Can you believe this?"

As success followed success, the LCVC's budget mushroomed to its current $3 million status. Though he has a few more weeks left on the job, Breaux's finest hour arguably occurred during another dark period for Lafayette, as he formed the Acadiana Tourism Coalition in the aftermath of the 2010 BP Oil Spill. With leaders from seven coastal parishes on board, the coalition was able to collect a portion of the BP money allocated toward state tourism.

"My motto has been, 'Try and stay ahead of the pack as much as you can,'" Breaux says. "And you can't always do that. But you can try. When you have triumphs – like this year we were named the No. 1 Food City by Rand-McNally Road Atlas – you savor them, but you always strive for more and keep the ball rolling."

Breaux doesn't expect it to stop, either, just because he'll be gone soon. The idea of retirement arose late last year in the course of small-talk with friends. They had just come back from a month's vacation in Paris. Helen, Gerald's wife, pondered, "You think we'll ever be able to do that?"

"Well," Breaux said, "not while I have this job."

In late August, the Breauxs will spend a week in California's Napa wine country. They'd like to peg a hefty trip somewhere every two or three months, grand intentions which induce a smirk, considering Breaux spent his entire professional life convincing visitors to come here.

"There were days I had to walk around all the time with a map of Louisiana: Here's New Orleans and here's Lafayette," Breaux says. "Luckily, we're at the point where I don't have to take out a map to say, 'This is Cajun Country.'"