Personnes d'Acadiana: A Family Meal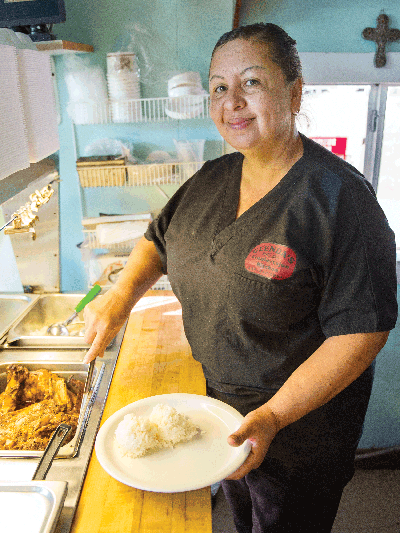 As she speaks of humble beginnings – or tries to speak of humble beginnings, anyway – Glenda Broussard's voice gets lost amongst the unpleasantness of what sounds like her shirt sleeve rubbing against the phone's receiver.
Making matters more indistinguishable, there's a bunch of metal clanging in the background. And if you listen hard, you can faintly hear two other female voices – most likely Broussard's daughters, Kasie and Kayla Rossyion – contributing to the scattered culinary symphony that is Glenda's Creole Kitchen.
It's early Tuesday morning, too early for a ruckus. All this noise – it doesn't quite jibe with the sleepy setting surrounding the restaurant. As Broussard says herself, Glenda's Creole Kitchen is located "on a country road in a country area with fields to the front and the side of me."
"What's going on?" Broussard repeats before laughing. "I'm cooking, of course. I got my hands on some smothered chicken. We also got smothered okra with chicken and sausage. Let's see … stuffed turkey wings, smothered pork chops. It's all got to be done by 10:30 [a.m.], it's all from scratch, and we never skip on the love when we cook, so I'm busy right now. The Keebler Elves don't come in and make everything. I have to cook it."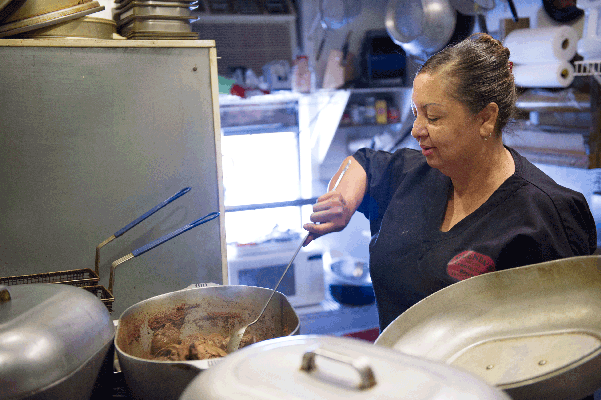 It's been like that for the past 12 years, ever since Broussard rustled up the courage to stick her ladle in Acadiana's saturated plate-lunch scene. Originally, Glenda's Creole Kitchen opened as a drive-thru-only service but now houses a bustling dining area.
"You got picnic tables outside, too," Broussard adds, "and the whole place just reminds you of the good ol' days. Remember those? Seemed like everything went well back then. You didn't have the troubles you do today. I like to think I cook like it's the good ol' days – things were good; food was good."
Today, a fiercely loyal group of regulars congregate for the lunch hour (a liberally timed "hour," Broussard explains), dining on such staples as smothered okra with crabmeat and shrimp on Fridays and stuffed pork roast on the weekends.
But thanks to a couple of recent cable TV appearances, Broussard and the Creole Kitchen gang have gladly fed some unfamiliar faces from unfamiliar places – as far away as Russia. In August 2012, Glenda's Creole Kitchen was featured in a segment of Anthony Bourdain's Travel Channel hit show No Reservations. Two months later, chef G. Garvin of the Cooking Channel brought a camera crew to Breaux Bridge for the show Road Trip.
"You talk about nervous," Broussard says. "I'm a small business. I'm not a bigwig, so I was concerned how they'd respond to the food. I thought Anthony would be like, 'What's this little hole in the wall place?' But he wasn't like that. He made me feel like royalty.
"He took his first bite and just said, 'Wow, this is the gravy of the gods.' I was too relieved, but once that passed, that small compliment really touched my heart."
Once a dispatcher for the St. Martin Parish Sheriff's Office, Broussard worked within the tight confines of a single mother's budget and saved money by bringing her own lunch from home rather than eating out. In time, an audience gathered in the break room every time she peeled back the foil or opened a Tupperware lid. A couple of co-workers paid Broussard to bring in an extra plate or two. Soon she was feeding the entire department.
"It got to the point that I was bringing in so many plates that I said: 'I can't fit all of these plates in my car. They need to come to me.'"

Broussard's passion for cooking blossomed when she was about 8 or 9 years old, she guesses. Her grandmother cooked, and Broussard recalls being able to tell what was on the stove simply by the smells wafting from it. Almost every day after school, Broussard stood next to her grandmother's hip, absorbing culinary intricacies and secrets you can't read in a cookbook. Grandmother rarely measured but never leaned on shortcuts – a rule Broussard took as gospel as she doesn't use any pre- or partially prepared ingredients in her restaurant dishes.
"To this day, I can taste something and go back to my kitchen and cook that same dish I tasted without a recipe," Broussard says. "It just becomes a part of you. It's a personal experience, a sense of yourself. And when I feed you, it's a personal experience. What I do might take a little bit longer, but it tastes better."
Given the swelling popularity of Glenda's Creole Kitchen, Broussard has pondered expansion on more than one occasion, only to pass on the idea. Yeah, it might bring in additional income, but it wouldn't be the same, she claims. It would be the same ingredients and the same recipes, sure. But it wouldn't taste the same. It wouldn't feel the same.
"I want to make you feel like you're at Grandma's house," Broussard says. "Come here, and eat, and stay, and talk if you don't have to go back to work. They'll come in and call me Tante Glenda, so they view me as part of their family, and they're part of my family."