Paradise Found in New Iberia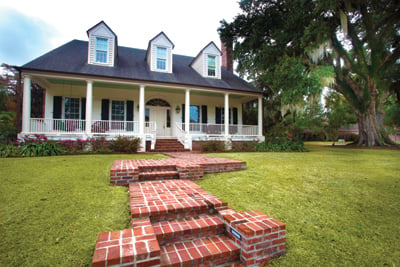 A spectacular live oak, believed to be between 250 and 300 years old, inspired New Iberia resident Martha Brown to build her new five-bedroom, 4,000-square-foot home in a picturesque neighborhood formerly known as Paradis (French for paradise, or the "perfect place"). "This used to be just a wooded area," she says. "I call my house 'Paradise,' after the oak."
The "Paradise Oak," named after the neighborhood's original designation, is the sole tree on the lot, but its magnificence trumps most others along the Bayou Teche. Known locally as the City of Live Oaks, New Iberia is home to dozens of trees that are more than 100 years old and registered with the Live Oak Society.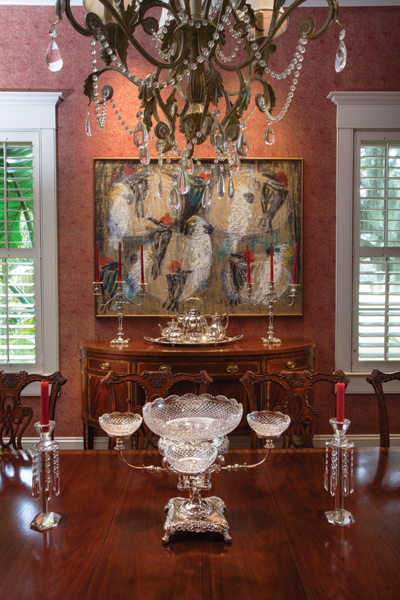 The dining room was designed around an oil on canvas by Hunt Slonem, who is best known for his neo-expressionist paintings of exotic birds that he creates with thick brushstrokes that are often cut into in a cross-hatched pattern, which ultimately adds texture while emphasizing the paint's tactile quality.
With a canopy of graceful, low-hanging branches and a double trunk with a circumference of 26 feet, the Paradise Oak is illuminated at night, further enhancing its beauty. "I have lightning protection in this tree, and a big steel pipe to hold those two sections together," Brown says. "A cable runs around it, and it's buried in the ground. We did that as soon as I bought the lot."
Martha and her late husband, Gordon Sandoz Brown, raised their four children in New Iberia while overseeing a rapidly expanding business that became a driving force of the local economy. Martha Brown's new, "downsized" house on the north side of New Iberia is designed to be more manageable for a single woman who loves to travel and entertain while keeping a second home that serves as a party camp on the bayou in St. Martinville.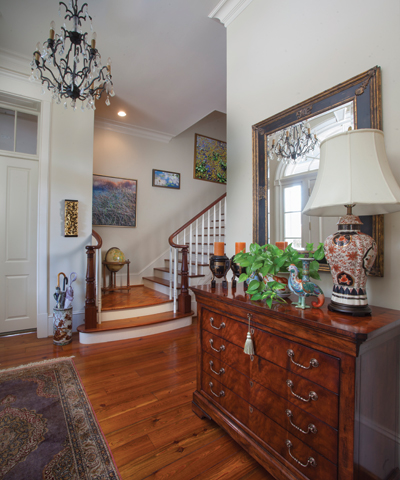 The roomy entrance foyer features a hand-turned custom mahogany rail.
"It's very thin, and there's no newel post at the top.
This is a classic New Orleans feature," says Bacquet.
Her late husband was the former president and co-founder of Bruce Foods Corporation, one of America's largest privately owned food manufacturing companies with more than 550 food products under nine labels. Headquartered in New Iberia, the multi-national corporation has several plants (including four in the U.S. and one in Holland) and features such local products as Bruce's Yams, Louisiana's Original Hot Sauce, Cajun Injector and Louisiana Gold Pepper Sauce, distributed in more than 100 countries. "My husband and his brothers built this company," Brown says.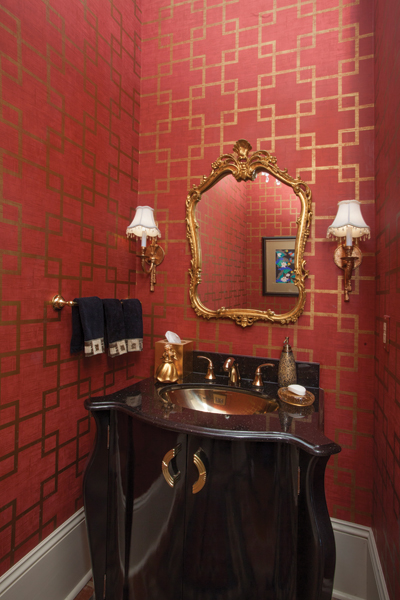 A diminutive powder room below the stairwell is accented with a black lacquered wood cabinet, a gold-plated bowl and red wallpaper that is Asian-inspired.
Before hiring Lafayette architect Allen Bacquet to design her new house, Brown resided in a sprawling split-level home that typified mid-century modern design, a style that was considered avant garde and futuristic in the 1950s and '60s. Although mid-century modern design has returned in popularity in recent years, Brown wanted a new house that would be virtually maintenance-free.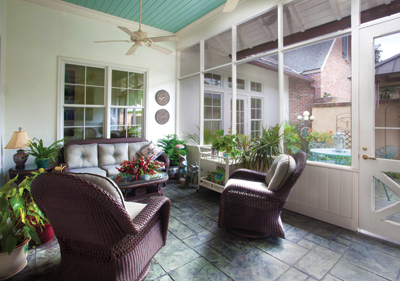 A 14-foot-long eating bar in the kitchen offers a view of the enclosed screen porch overlooking a courtyard patio that leads to a rear gated entrance.
Bacquet designed the traditional residence with a screen porch, charming courtyard and exceptional detailing, from the elliptical transoms to the mahogany hand railings, while utilizing materials that would be virtually maintenance free, including copper awnings and concrete for the front porch. "It's built to resemble an old-fashioned wooden porch," Bacquet notes. "She didn't want an A. Hays Town perfection replica, but rather, something more livable with a lot of nice details. Also of utmost importance was the dining room, which was designed around a painting by Hunt Slonem," he says.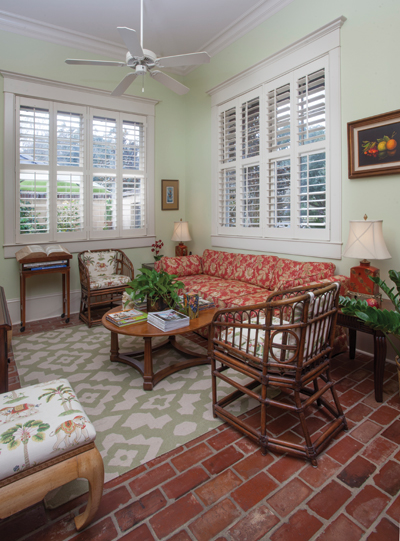 Martha Brown enjoys her morning coffee in a small den near the master suite.
Slonem, whose works are in the collection of the Modern Museum of Art, owns the Albania plantation house in nearby Jeanerette (it was used as a setting in the 2006 remake of All the King's Men), among his four other residences. "The painting I have in my dining room was originally at Albania when I went over one evening and visited," Brown recalls. "I owned it a long time before I built my house. I have acquired four of Hunt's paintings. He's a good friend. He was here for dinner just the other night," she says. "Hunt is an incredible collector. I've been with him on weekends, and he'll get up at 5 in the morning to go antique shopping. He has very unusual dinner parties with people from wherever, and he keeps around 100 birds in his 30,000-square-foot apartment in New York."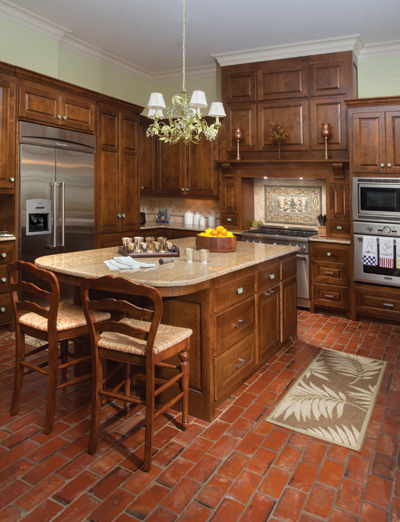 The kitchen was designed with a custom island and is flanked by an ample utility area for caterers.
In the kitchen, Bacquet created various conveniences to accommodate Brown's needs, such as installing one full dishwasher and one half dishwashers in the kitchen. "When she's alone, she can use the half dishwasher. It slides out just like a drawer," he points out. Spice cabinets that can easily slide out were placed on either side of the stove.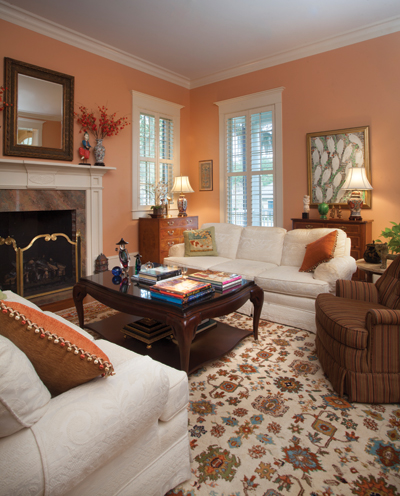 The living room, located on the corner axis overlooking the Paradise Oak, features a Rumford-design oversized fireplace to maximize heat.
"I was trying to get the semblance of a hearth in the cooking area," Bacquet says. We also set up a separate area designed for the caterers, with a second refrigerator and freezer. Martha doesn't cook a lot. When she entertains, she brings in caterers," he says.
The master suite is adjoined to a second guest bedroom with its own bath on the first floor, which is used as a study. The other three bedrooms are upstairs, and are used when her children and grandchildren visit. "This is a great location. It's a safer location for me," Brown says. "I have wonderful neighbors, including one who keeps birds and makes goat cheese. I just love being here."
---