Painting Paradise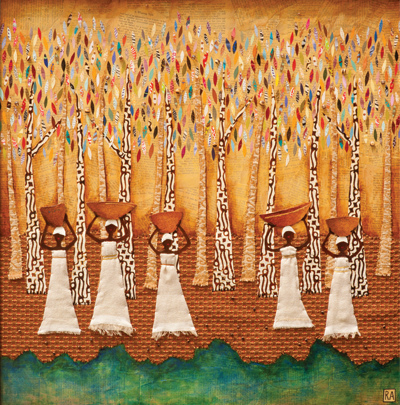 Welcome to Juniper Island, where the rivers are full of fish yet can't be traversed; where native huts are constructed of bark, sticks and brush yet never wither; where the pace is so simple, tranquil and pure you'd never want to leave … that is, if you could find this place on a map.
As hard as it is for her to believe, it's been more than 10 years since Lafayette artist Ramsey Ayers breathed life into a world so perfect it could only exist within a frame. The story of this self-sustaining tribe is told mostly in heavy reds and browns accented by specs of color and adorned with some odds and ends found buried in a box, or forgotten about out in the shed. Wanting to give the Juniper Island series a signature look, Ayers has fastened everyday items to canvas since its genesis. This infusion of foreign objects turns paintings into what Ayers calls "mixed media acrylic collages" – a unique way to portray a singular subject matter.
"Life on Juniper Island isn't really that much different than it's always been – this village and this little life and the people who live there," Ayers says. "A lot of my techniques have changed, though. Over the years, I've been adding experimental elements to the canvas. Now, I have sticks and beads and cardboard and leather.
In the beginning, it was basically just paint, paper and fabric.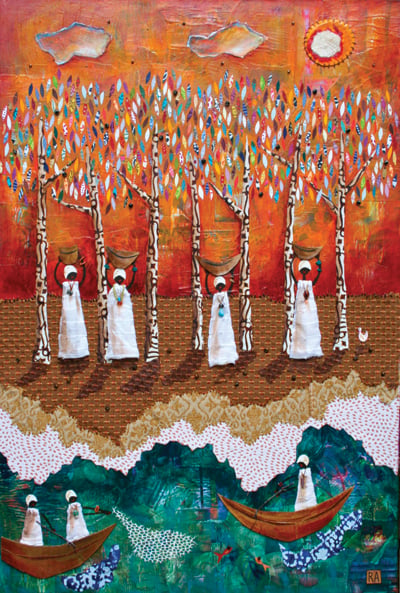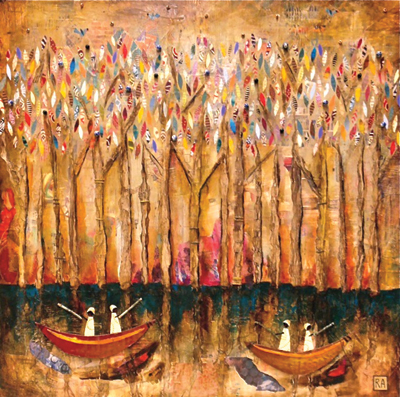 "You could put a line of Juniper paintings in front of me, and it'd be easy to date when each was completed," she says. "There's a chronology to the work, even though the subject matter is the same – this village and this little life and the people who live there."
But how it started, or more specifically, how Juniper Island came to be the inspirational glob Ayers repeatedly dipped her brush in, is a bit of a letdown. A couple of art critics have inquired (and were somewhat shocked to learn) that's there's no tale to Juniper Island, no hidden message, nothing deeper than what can be seen.
There's not even an evolution or aging to the people in the paintings.
Juniper Island then is the same as Juniper Island now.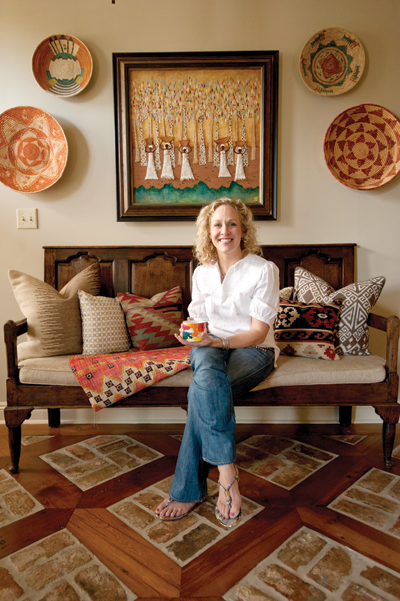 "I don't even know where I got the idea from," Ayers says. "Maybe in a previous life I lived on an island or something. I don't know, but when I see it and when I paint it, I envision this peaceful world with friends and family and everything that's important to man.
"There's not a story or a social commentary behind it – it's more of a snapshot into peacefulness."
Ayers originally intended to work as an event planner after graduating from LSU. (As she explains, "Who doesn't want to plan a party?") But she soon retreated back toward art. Her first Juniper Island exhibition took place in 2002, at (of all places) a CC's Coffee in Lafayette. From there, Ayers' work has been showcased at Festival International, New Orleans' Canary Gallery, The Brunner Gallery in Baton Rouge, City Club at River Ranch and the famed Café des Amis in Breaux Bridge.
At each presentation, Ayers' pieces have become much more complex as she continues incorporating objects other than paint to fill the canvas – a stylistic trademark she adopted because after college it was "my first freedom, to do whatever I wanted that wasn't an assignment and wasn't for a grade."
"My eyes love color and texture and patterns – that's what does it for me," Ayers says. "There's a vibe to it, something you don't get from paint alone. I hear often from people who own paintings of mine, that every time they view it, they see it differently. There are lots of layers to uncover. You want to look at them all.
"And that's when children go up and touch it, and their parents are yelling, NO, NO, NO!' I say 'Go ahead.' Every piece added is sewn on through the canvas with fishing wire. So it's not going to go anywhere. And I know adults want to touch it, too. Their manners must keep them from doing it, but I assure you, it's OK."
Really, Ayers explains, there are few limitations on what materials can be added to make art thanks to her proficiency in using a sewing needle. Smaller-sized pieces are tricky and limited, which is why Ayers tends to work on pieces with ample artistic real estate for multiple materials. Grass would probably be a nightmare, she admits, but everything else buried in her "pile of stuff" is fair game.
The process of what to apply and where to place it happens organically, though Ayers can spend hours searching through boxes, magazine and storage containers looking for the right accent. Considering the public's reception and critical analysis of her series, Ayers feels emboldened to keep pushing the envelope in a tactile sense, even though the content of her work stands still.
"In my mind, this is my sanctuary," she says. "I'm thankful people enjoy it, but in actuality, Juniper Island is for me, it's my escape. And I'd live there in a second – a life without interruptions, a life full of color and energy."