Oven Fresh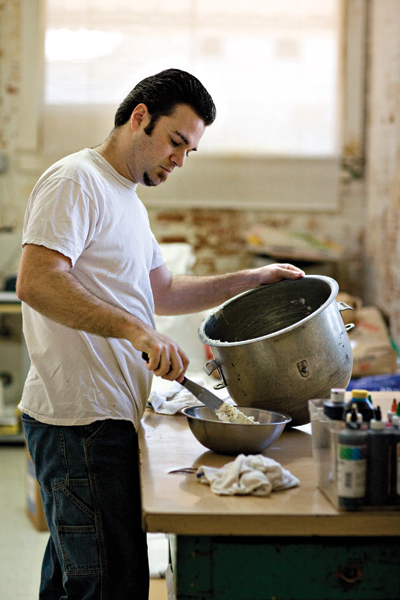 If there weren't enough good reasons to gravitate toward freshly baked bread, a 2012 study shows that the intoxicating aroma has more than just the power to make your mouth water. Researchers at the University of Southern Brittany in France say that just the smell of freshly baked bread can make you a kinder person.
They found that shoppers were more likely to alert a random passerby of dropping an item, if, at the time, they were also passing a bakery giving off the sweet scent of baking bread. Their findings suggest that certain smells can prompt a more positive mood and lead to greater humanity in strangers.
As if we don't need more reasons to go to bakeries throughout Acadiana.
The old-time hometown bakeries that dot Acadiana's main streets and town squares are a nod to the region's French heritage. In France, they say the distinguishing factor between one bakery and another is the baker's sweat. Whatever creates the nuances and differences in Acadiana's bread and bakeries, they continue to be community icons. As so much in this world changes so fast, the bakeries' faithful have deep-seated and heartfelt allegiance to the consistent flavors, textures, tastes and smells of their favorite bakery.
---
Bertinot's Best Bakery
996 W. Tunnel Blvd., Houma
(985) 872-6208
Around 1948, Best Bakery got its start in Houma. Through the years, they've come to be the only bakery left selling the slightly sweet yellow rolls that originate in Houma more than 100 years ago. The dough is called Chix de Femme – due to its resemblance to a lady's bun hairstyle. But Best Bakery is known and loved for much more than its yellow rolls.
"Best Bakery has French bread that I still crave and prefer even after having some of the best bread I've ever eaten here in Lafayette, and really, from all over the world," says Prissy Wilson of Lafayette. "It's the perfect French bread – crispy, crispy crust, with a light chewy bread in the middle. Mama would melt real butter, lightly sauté minced garlic in a small skillet (for dipping) and place it on the table with our meals."
Best Bakery die-hards, of course, believe its French bread to be the best for poor boys, toast and croutons. Their shoe soles, a buttery, sweet crispy, flakey pastry is also a favorite.
"A shoe sole and a cup of coffee is heaven," Wilson says.
Around Mardi Gras, they make a real brioche King Cake that people line up to purchase. The rest of the year, they sell it as brioche.
"The French bread is divine," says Yvonne Bell of Lafayette. "Best Bakery is a part of our Mardi Gras tradition. The parades there start a week ahead of us and we go every year. No barricades! It's an old-fashioned bakery with glass counters filled with confections and breads. They sell till they run out."
---
Champagne's Breaux Bridge Bakery
105 S. Poydras St., Breaux Bridge
(337) 332-1117
Way back in 1888, the Champagne family started baking and selling bread in Breaux Bridge. In 1910, their shop became a full service bakery. It's been in the same location owned by the same family since it opened.
Though he wasn't going there when it opened, Sam Irwin, of Baton Rouge, has been a Breaux Bridge Bakery patron for as long as he can remember.
"I was lucky as a kid because the Breaux Bridge Bakery was on my school route. Whether I rode my bike, walked or drove, it was an easy stop to get chocolate éclairs, cream puffs of cookie," Irwin recalls. "My favorite was the pecan drops. Mr. and Mrs. Champagne also had photographs on the wall of the brides and grooms cutting their most memorable wedding cakes. It was a pictorial history of Breaux Bridge."
Of course, Champagne's Breaux Bridge Bakery has been selling to-die-for French bread for more than a century.
"The French bread was always delicious," Irwin said. "Sometimes I'd see Sidney or Maurice Champagne come out of the bakery into the showroom in their baker's caps. They have flour sprinkled here and there on their white T-shirts, hats and faces. Sidney's son, Sonny (I don't know what his real name is) runs the place now."
Sidney's son's real name is Paul Champagne, who is following in his forefather's footsteps.
Irwin says he started going to Breaux Bridge Bakery on his own – either on his bike or on foot when he was in the second grade.
"Mr. Champagne was a pigeon fancier and showed his pigeons. There was a whole wall of his red, white and blue ribbons prizes," Irwin says. "His pigeonniere was behind his house on Poydras Street, as was his bakery."
The smell of baking bread creates nostalgia in almost all of us.
---
LeJeune's Bakery Inc.
1510 Main St., Jeanerette
(337) 276-5690
LeJeune's Bakery has been serving French bread and gingercakes, along with a variety of other baked goods since 1884, when Oscar LeJeune opened its doors. All these years later through five generations of LeJeunes, LeJeune's Bakery is still sitting on Jeanerette's Main street as an Iberia Parish institution.
In 2003, it was added to the National Register of Historic Places. These days, Matthew LeJeune is at its helm. Under his leadership, the bakery is still satisfying customers.
"You can't beat LeJeune's French bread, whether you are having po-boys or just a slice with a pat of butter," said Christine Payton of Delcambre. "When driving through Jeanerette, you can smell when the bread is baking and you know when it's done if the red light is shining on the front of the bakery — it's the same great bakery it's been since it opened long ago."
---
Poupart's Bakery & Bistro
1902 W. Pinhook Road, Lafayette
(337) 232-7921
As one Lafayette foodie replied when asked about area bakeries, "Is there any other bakery but Poupart's for bread? I hadn't noticed."
When it comes to traditional French bread in Lafayette, though there are several good bakeries with a variety of breads, Poupart's is the gold standard.
Their array of desserts isn't bad, either.
Julie Calzone of Lafayette says she's been going to Poupart's since she moved to Louisiana from New York. At that time, she was happy to have found an authentic bakery with something familiar to her. "There are so many things I love about Poupart's – bread, French classics and cakes. But I am Italian, and it is tiramisu, cannolis and Italian cream cake that steal my soul."
---
Ruddock's Bakery
556 N.E. Court Circle, Crowley
(337) 783-2962
Whether it's doughnuts, rolls or sand tarts, Ruddock's Bakery is Crowley is a tradition revered by many.
Patti Broussard, who grew up in Crowley and currently lives in Broussard, represents many when she says, "I have lots of memories of Ruddock's throughout my life – fresh hot doughnuts on Sunday mornings before church, the sweet ladies who worked in the bakery for years and years, who knew your name and family, free sugar cookies with sprinkles to every child who entered the door and pocketbook rolls, wallet-shaped homemade rolls served by the dozen. The rolls are delicious plain or buttered with your favorite jelly."
---
T-Sue's Bakery
1046 A Henderson Hwy., Breaux Bridge
(337) 228-2492
T-Sue's Bakery, another bakery in the Breaux Bridge area that can take you back in time, has been open for 35 years.
Bonnie Hession of Lafayette, wishes she could see T-Sue's bakery light from the interstate.
As with bakery loyalists the world over, those who favor T-Sue's believe it to serve "the best French bread in the world."
"When I do stop by to buy French bread, I only make it home to Lafayette with crumbs in my seat. It's so good that it's sinful. I just know that I leave happy every time that I stop for French bread."
But T-Sue's is about more than French bread, they are also known for their fruit pies and chocolate éclairs.