Organized Chaos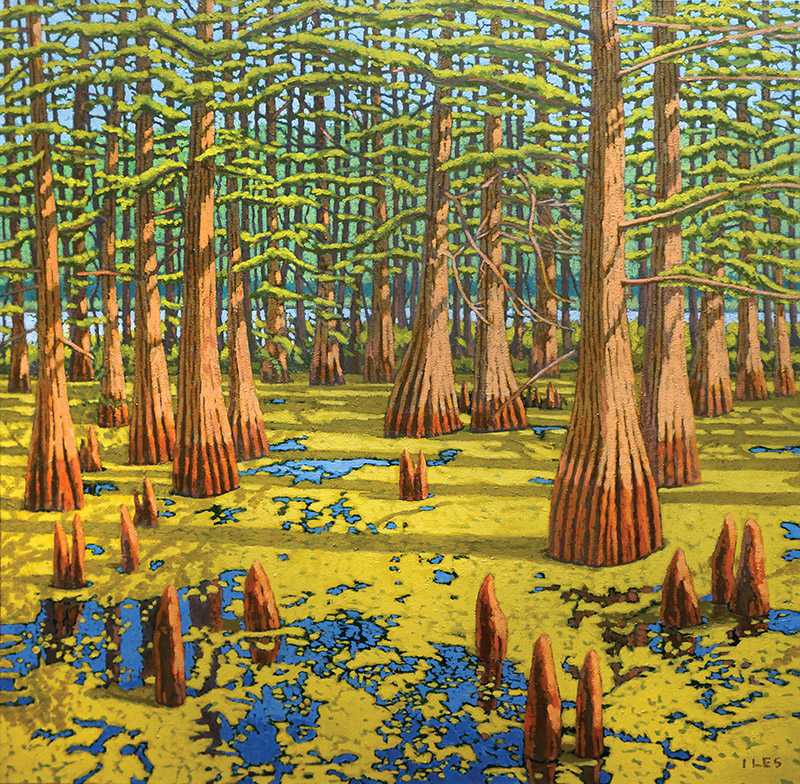 ---
John Muir, the famed Scottish-American naturalist and "Father of the National Parks," once wrote that only in the wilderness could he find his soul.
Like Muir, artist Bill Iles turns to the swamps and forests of Southwest Louisiana as a refuge of beauty and serenity in a chaotic and troubled world.
"I don't paint what you see in nature because nature is too confusing," says Iles, who lives in Lake Charles with his long-time partner and fellow artist Amanda Hext. "I'm trying to present some underlying sense of order to a world of disorder. I find great solace in nature and the woodlands and swamps around where I have spent most of my life."
As a result, his landscapes are more impressions than reality, even allegories of his own personal journey.
Born in 1943 in Dry Creek, Iles is an accomplished painter who taught art at McNeese State University in Lake Charles for over 30 years. His work, which has won numerous awards, has appeared in hundreds of solo and group exhibitions at art galleries in Louisiana and Texas. Accolades aside, Iles' paintings are soul-cleansing expressions of an earlier time and place.
"When I go out in the swamps around Lake Charles," Iles says, "I just spend time looking and taking in the feeling of the woodlands. I fully realize that nature is a harsh world with an underlying survival of the fittest world, but I have no great desire to paint that world. I am more interested in creating scenes that are places of light and harmony."
To create these visual illusions, Iles uses sketches and photographs to "flush out the nuances" of plant life found in the landscape. With brushes and paints, he then plays with light and shadows and contrasting colors, textures and brush strokes to create visual tensions to force viewers' eyes deep into his imaginary forests. Muted beech trees in the foreground of his paintings act almost as barriers that viewers much breach before emerging into the bright sunlight.
"I sort of invent the painting as I work," he says. "I have often found myself lost in the painting just as in nature you can be lost in the woods. As I'm working, I am in touch with a lifetime of memories of the woods. I find myself creating my own version of the world or my idealistic vision of my world."
To remind him of that "idealistic vision," a passage from T.S. Eliot's poem "The Waste Land" hangs on his studio wall, "The end of all our exploring will be to arrive where we started and to know the place for the first time."
With each painting, Iles returns to that place for the first time.
To see more of his work visit colepratt-gallery.com
---