One of my Toughest Cases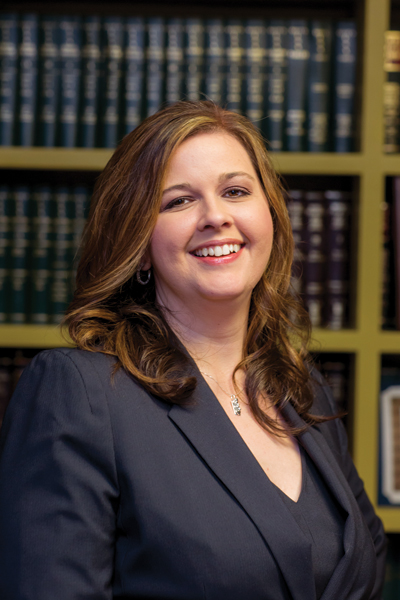 Nine years in practice
B.A. University of Louisiana-Lafayette – 2000
J.D. Southern Methodist University Dedman
School of Law – 2003
Native of Ragley
---

As a child, Shayna Sonnier imagined when she grew up, she would become a veterinarian, but a life-altering family legal battle steered Sonnier's life toward her true calling – a profession in family law.

Sonnier remembers the event like it was yesterday. Her grandfather, who owned a rather large farm in Ragley, placed the farm into a corporation with his brother and father. When she was just 5, Sonnier says, her grandfather was the last of the three to pass away. Very shortly after, a legal battle followed between Sonnier's grandmother and her grandfather's nieces and nephews, who wanted the farm and wanted to kick her grandmother out of her own home.

For the next 10 years, Sonnier helplessly watched her mother and grandmother fight a legal battle against people they had trusted. She recalls spending countless hours in the offices of several attorneys and certified public accountants because of it.

"Once I was old enough to fully comprehend what was going on and the hardship my mother and my grandmother were enduring, I decided that I wanted to become an attorney so that no one could ever hurt my family or someone else's family like that again," Sonnier says.

After graduating from the University of Louisiana–Lafayette with a bachelor's degree in political science, Sonnier pursued her dream of becoming an attorney at the Southern Methodist University Dedman School of Law in Dallas. She has been practicing law in Texas since 2003 and in Louisiana since 2005.

"I really enjoy what I do, and I enjoy helping people," Sonnier says. "Unfortunately, attorneys have received a bad rap, but what we do matters. We have the ability to make a difference, and I want to do my part to change the perception of our field."

One of her most memorable cases began a couple of months after Hurricane Rita. A woman whose husband had just died from cancer came to Sonnier for legal assistance. Her late husband was evacuated from a Lake Charles area hospital due to the storm. The evacuation proved to be too much, and he died a short time after. Her late husband had three children from a previous marriage whom they were raising along with one child they had together. The problem was that Sonnier's client had no legal right to care for her late husband's three children from his previous marriage. Sonnier quickly began tutorship proceedings, which involved trying to locate the biological mother as well as deal with maternal relatives. Sonnier recalls that it was a very draining process for her client because she and her children had just lost someone they loved and they were facing even greater changes if the children weren't allowed to remain in their home with the woman who had cared for them for most of their lives. In the end, it all worked out in favor of Sonnier's client.

"The reason this case sticks with me is because it was the first time I truly realized that what we do [as attorneys] matters on a much deeper level," she says. "[This case] genuinely touched me."

As Sonnier's career continues to prosper, she advises young attorneys to always read their local court rules; behave professionally; and to get involved with their local bar associations, especially the young lawyers section – but above all to make time for family and friends.

It is advice she follows herself: When time permits, Sonnier enjoys reading, watching movies, playing tennis and trivia games and traveling the world, but most of all she enjoys spending time with her family and friends.