One Man's Dream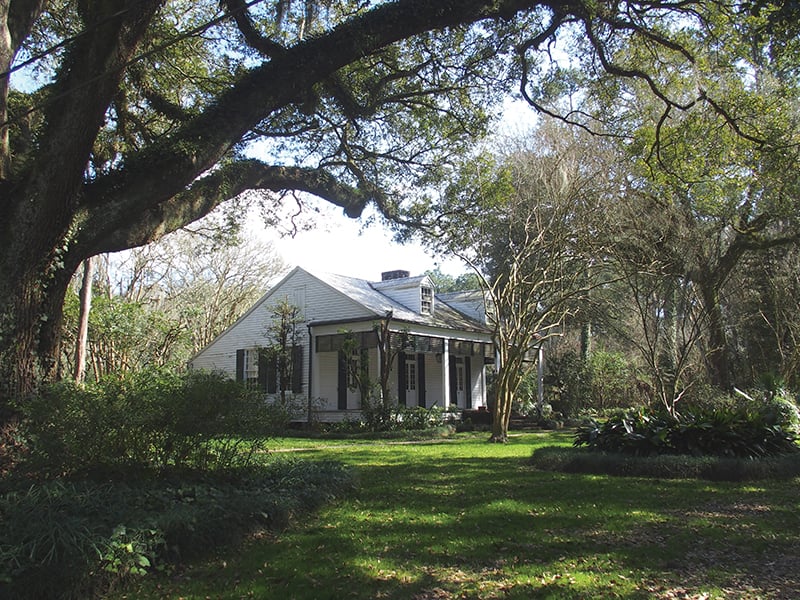 The mild temperatures of late spring at LSU's Rural Life Museum and Windrush Gardens in Baton Rouge mean that visitors can linger in the outdoor areas — 25 acres of carefully collected historic structures and skillfully landscaped gardens — as comfortably as they can in the main exhibit hall's 20,000 square feet of indoor displays. The goal of the place, indoors and out, is to interpret the rural folkways of Louisiana's early farm life and small-town beginnings, with emphasis not on individual characters but on Louisiana's mix of cultural groups, not on single events but on the progression of larger influences that shaped our lifestyles and then changed them over and over again.
The lands and 1856 home called Windrush, acquired by Burden family ancestors in 1861, became in 1905 the farm and ranch of William Pike Burden, whose son Steele was destined, as a professional landscapist in the 1920s and '30s, to beautify not only the family lands but also Baton Rouge's City Park and "new" LSU campus. All the while, as an art aficionado and amateur historian, he was gathering Greco-Roman statuary in Europe for his gardens and collecting the vernacular structures and exhibit items that would become his beloved Rural Life Museum (4560 Essen Lane at I-10, lsu.edu/rurallife, 225-765-2437).
The museum and gardens are open 8 a.m. to 5 p.m., seven days a week, and a ticket allows a guest to come and go all day, rambling the property at will or taking advantage of audio tours or the company of one of 150 volunteer guides.
In 1975 the Burden family donated its estate to LSU, 440 acres now also shared by the sprawling LSU AgCenter (lsu.edu/botanic-gardens and lsuagcenter.com, 225-763-3990) with its woodland trails, wetland boardwalk and experimental plantings of flowers, food crops and timber.
By the time public awareness caught up with Steele's singlehanded achievements in the 1960s, his museum had already acquired its overseer's house, a dozen plantation dependencies and a giant barn, all full to capacity with his collections of blacksmithing tools, carriages, ancient autos, art, handcrafted tools and toys, vintage garments and agricultural equipment — a good start.
Since then the vernacular architecture collection has grown to include structures from every corner of the state, like the River Road slave pen, Bayou Lafourche Acadian cabin (circa 1800), Natchitoches Parish dogtrot and massive two-bay Sabine Parish corncrib. Meanwhile, financed by private donations, indoor exhibit space has doubled (now 20,000 square feet) to accommodate displays that introduce the various livelihoods, population groups and vocabulary of 19th-century Louisiana, thus preparing visitors to perceive the significance of each structure, its contents and the particular lifestyle it depicts, be it yeoman farm life or the complex hierarchy necessary to manage the major plantations.
Incidentally, every vernacular structure and display item (upwards of 34,000), can be traced to a particular Louisiana person or place, and each reveals some aspect of the influences that brought lifestyle changes in differing ways to our Upland South and Gulf Coastal regions: the immediate introduction of slavery, the various waves of immigration (and appearance of Creoles of color), the Civil War, Reconstruction, new industrial and farm equipment, the harnessing of steam, petroleum (for profit and propulsion, not to mention vinyl record albums), autos and the new importance of highways and bridges, and levees for protection and drainage of acreage. The list is unending, nearly unfathomable, but so is the Rural Life Museum's inventory of visual aids.
DO
The Rural Life Museum is convenient to many other LSU attractions, on campus and off, the nearest being the Hilltop Arboretum (11855 Highland Road, 225-767-6916, sites01.lsu.edu/wp/hilltop, free), 14 acres of ridgetops and plunging ravines adorned by Louisiana trees, shrubs and wildflowers.
Adjacent to the Old State Capitol, LSU's Shaw Center for the Arts (225-346-5001, shawcenter.org, free) has 125,000 square feet of performing arts (most notably the 325-seat Manship Theatre), fine arts galleries (including the LSU Museum of Art and the LSU School of Art Glassell Gallery, plus a vast collection of Newcomb Pottery) and Tsunami, a rooftop, river-view sushi restaurant.
On the campus itself, stop first at the Visitor Center (Highland Road at Dalrymple, 225-578-5030), for free parking passes, maps and information about several museums and collections hidden away in academic buildings, most constructed in the 1920s of Palladian-style Italian Renaissance design. Park near Memorial Tower, the 95-year-old bell tower that honors student and faculty casualties of World War I, and, in its shadow, a 1998 memorial to those lost in World War II and thereafter. From here it's a short walk to the classroom buildings and their surprises, like the Textile and Costume Museum in the Human Ecology Building (including impressive collections of historic and ethnic apparel,), rooms and halls lined with geological and archaeological treasures in the Geosciences complex, and, in Foster Hall, the Museum of Natural Science with its insect, snake and bird collections, wildlife dioramas and, yes, LSU's first Mike the Tiger (225-578-2855, lsu.edu/mns).
Foster Hall is also home of an art gallery (second floor) showcasing the works of graduating seniors and post-grads, and more art can be found in the Student Union Art Gallery, Sculpture Park behind Atkinson Hall, the Design Building's third-floor Interior Design Gallery and the stairs and hallways of Allen Hall, covered with WPA-era murals by the famed Conrad Albrizio and his art students.
Sports fans will want to stop by Mike the Tiger's palatial habitat on N. Stadium Road on your way to the trophy and photo displays in the nearby Athletic Admin and Football Admin buildings, then head cross-campus (passing LSU's two 5,000-year-old Indian mounds on Fieldhouse Road) to the Andonie Museum on W. Lakeshore Dr., filled with memorabilia of Tiger greats and university history (225-578-3828, andoniemuseum.org).
For overnighting on campus consider the Cook Alumni Center Hotel on beautiful Campus Lake (225-383-2665, thecookhotel.com, adjacent to the Andonie Museum).