Of Oak Trees and Dogs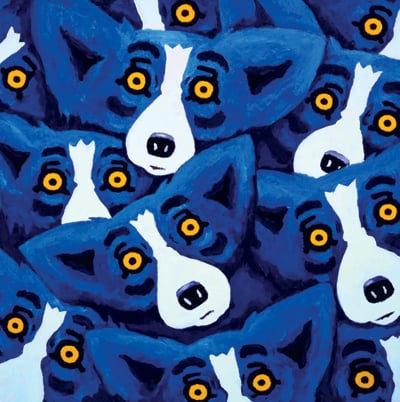 The death of George Rodrigue has attracted much praise from around the globe to honor the talent and generosity of a master of his art and of his little dog, Tiffany. Rodrigue used the pet as a model to illustrate the legend of the werewolf. She became the blue dog who has conquered the world. I, like many from Louisiana, was proud to see this blue girl dog (yes, it is a female) representing our state. She validated our culture outside of our small bayou country, like our music and cooking were doing almost at the same time, in the late eighties. Cajun musicians were playing Cajun music in Paris; Creole cooks were simmering Creole cuisine in New York; similarly, a Cajun artist was creating Cajun art on the international scene. If the idea is somewhat vague and variable across regions and over time, we have some idea of what is and what is not Cajun music, zydeco or Creole cuisine. Some basic elements, such as a roux, the "holy trinity ", the violin, the triangle, the washboard or the accordion, belong to such and such cultural expressions and not others. But since we mourn the departure of Rodrigue, one asks the question: Indeed, what is Cajun or Creole art? Does it even exist?
Curious to gather some answers, I posed this same question to several local artists, using nothing but my personal opinion to categorize them as Cajun Creole artists. One of the most famous told me the following: "I wouldn't say there is a Cajun or Creole art genre, but there is a lot of different art that is made by Cajuns and Creoles. So it's an amalgam of work, with varying styles and without much cohesiveness." Well, okay, but that reminds me of the old story about Cajun daiquiris. Upon entering Maurice there is "Harold's Cajun Daiquiris." One day, someone asked the owner what makes a daiquiri Cajun. His response: "Mais, I'm Harold. I'm Cajun and I make them. That makes them Cajun daiquiris." There may be a Cajun way to make daiquiris, but is there not something more? Certainly Cajuns did not invent onions or pepper, just as the Impressionists did not invent pastels or the paint brush. And even when it is not done by a Cajun or Creole, we recognize as homegrown a good gumbo or a catchy waltz. I maintain that it is similarly possible to recognize Cajun or Creole art.
"Firstly, for me, to be a Cajun Artist requires that I am rooted in my ancestral heritage." replied Melissa Bonin. "We simply believe in things that we cannot explain and we have no problem saying so. There are nuances to being Cajun and these are recognized by visitors who flock to it from around the world just to be close to it. It is something that I find difficult to put into words but know that it is valuable." We have arrived in the realm of images that make up Louisiana's imagination. It is no coincidence that Tiffany became a werewolf. It is integral part of our folklore. Or that Elemore Morgan, Jr. paints resplendent savannas and Floyd Sonnier draws scenes of rural life. It is as much the subject – a great family meal like Rodrigue's Aioli Dinner, the oil wells behind Francis Pavy's Cajun Cowboy Accordionist or Herb Roe's Mardi Gras runners – as the spirit behind Louisiana that define the art. Bonin summarized it well. "I aspire to have the same magic behind my images as can be felt standing before an African Tribal Mask. After all, as Elemore Morgan Jr. said, 'We are the tribe!'" So does Cajun or Creole art exist? It exists in the choice and quality of the ingredients as well as the artist's genius which are undeniably recognized as born of our traditions.
---