Nouvelles des Villes – New Cities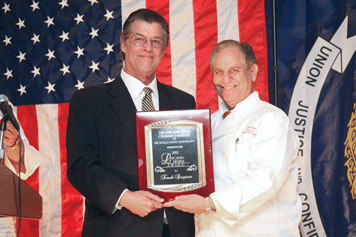 Lafayette Tops List asTasty Town
LAFAYETTE – Not to brag, but all Southern Living magazine did was re-affirm what Acadiana locals and tourists have known for years: When it comes to food in the South, there's no town tastier than Lafayette.
Garnering nearly 40 percent of all votes (194,000 of just more than 500,000 cast in this online poll), Lafayette beat out culinary heavyweights Charleston, S.C., and New Orleans to earn Southern Living's nod as Tastiest Town in the South. Somewhat surprisingly, dark horse Louisville, Ky., finished in a distant second place, approximately 35,000 votes shy of Lafayette.
"Lafayette's distinct culinary identity as the capital of Cajun country; its spicy, sausage-laden roots; and a new generation of locals devoted to preserving their heritage while putting a fresh spin on tradition have made it an incredibly satisfying place to eat," Southern Living senior travel editor Paula Disbrowe wrote in the magazine.
Several factors were considered in trimming the list of tasty towns down to a Top 10. Magazine editors sought regions where food was part of the cultural identity, places where the culinary options are diverse and towns known to be hotbeds for talented chefs, as well as places where community events celebrate food and drink.
Plans Under Way for New Road in New Roads
NEW ROADS – If all goes right, New Roads Mayor Robert Myer expects the town's new 3,000-square-foot Memorial Boulevard to not only be convenient for motorists but also attractive for national retail giants to set up shop.
The new road will be funded jointly by New Roads and Pointe Coupee Parish and will connect Hospital Road and Major Parkway, running parallel to Highway 1/False River Drive. The new road is scheduled for completion before the end of 2012.
Memorial Boulevard will feature both residential and commercial space. When plans were announced in the spring of 2012, Myer assured the local media that the street would be more than a sheet of asphalt. Plans call for Memorial Boulevard to be tree-lined with sidewalks and bike paths.
John Folse Culinary Institute Award Given to Chef Brigtsen
THIBODAUX – Chef Frank Brigtsen, the namesake of New Orleans restaurant Brigtsen's, was honored with the 2012 Lafcadio Hearn Award. In its 15th year of existence, the Hearn Award is presented annually by the John Folse Culinary Institute at Nicholls State University and honors "individuals who have had a long-term, positive influence on Louisiana and U.S. cuisine and culture."
Notable past Hearn recipients include chefs Susan Spicer, John Besh and Frank Davis.
Brigtsen began his culinary career in the early 1970s while still a student at LSU. In 1979, he apprenticed at Commander's Palace restaurant in New Orleans under the guidance of famed Cajun chef Paul Prudhomme. In 1980, Brigtsen became the first night chef at K-Paul's Louisiana Kitchen when the restaurant began dinner service. By the end of his seven-year tenure with Prudhomme, Brigtsen served as K-Paul's executive chef. In 1986, Brigtsen ventured out on his own when he opened Brigtsen's in New Orleans, an intimate restaurant located on Dante Street near the Mississippi River.
College Students Help Out United Houma Nation
MONTEGUT – Leaders of the United Houma Nation tribe received an unlikely helping hand from an excited group of volunteers – college spring-breakers.
While their peers might have been lounging on a beach somewhere or exploring some other far-off destination, 14 University of Southern Mississippi students spent their time away from class in Terrebonne Parish helping to restore the old Montegut Indian School.
The building, which has stood for more than 60 years despite natural and man-made obstacles (the most recent being a 2009 kitchen fire), was once the educational hub for local American Indian children who at the time were not permitted to attend public school.
Modern tribal leaders wish to restore the building so it can serve as a Houma Indian cultural center.
These USM college students assisted in the first steps toward making that wish a reality by scraping off old paint, applying a fresh new coat and constructing a new flight of stairs. Various other college groups also spent part of their free time this spring helping in the renovations.
Those interested in helping to restore the center or wishing to donate can call the United Houma Nation tribal office at 985/223-3093.
Country Star Hunter Hayes Hits the Big Time
BREAUX BRIDGE – Although Breaux Bridge's favorite son, Hunter Hayes, has been a household name in Acadiana since he was a grade-schooler, the country star burst on the national scene in 2011, cause for his Best New Artist nomination at the Academy of Country Music Awards.
Musicians Scotty McCreery and Brantley Gilbert were the other two nominees in the category.
On Oct. 11, 2011, the 20-year-old Hayes released his first album with Atlantic Records Nashville, titled Hunter Hayes. His single "Storm Warning" peaked at No. 78 overall on the Billboard Hot 100 and No. 14 among country songs.
Before he was 10 years old, Hayes had performed with such legendary artists as like Hank Williams Jr., Johnny Cash and Robert Duvall.
"By the time I was almost 2, I was picking up everything and making an instrument out of it," Hayes is quoted as saying on his official Web site. "My grandmother gave me a toy accordion for my second birthday, and I immediately began picking up Cajun songs by ear from the radio."
Hayes moved to Nashville in 2008 and co-wrote songs for Rascal Flatts and Montgomery Gentry.
Boy Scouts Help Maintain Atchafalaya Basin
ST. MARTINVILLE – It's Year 3 of 100, and the Boy Scouts continue to honor their word.
In 2009, the Evangeline Area Council of Boy Scouts of America pledged a century-long commitment in tending to the environmental needs of the Atchafalaya Basin. In the early spring of 2012, a large team of Boy Scouts planted 20,000 acorns in the Indian Bayou Wildlife Management Area and Lake Fausse Pointe State Park. Those acorns were spread around a 10-acre area of the basin.
Other goals for the Boy Scouts include continued tree-planting, litter control and improving the habitat for various wildlife in the basin.