Nouvelles Des Villes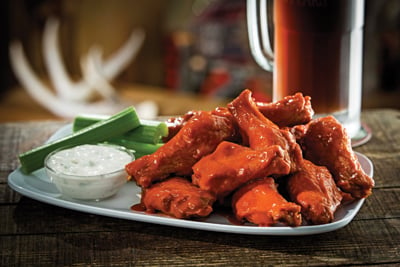 New "Man Cave" in Lafayette
Twin Peaks recently opened its doors at 5801 Johnson St. in Lafayette next to the Acadiana Mall featuring several large flat-screen TVs for sports viewing, hearty made-from-scratch comfort food and beer poured into huge mugs at 29 degrees, presented by a bevy of friendly young faces. Check out their lovely patio, famous twin burgers and venison chili on a cold winter's night (facebook.com/TwinPeaksLafayette).
---
Economic Boom in Acadiana
According to the recent summary by economist Loren C. Scott, who brought his expertise to the 11th annual Entree to Business Breakfast held at the Cajundome Convention Center, Louisiana is in the midst of an industrial boom unlike any other in our history, with over $100 billion in industrial projects either under construction or at the front-end engineering and design phase.
The boom in the Gulf is driving a good outlook for the Lafayette area, expected to add 5,700 new jobs over the next two years (ranking it 4th among the 8 MSAs). Houma should be the third fastest growing MSA in the state, adding 4,500 new jobs (about 2 percent annually; Fourchon is spending $500,000 on expansions, and the supply vessel maker Edison Chouest is hiring hundreds of shipbuilders and crew members, plus fabricators Danos and Gulf Island are adding nearly 700 new jobs in 2015-16). There's a remarkable $71.4 billion in industrial announcements for the two-parish Lake Charles region including $30.2 already underway. With the new Golden Nugget Casino (1,500 jobs) and the industrial boom, it's projected that the area will add 12,000 new jobs over the next two years, or an increase of 12 percent, making it ranked as the fastest growing MSA in Louisiana; it's also breaking through the 100,000 non-farm jobs barrier in 2015.
In other developments, a new 118,000-square-foot, $21.5 million Hanger H facility has opened at Chennault International Airport in Lake Charles, designed for the world's largest aircraft. AAR Corp., which currently employs approximately 200 workers at the airport (with plans to increase the workforce to 750), announced plans to establish a major aircraft MRO center at Chennault International.
---
AcA Championing the Arts
Dr. Gerd Wuestemann, Executive Director for the Acadiana Center for the Arts, has been invited to be one of the 50 executives among applicants from 13 countries selected for the Chief Executive Program to work with the National Arts Strategies over the next year. Wuestemann said he is "very excited to become a part of this global think tank for cultural development and community change." Upcoming events at AcA include a special Louisiana Crossroads performance by Dr. John who interprets the "Spirit of Satch" at the Heymann Performing Arts Center February 19; the March 26-27 "The Story of the Cajun People" by Zachary Richard; and veteran folk singer Arlo Guthrie ("Alice's Restaurant") taking the Moncus Theatre stage March 4 for a legendary performance commemorating 50 years of success (www.acadianacenterforthearts.org). Troy Dugas' artwork as the Official Artist for the 29th Festival International de Louisiane in 2015 was unveiled at the AcA in November, designed with elements such as okra, corn, and rum labels that tie into our rich cultural heritage.
---
"Les Deux Mondes" in Arnaudville
As part of Arnaudville's French immersion program and to accommodate the lack of lodging for visitors, Tony Adrian of Leonville and Matt Henrich of Sunset have been collaborating to transform a group of rundown 19th- century properties into seven showplace guest cottages called "Les Deux Mondes" facing Bayou Teche. Opening in January, 2015, the cottages are designed to represent the Cajun history of Louisiana in the 1920s (old world) with energy efficient solar panels (new world, hence the moniker, "deux mondes" or "two worlds"). Having met casually at an event hosted by Arnaduville's NUNU Arts and Culture Collective, Adrian and Henrich are preservationists committed to the town and have worked out arrangements for kayak and bicycle rentals, plus a cottage for visiting French immersion students.
---
Above and Beyond: A Muralist Extraordinaire
The Public Art of Robert Dafford (UL Press; $49.95 hardcover) with text and images by renowned Lafayette photographer Philip Gould, renders a vivid depiction of one of the most prolific American muralists working today (with over 350 large-scale public works on view). The 224-page tome focuses on his murals painted along the Mississippi and Ohio River valleys in cities including Lafayette, Rayne and Marksville.
---
Rolling on the Vermilion River
The debut of the Vermilion River Tour was recently kicked off by the Vermilion River Alliance with city officials, community leaders and media in attendance. The tour included a visit to Arnaudville, Vermilionville in Lafayette, a guided boat tour exploring the river, then lunch in Abbeville, and a visit to Palmetto Island State Park several miles outside Abbeville. Palemetto is Louisiana's newest state park, featuring riverside cabins, a splash park, campsites and picnic pavilions, boat launches and nature trails. Cabins at Lake Fausse Pointe, located 18 miles east of St. Martinville, were closed down for repairs in November; the situation will remain thus until at least February, 2015, when all renovations have been completed.
---
Funds to Help Find Original Settlers
The New Acadia Project has received a $52,000 grant from the Coypu Foundation, founded by the estate of the late John S. McIlhenny. The money will be used to purchase sensing equipment to identify areas that may lead archeologist to the original camp sites of the first Acadian settlers. The 250th anniversary of the Acadians settling in the Loreauville area is in 2015. "It's very timely," said project chair and Loreauville Mayor Al Broussard, a descendent of the freedom fighter Joseph Broussard known as Beausoleil.