Nouvelles Des Villes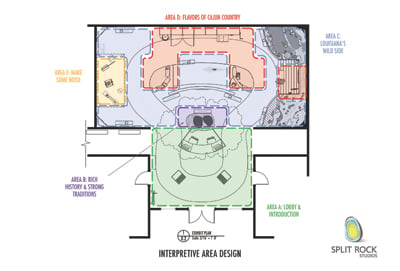 New Adventures Slated for Southwest Louisiana
The Lake Charles/Southwest Louisiana Convention and Visitors Bureau has teamed up with Split Rock, a St. Paul, Minnesota-based interpretive exhibit firm of award-winning designers, developers and artists, to begin construction on the new Creole Nature Trail Adventure Point project. Located in Sulphur (2740 Ruth St., south of the Sulphur/Creole Nature Trail exit 20 on I-10, at the gateway of the trail's All-American Road), Adventure Point will offer visitors interactive hands-on exhibits showcasing the unique estuary system of the trail. The building will also house satellite offices of the CVB. "People who experience the exhibit displays will walk away with a vivid understanding of the wildlife and landscape along the Creole Nature Trail as well as our culture and way of life in Southwest Louisiana," says Mike Dees, chairman of the board of directors. "The facility will be a destination unto itself," says CVB executive director Shelly Johnson. The amazing 140-mile nature trail runs though Calcasieu and Cameron parishes and includes three National Wildlife Refuges.
End of Summer Foodie Fling
Through Sept. 1, if you go to any of the Eat Lafayette participating restaurants (www.eatlafayette.com), you can enter a drawing for two round-trip tickets from Lafayette to a Hard Rock Hotel resort in the Caribbean, no purchase necessary. There are numerous promotions, special deals and contests running during the final month of the 10th annual foodie event. Bread and Circus is a casual old-school Cajun meat shop by day and a farm-to-table small plates fine dining café by night. You can get complimentary "bounuts" (boudin stuffed doughnuts) during brunch, dessert during lunch or a charcuterie board during dinner with purchase of entrée. Jolie's Louisiana Bistro offers such perks as a complimentary Martini Jolie with the purchase of an entrée, while Café Vermilionville offers a special four-course prix-fixe dinner for just $25. In Rayne, you'll get a cup of shrimp gumbo at Chef Roy's Frog City Café upon mentioning the two magic words: "Eat Lafayette." Those who enjoy local sports with their gumbo will be glad to hear of another exciting development: The Lafayette Youth Soccer Association/Cajun Soccer Club (LYSA) has announced that it will be hosting the 2015 President's Cup, an annual tournament comprised of around 120 teams from 11 states. Having an asset such as Moore Park was a significant factor in procuring the bid to host such a lucrative tournament of national significance, according to LYSA executive director Michael Ritch. "We hope that they [the participating athletes] will leave as great ambassadors for our food, music and culture that are second to none," said Ben Berthelot, president and CEO of the Lafayette CVB (the folks behind Eat Lafayette).
Making Groceries
Thibodeaux-based grocery chain, Rouses Supermarket, will open a new location in Lafayette on Johnston Street and Duhon Road this fall. Rouses is also opening its first Baton Rouge-area location at the Juban Crossing mixed-used development in Livingston Parish in 2015. The Thibodeaux chain, which started in 1923, now has 43 locations in Louisiana, Mississippi and Alabama.
Youngsville Focusing on its Youth
Youngsville continues to see economic growth while also attracting foreign investors. Most recently, the Youngsville-based Louisiana Valve Source, the largest independent valve repair and remanufacturing facility in the U.S., has been acquired by Pon Holdings BV, an international trading and service company based in the Netherlands. It will operate as a subsidiary of Septpoint Integrated Solutions, which is building its new $10 million headquarters on Highland Road. Pon Holdings is the parent company. Youngsville is Louisiana's fastest-growing city this decade, according to yearly Census Bureau estimates. The population has grown 22 percent in the last 10 years, and 143 percent since 1990.
This has resulted, however, in a shortage of classroom space in Youngsville, according to officials. Green T. Linden and Ernest Gallet elementary are both overcrowded, as are other schools in the area. Hence, several major school construction projects are in the works in Lafayette Parish, and they are being funded by nearly $33 million in bond money. One of the school construction projects is around $8.9 million slated for Green T. Linden Elementary; the first phase of the expansion includes 22 new classrooms that will replace the portable buildings on the campus, targeted for the fall 2014 semester (despite delays due to rain over the summer). Other projects include a $5.3 million expansion at Youngsville Middle School. The first phase involves an 11-classroom expansion for the fall; the entire project should be completed by May 2015.
It's Festival Time in Lake Charles, Sulphur and Morgan City
Check out our top picks for food lovers: The Arts and Crabs Festival, held August 16 at 900 Lakeshore Drive in Lake Charles, showcases an extensive array of crab and beer tastings provided by area restaurants and local breweries, plus live music and art displays. The 79th Louisiana Shrimp and Petroleum Festival, held in Morgan City Aug. 28-Sept. 1, is the state's oldest chartered festival, offering delicious seafood fresh from local waters in the heart of Cajun Country on Labor Day weekend. Love those spicy boudin links? Don't miss the Boudin Wars, held September 13 in Sulphur. Local restaurants and chefs compete for the highly coveted title of "Best Boudin in SWLA."