Nouvelles Des Villes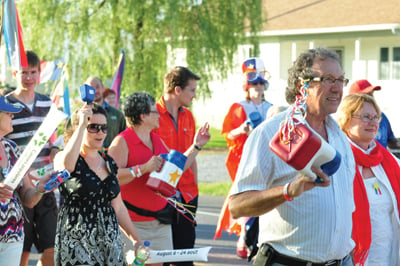 International Events Slated
First, it's time to start making plans for attending the fifth Congres Mondial Acadien (cma2014.org), August 8-24 in the Acadia of the Lands and Forests, mainly in the Edmundston and Madawaska County area in New Brunswick, Canada. Much more than a summer festival, this international convention is a meeting place for today's Acadian communities. It's an extraordinary gathering held every five years with more than 50,000 visitors attending. The 2014 congress encompasses 50 Acadian and Brayonne municipalities. Each jurisdiction has an extensive program in store for participants, from cultural and sporting events to mega parties, genealogy sessions and over 100 Acadian family reunions. Special theme days will include Canadian Francophone Day, France Day, New Brunswick Day, Maine Day and Louisiana-Cajuns Day featuring Louisiana music, food, art and new books by several notable authors (the latest buzz is that musician and author Zachary Richard will be there showcasing his new book). The Louisiana Pavilion is open August 14-23 at Grand Falls, New Brunswick.
Next, start thinking about traveling in 2015, because according to Brenda Comeaux Trahan, it's official: Le Grand Réveil Acadian/The Great Acadian Awakening (featuring concerts, lectures, business opportunities and festivals) will be taking place in Louisiana in October, 2015. "We bid to have it in 2014, but we managed to get it here in 2015 instead," says Trahan, the Louisiana coordinator for Crown of Maine Productions. "The 10-day event will take place in several cities including Lake Charles, Houma and New Orleans, culminating on the last day of Festivals Acadiens et Créoles in Lafayette." In April, Trahan facilitated the world premier of The Story of the Cajuns, a film seven years in the making, featuring Cajuns from all walks of life by acclaimed Maine filmmakers Brenda Jepson and Dr. Francoise Paradis, at Lafayette's Vermilionville, Festival International and at the Acadian Museum in St. Martinville.

On Top of the World
A report released in April by the nonprofit Film L.A. (Los Angeles film office) shows that the Louisiana film industry in 2013 overtook that of California for the title of the "film production capital of the world." Among the 108 major studio productions, 18 were substantially shot in South Louisiana, including the Oscar-winning 12 Years a Slave (scenes were shot at several plantations including Felicity in Vacherie, St. James Parish) and such other impressive box-office performers as The Butler (scenes were shot in Houma, Terrebonne Parish). California and Canada tied for 2nd place, with 15 films each.

Star Spangled in Erath, Lake Charles, New Iberia and Youngsville
It has been announced that the popular Red, White and Boom annual July 4th concert by the Acadiana Symphony Orchestra has sadly been canceled this year (temporarily), according to ASO executive director Jenny Krueger. However, plenty is happening elsewhere for Independence Day, so put those lame little sparklers away. The 68th annual Erath 4th of July Celebration June 30-July 4 features a nightly fais-do-do with such musicians as Crowley's Grammy-nominated Wayne Toups, Louisiana Red and Geno Delafose and French Rockin' Boogie; a barbecue cook-off; pie-making and watermelon eating contests; water fights among big burly firemen; a parade and dance contests. The Independence Day Celebration July 3 in Youngsville features live music, face painting, pony rides and hot air balloon rides, while New Iberia celebrates July 4th with a big bang, honor guard displays and a lively parade. People gather in Lake Charles with their blankets and lawn chairs for a free outdoor concert at the Civic Center for Red, White, Blue and You! and a fireworks extravaganza.

Numbers are Staggering
Deputy Assistant Secretary for Oil and Natural Gas in the Department of Energy's Office of Fossil Energy Dr. Paula Gant recently spoke in Lake Charles about Southwest Louisiana's economic boom at a special program and pointed out that she's heard "numbers of up to $62 billion of investment in the area between now and the end of the decade." Lake Charles was recently ranked by IHS Global Insight as No. 31 in the nation for metro area growth. IHS also placed Lake Charles 42nd in the U.S. in expected employment growth. By 2019, Southwest Louisiana is projected to create 33,000 new jobs.

Amen! Broussard Assists the Pope
Deacon Patrick Broussard, a University of Louisiana at Lafayette graduate who is studying moral theology at the Pontifical University of St. Thomas Aquinas in Rome, assisted Pope Francis during an Easter Vigil Mass on Holy Saturday in St. Peter's Basilica. The mass was televised live from Rome on EWTN. Broussard is being ordained as a priest in June.

For Your Reading Pleasure
Paul Arsenault's intriguing new book, The True Story of Ancestor Pierre Arsenault in Acadia, written in French and English and researched over a 50-year period, is now available as an eBook, sold by Barnes & Noble.

Get the Boat Out
The Louisiana Department of Wildlife and Fisheries announced that it's modifying the Louisiana weekend-only red snapper season to include weekdays until further notice. The bag and possession limit is two fish per person at a 16-inch minimum total length. "I have decided to support our anglers and the associated fishing industry by opening state waters 365 days until further notice," stated LDWF Secretary Robert Barham. LDWF officials encourage fisherman to use caution when fishing beyond the 3-mile boundary that is currently recognized as federal waters.