Mounds of Mystery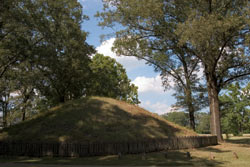 The day is shaping up to be unseasonably perfect for early September – 7 o'clock and the breeze through this great stone courtyard in Monroe is cool enough to chill the coffee. Louisiana has a newly designated "Ancient Mounds Trail" and this day is going to be ideal for clambering up and down some Indian mounds – six of them, plus a variety of ridges, embankments and other ancient earthworks, if things go according to plan.
Actually you can have such adventures in Louisiana with no planning at all, if you're outdoors much. You can just be going along, through field or forest, and know instinctively that the creation of that ridge or rise up ahead involved the hopes and hands of man – the hands of people gone, now, for hundreds of years, some for thousands, but whose spirit (if not spirits) still hangs heavy over the land.
It's good for your own spirit to be in such places, many of which lie surprisingly close to the busy business districts of 21st-century man. You can quite easily, for instance, breakfast in Monroe and by lunchtime be munching trail mix on a 70-foot bird-effigy mound overlooking the Mississippi River flood plain.
However modern things might seem at the moment, vestiges of other times are never far away. Can't get more up-to-date than the bar in the stylish lounge of Monroe's freshly renovated Atrium Hotel, which even features a frozen inlay along the bar to keep drinks cold for slow sippers, yet a few blocks away near the levee of the Ouachita River, the Tudor-style Masur Museum of Art is straight out of the infant 20th century. Epochs are overlapped, eras layered in Louisiana, and by turning any corner you can peel back one layer to reveal another. As if to drive home that point, the art museum on this late-summer day is presenting the works of Clementine Hunter, herself a layer of time, whose life spanned the entire 20th century and whose paintings record and evoke images that reach back further still.
You can find other layers a few miles east in towns such as Minden and Rayville, where Minden's historic "Germantown Colony" recalls an odd chapter of utopianism from the mid-19th century and where the cityscapes along Rayville's stretch of old U.S. 80 are much unchanged since the Roaring '20s. Last time there I spied the High Sheriff's car parked in front of the Feed Lot and, knowing a good indication when I see one, confidently entered that restaurant to find the same okra-and-tomato and blackberry-cobbler bounty that this swath of Southland has enjoyed for generations.
It's right about here that this whole time-layer thing gets really dramatic, because Rayville and the '20s are just one parish away from a cityscape of a quite different sort: a metropolis of mounds and ridges built of earth 1,500 years before Christ.
TOP 40
A few mound complexes in America are older, a few are larger – but with its own "business district" 3,500 years old and three-quarters of a mile in diameter, Poverty Point is "the largest of the very old and oldest of the very large." It is the pride and joy of all Louisianians who respect antiquity and is, indeed, the inspiration and most logical starting point for our newly designated "Ancient Mounds Trail," which leads to 40 viewable sites.
The long concentric ridges and outlying ceremonial mounds of Poverty Point are situated on the west bank of Bayou Maçon, which forms the border between East and West Carroll parishes, and here recently was unveiled the first of the 40 Ancient Mounds markers that have since sprouted throughout 13 parishes of northeast and east-central Louisiana – three sites on public-access lands plus 37 on private properties (every known site that was visible from a highway and for which landowner approval could be secured).
With the markers in place, attention turned to producing temporary brochures and guide maps for those 40 sites (all of which should be at tourist information centers) then finalizing the major northeast Louisiana mound-site guidebook for distribution by mid-2005.
This first phase of the project, blessed by 95 percent federal funding, focused on our northeastern quadrant because of that region's incredible density of mounds, but the long-range hope of the Louisiana Culture, Recreation and Tourism Department's busy Office of Cultural Development is eventually (with a little more luck and a lot more Washington wampum) to have sites throughout the state thus marked, mapped and "interpreted" in a series of similar guidebooks.
TRAIL BOSS
State archaeologist Tom Eubanks will tell you right off that the Ancient Mounds Trail is not "a" trail so much as it is a web of highways that pass the sites, and those routes can of course be driven individually or strung together to create longer excursions. For a short or long drive, take binoculars and cameras or sketchpads to make it meaningful; take maps to make it home.
Except for the Scott Place Site (west across Lake D'Arbonne from Farmerville in Union Parish) and the famed Marksville Site in Avoyelles Parish, the marked sites of the Ancient Mounds Trail through the northeastern parishes lie pretty much in a giant circle, roughly split by east-west Interstate 20, that an enthusiast could conceivably tackle in a single marathon weekend of mound-hunting.
A drive along the northern half of the oval might begin near the Vicksburg bridge in the Madison Parish village of Mound (love that!), with five sites situated on or just off U.S. 80 as it parallels Interstate 20 westward from Mound to Delhi. From Delhi, La. 17 leads four miles north to the Marsden Site, where five small mounds begun about 1 A.D. are connected by a low D-shaped embankment (a border of perhaps more religious significance than practical) on the grounds of the new Poverty Point Reservoir State Park. The state park status of this site translates to a rare opportunity for total mound accessibility (except no digging, of course), not to mention the 2,700-acre man-made lake, boat ramps and overnight lodges (318-878-7536 or 800-474-0392) for lagniappe.
It's about 20 miles farther up La. 17 to Epps, then a short drive east on Louisiana 134 to visit Poverty Point itself, after which you could swing north and then southeast on a combination of state and U.S. highways, passing a half-dozen other sites and ending at I-20 in Monroe, thus completing the top half of our big circle.
At Poverty Point, check in first at the museum building to see the introductory audio-visual presentation before you take one of the tram tours or hiking trails. And spend ample time in the museum to grasp the ingenuity and beauty of the highly polished "atlatl" weights and plummets (made of iron ore from afar), the characteristic thick-walled pottery, the arrowheads and spearpoints made of Illinois and Tennessee flint, and the beads and "jewelry" shaped from Great Lakes copper, Arkansas naviculite, and even clear quartz and red jasper.
Actually the artifacts most representative of Poverty Point culture are the rows of hand-shaped clay balls seen in the display cases, used for holding and distributing heat in cooking pits and tool-making fires. The firetender's selection from the eight or so standard shapes allowed him, it is said, to regulate the temperature fairly precisely over varying time spans.
The site managers and curatorial staff at the Poverty Point State Historic Site stage frequent special events to enhance and enliven your visit, so call ahead (888-926-5492) to plan around activities of special interest.
CIRCLING SOUTH
To tour your way around the southern half of our Ancient Mounds circle, you might begin by following the cart trail at the Frenchman's Bend golf course in north Monroe for a close look at that property's five Middle Archaic-era mounds, then head south along the Ouachita River, following U.S. 165 to Columbia and La. 124 to Jonesville. You'll pass seven markers on or near that route, and you can pause in Harrisonburg to enjoy Indian artifacts on display in the historic Catahoula Courthouse. Near the courthouse, the century-old home of Cater and Lillian Aplin at 312 Catahoula St. stands solidly atop an ancient mound that saved it from the great floods of '27 and '73.
Practically all of Jonesville is set atop a "Troyville" (in archaeologists' nomenclature) site, a 2,000-year-old complex of mounds bordered on two sides by the Black and Little rivers and on the other two by a man-made ridge. All but a few fragments of that ancient enclosure are gone now, and the tallest of the mounds (an 80-footer with an unusual cone-shaped top) is also gone, sold for landfill decades before the enlightenment. Other ancient earthworks around Jonesville, however, are being well-protected by private-property owners, and Methodist and Presbyterian cemeteries provide ample protection for two surviving segments of the massive enclosure ridge.
East of Jonesville, U.S. 84 (with a short detour north on La. 566) passes five marked mound sites on its way toward Ferriday. One of those, the Frogmore Mound, is accessible to visitors who take the don't-miss-it walking tour of historic cotton-processing buildings at George and Lynette Tanner's Frogmore Plantation. Call (318) 757-2453 for tour schedules (closed every Sunday, plus other days during picking season) or to arrange special access (group tours only) to the 1815 manor house.
There are major Indian sites to be seen just across the Mississippi River in Natchez, and, on the Louisiana side, U.S. 65 leads upriver from Ferriday to Tallulah, passing eight more sites and completing our big circle back to I-20.
MARKSVILLE AND MORE
The southernmost landmark included in this first phase of the Ancient Mounds project is the Marksville State Historic Site in Avoyelles Parish. Here on the outskirts of Marksville, this site's low earthen ridge still surrounds the complex of seven mounds built between 100 B.C. and 400 A.D. with, it seems, great attention to astronomical alignments.
Marksville ranks with Longfellow-Evangeline, Mansfield and Audubon as one of our oldest and most beloved state parks properties, and Marksville's quaint old mission-esque museum bulges with the ceremonial and workaday implements of this Red River region's earliest dwellers. Wandering in this museum at age 10 or so (if you'll pardon a personal flashback), I was particularly taken with the distinctive swale-topped grindstones used (mortar-and-pestle style) to pulverize grains and nuts; within a year – in one of those near-miracle coincidences – I spied one in a patch of woodlands, half buried, up in Caddo Indian country. Had it not been for the revelations of Marksville, I might have thought "odd rock," but would never thought it significant.
Elsewhere around the state, instead of waiting idly for further reaches of the Ancient Mounds Trail to be developed, remember that there are still more than 700 known mound sites in this state, despite centuries of wind and flood, cultivation and natural deltaic sinking. Possibly the oldest of them all, and certainly the sentimental favorites, are the 5,000-year-old twin mounds in the heart of the LSU campus in Baton Rouge. Also keep in mind that all major Louisiana Indian groups except the Houmas have established museums. The new Tunica-Biloxi Museum, soon to be under construction at Marksville, will be a repository for the cache of Indian artifacts and European trade goods illegally dug from a Tunica site near Angola in the 1960s and recently reclaimed by the tribe.
What else can you do? Say thanks to your friends and neighbors who have become "private stewards" for the Ancient Mounds program by pledging to safeguard ancient earthworks on their own properties and to allow the marking of their sites for public awareness and viewing. Nearly 100 of these "guardians of the ancients" are responsible for the 37 privately owned sites already marked, and many more throughout the state are saying yes when contacted by representatives of the state archaeologist, such as university archaeologists Reca Jones and Joe Saunders at UL-Monroe.